Bloody ears!
---
Well, my horse has recently been turned out in a pasture with 5 other horses, four of which are geriatric residents of the barn, so my horse is the second youngest, and the biggest.
Despite this, I think he is being bullied. He has come in the last few days with his ears bleeding, I've cleaned them off, and put an ointment on them.
I've attached a picture below, as you can see it's not wear the halter is, so it can't be halter rub, and he wears a fly mask, so that also confuses me! [how could other horses bite through the mask?]
So I'm kind of doubting that the other horses caused it, but I don't know what else has caused it.
Here's what it looks like, it's the same on the other ear too [sorry he moved when I took the picture it's a little blurry] :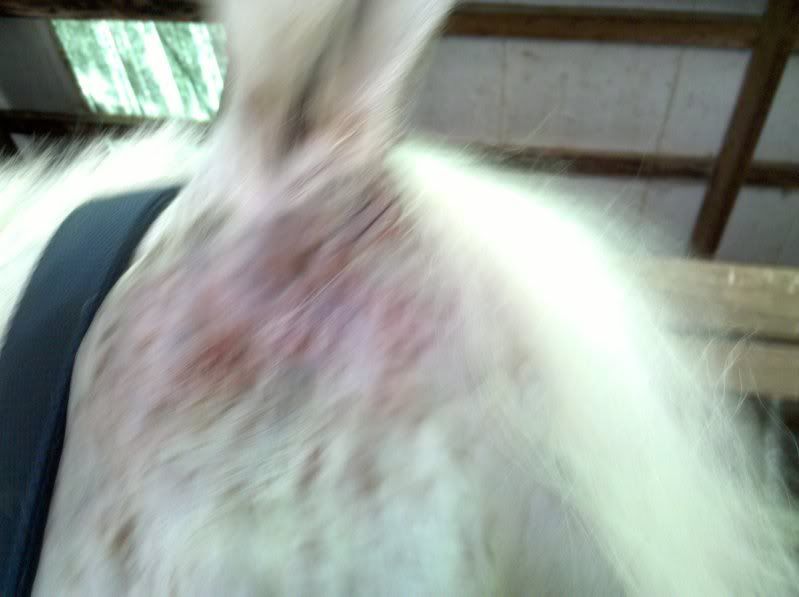 Your picture is really too blurry to see anything, but is his fly mask the eared kind? Even if it has ears, if it doesn't fit snugly, flies can and will get under it.

Those look like fly bites, not anything another horse would do to him.

Deerflies are especially vicious, and although small, will make mincemeat out of a horse's face and ears.
It is the eared kind, his ears are fully covered in turnout.
And I know it's blurry, honestly though even in real life it's a little hard to see, so either way :P
No one else has any ideas D
I'm also betting bug bites. As SR said, if it's not snug or fitted correctly, bugs can still get in. Also, is there anything IN the ears of his fly mask?

Another idea is he's rubbing his ears on something, and that combined with the mesh is abrasive on his ears. Of course, he'd typically only be rubbing his ears if he either was getting bugs in them, or doesn't like having the eared fly mask.

My suggestion is apply some bug spray to a towel, sponge, or your hands, apply it to his ears, and see what happens. As I said, I'm pretty sure it's bug bites.
---
"Great spirits have always encountered violent opposition from mediocre minds."

will it be ok for me to apply the bug spray to the bloody, sore area?
I would suggest using SWAT on the affected area. It is the same thing as fly spray, just not as ouchy--you can apply it to cuts and such, and also around eyes and ears and the bugs stay away.
SWAT is a fly repellant specifically for wounds, if I remember right. It's pretty cheap, and will come in handy anyway. It's worth a try to see if he's still having it happen. If nothing changes, I'd put him outside without a fly mask, or in one without ears, to see if that's the problem.
---
"Great spirits have always encountered violent opposition from mediocre minds."

Today I went to see my boy, and his ears looked considerably better, so I'm not so worried now. However if they do start to get nasty again, I'll invest in some swat ;]