Blunt Force Trauma Leg Injury **Graphic Photos**
---
Ten days ago this filly kicked the steel post the first day she was being treated for a nasty, painful pastern cut. The day before yesterday, at 7 days, the leg gotten pretty swollen, and it was apparent the deep bruise was coming to the surface. I painted ichthammol on the area where it looked like the bruise was trying to surface, and started her on tucoprim to avoid an overt infection.
I think the power of ichthammol is underrated. I find it to be very effective and powerful at drawing pain and infection. It really prepares the wound bed for the next step. Usually 2-3 days is how long we use it to draw. Overnight it drew out most of the fluid, pain and swelling. The leg went down a lot. This is what it looked like after 24 hr ichthammol draw.
So yesterday, again, I painted on ichthammol and wrapped. This plug came out today, nice and clean. I sprayed the hole with Vetericyn, and painted on more ichthammol on the entire area, the wrapped.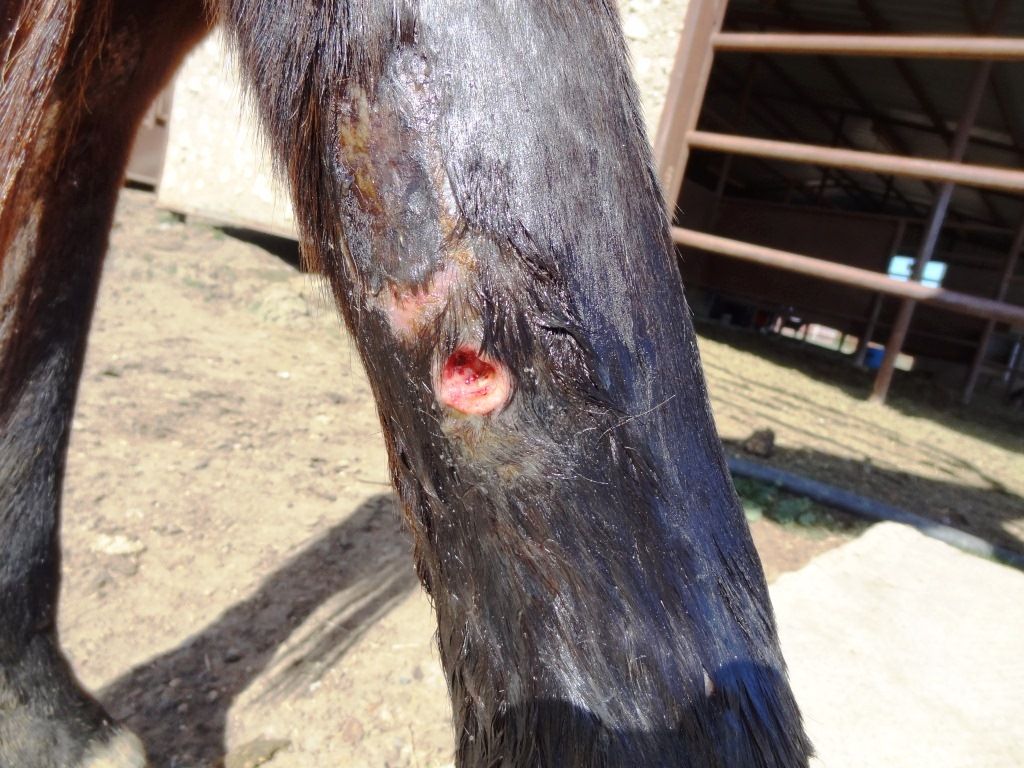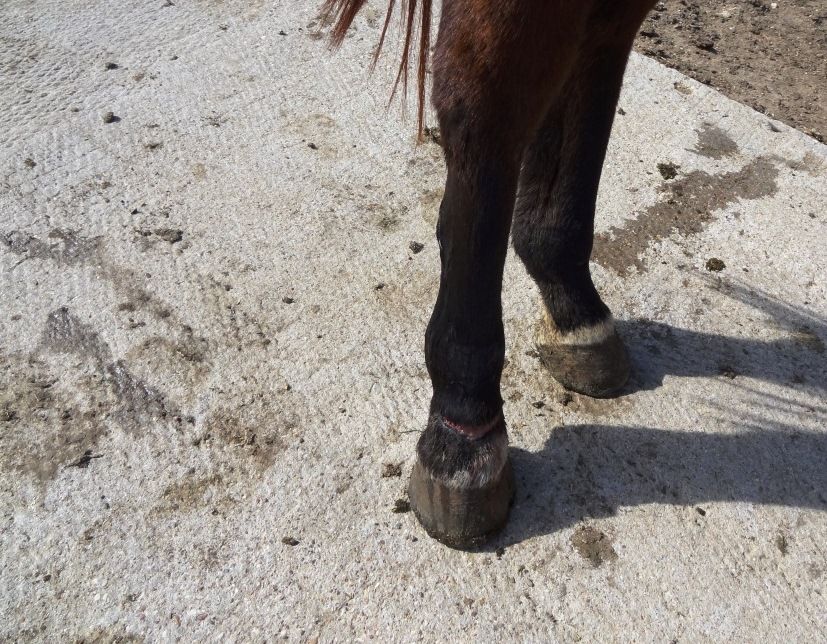 Tomorrow, I'll start using wound salve on it and continue wrapping for a few more days. I post more pics in the coming days.
Why does that plug come out? Will that always happen with an injury like this?
---
I live to ride and I ride to live
Horses are just angels without wings
11/01/09 <3 my horse left hoof prints on my heart
Oh interesting. Ive never seen anything like this...
Posted via Mobile Device
Green Broke
Join Date: Jan 2010
Location: south of nowhere, north of nothing
Posts: 4,643
• Horses:
6
Very interesting. Another thread to watch lol
I hate it when horses are hurt. But I find these threads SO informative and fascinating. I appreciate those who share this information. It helps us all, I think.
Quote:
Why does that plug come out? Will that always happen with an injury like this?
This was damaged, dying tissue that got expelled, and the ichthammol just helps remove the gunk and infection. I've seen some open up and look pretty bad, and others where just the upper layers sloughed off. Up above the hole, that area may slough off, I can't really tell yet.
Wish I had seen this earlier. A goat head butted my gelding in the same spot on his foreleg, looks like it's sloughing off now, but might be getting infected. I did icthammol only for one day, probably should have done it longer...
Posted via Mobile Device
If you're worried, be sure and take his temp. I didn't take the filly's temp, but she got very swollen and lame in one day, so I went ahead and got her on tucoprim. I don't like to overdo antibiotics, but she got worse pretty quick from kicking the stock. It was actually the rail, not the post she kicked.
Yesterday I did another 24 hour ichthammol draw as there was still a little fluid draining, and the damaged tissue hadn't sloughed off as of yesterday. It came off today, just hair and a very think layer of skin. I turned her out, and she ran and bucked. The lump went down even more after she was turned out. The exercise really helps with circulation and healing.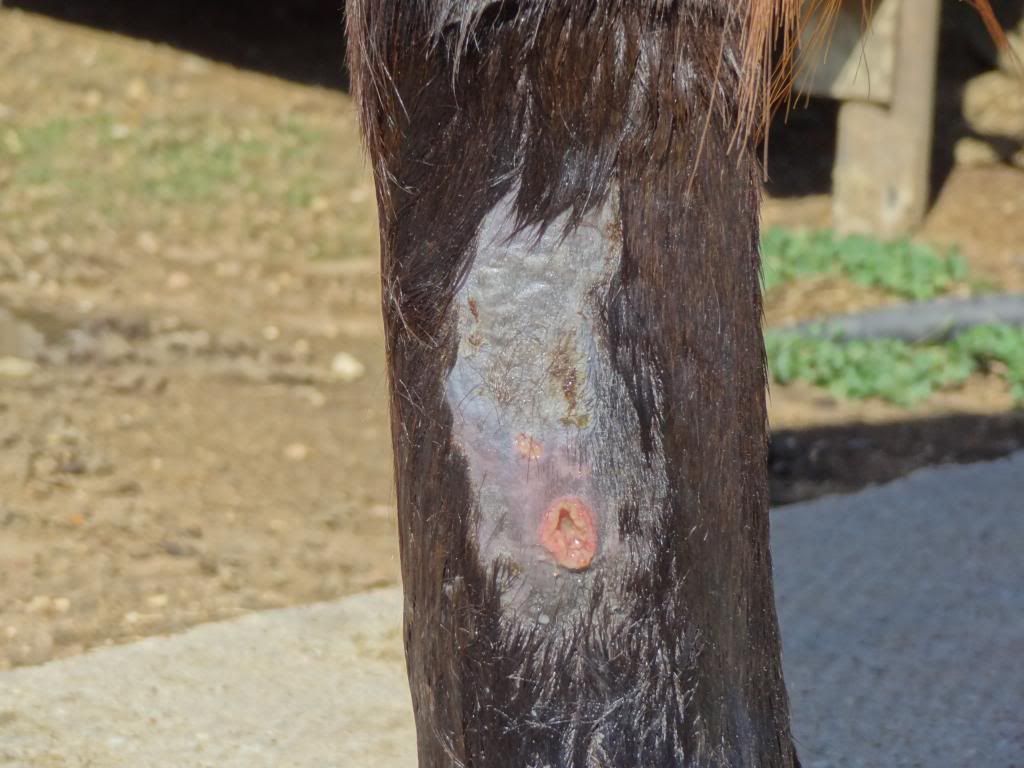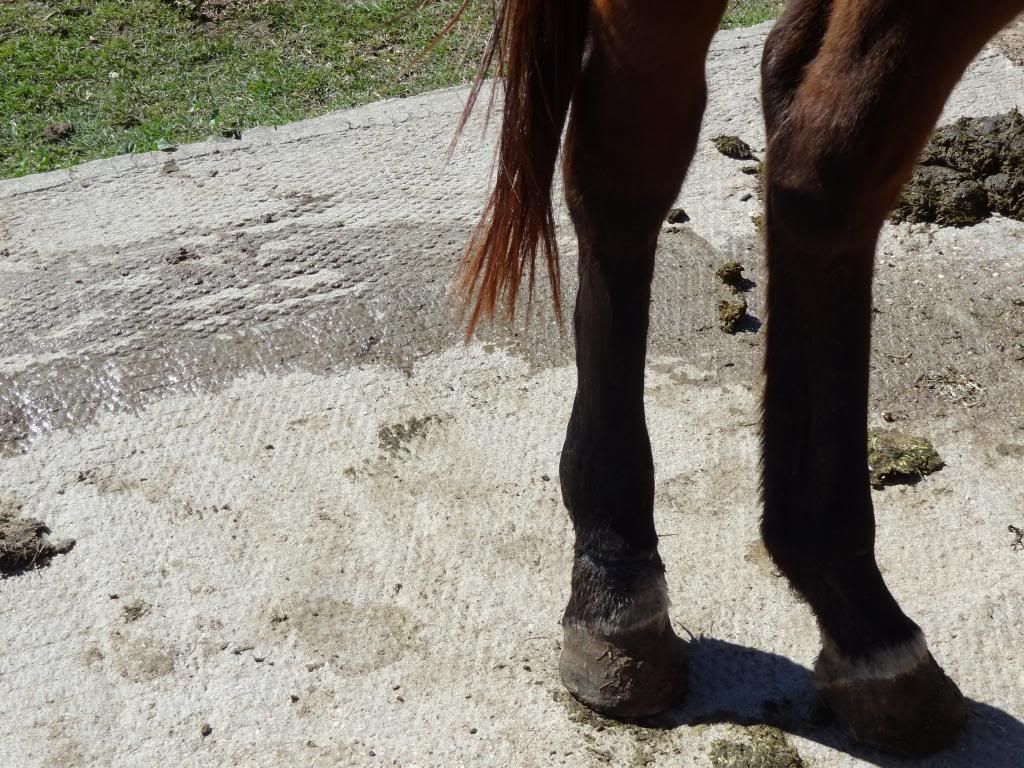 Tonight I just painted on a bit of salve on the hole, and left unwrapped.
Really interesting! I don't know anything about horse medicine but a fair bit about people medicine and it looks like you did a super job on that filly's leg wound.