Bot Flies
---
I was out at the barn yesterday and didn't have enough time to ride, so I brought Aaspen in for a nice thorough grooming. Brushing down his legs I found a bunch of little white spots on the insides of his knees and a few up on his shoulders. This is the first time I've ever come across them, but I assumed they were bot fly eggs and set about the barn finding something to get them off with. I came across a blade looking thing and used that effectively. I googled it earlier and found out that is indeed made for just that purpose, so I'm gonna go ahead and assume that bot flies have been a pretty common problem for the owner. I'd just like to know if anyone here has had issues with bot flies and exactly what kind of problems can they cause. Can they be harmful to humans in anyway? Thanks in advance, and here's a pic for good measure.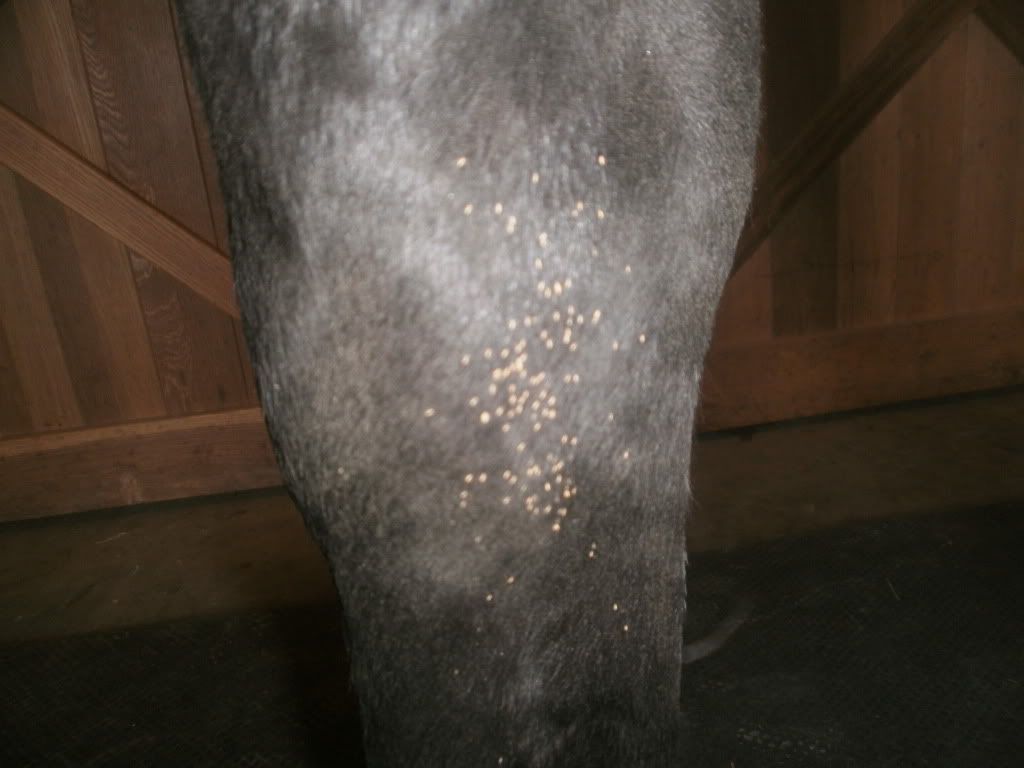 ---
"The art of riding is keeping a *horse* between you and the ground."
Bot's begin their path of destruction in the horse's cheeks. Find a good dewormer that kills bots.
I'm going to talk to the owner about it when I go out on Monday, but at the moment I'm going to assume that she's taken all the necessary precautions seeing as she seems very responsible. I'm just looking for information, but thanks for the advice anyway!
---
"The art of riding is keeping a *horse* between you and the ground."
The species of botfly we have here in the US are harmless to humans. Not so in other parts of the world!
Yep, just scrape the eggs off, or ignore them. The lifecycle requires the horse to scratch his legs with his teeth, thereby ingesting the eggs, which hatch in his gastrointestinal tract and bore through his gut. This, obviously, can cause some pretty serious problems...but most conventional dewormers kill the larvae, and you're never going to get all the eggs off, anyway, so as long as your deworming program is appropriate, your horse will be fine.
Thanks bubba! :] I think all stick to scraping them off, seeing as they're not very attractive xD Good to know there's no need to be worried.
---
"The art of riding is keeping a *horse* between you and the ground."
I use a grill block instead of a bot knife. Half the work and twice as quick. They're cheaper than the Grooming blocks by Farnam, here's a link : http://www.amazon.com/GrillStone-Grill-Cleaning-Block-3-Pack/dp/B000LF61TI
---