Brown/white bugs on my horse
---
So I was out talking to a friend and petting the horses and leaning my head on their necks and petting them. when i went in side and sat on the couch about 10 minuets later my head started to itch. when i went into the bath room and looked in a merrier I saw a bunch of bugs crawling up the back of me neck and hanging in my hair. we looked on the internet but have not found anything we have herd it may be fruit fly larva. does anyone have any idea what they may be? they are not lice we are positive of that.
They might be lice, be careful! I was at a barn last year and was for sure I did not have lice, turns out the bugs were full grown and brown(normally lice aren't large and brown). The BO's daughter was complaining of bugs in her hair and BO was certain it was not lice because of size/color...3 weeks later I had them.
Go ahead to the store and get some Tea Tree Oil(found in ethnic hair section)
Pour a bottle or two(depending on hair length) on scalp/hair shaft and sit for about 30 minutes then using a lice comb, comb out. Your hair will be greasy as all get out, but it removes all of them and calms the itching etc. It may take 2 treatments. Wash your hair afterwords, if you feel your hair is still dirty; wash with clarifying shampoo 2-3 times.
I'm a hair stylist, it works :)


ETA: if the itching/biting is occurring around your neck and ears, it's most likely lice.
Showing
Join Date: Jun 2011
Location: Cariboo, British Columbia
Posts: 11,940
• Horses:
3
Ewwwwwwwwwww!!!!!! Now I am all itchy after reading that!
Posted via Mobile Device
Teen Forum Moderator
Join Date: Dec 2010
Location: South East Texas
Posts: 7,157
• Horses:
2
Oh goodness. I bet you it is lice, hun. We're having a big problem with that too. Horse lice make their appearance at this time of year and they can get BAS if not treated. My foster filly has them from a mini stallion that was abandoned on our farm last night and they're brownish grey, and very small.
You need to treat both you and your horses. For you, tea tree oil, neems oil, and coconut oil will help kill the adults. Eggs can not be killed which means in about one then two weeks you need to repeat.
For your horses, dose them with ivermectrin and either get a shampoo from your vet or from your local feed/tack store. Lice Dusts might help as well. You also need to treat your horse's living quarters. I also bathed my filly with an iodine shampoo and sprayed her with bug spray to help kill them.
Horse lice can not survive on the human scalp for long because they vary by animal species, but they can still do a lot of damage and be spread by you to other horses. be careful.
A very extreme case of lice infestation caused this in a miniature stallion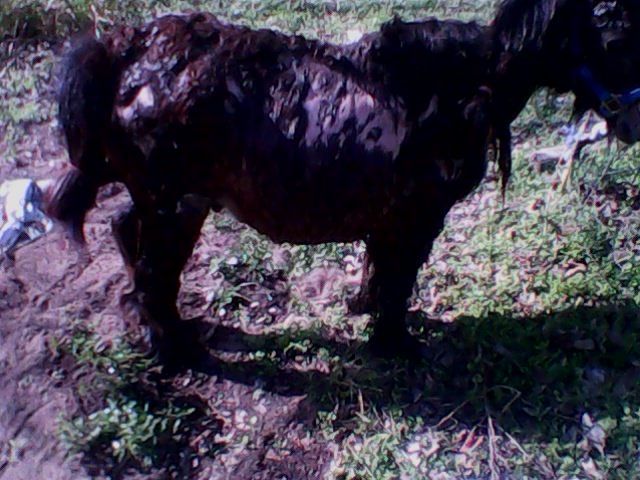 ---
Everyone in your life is meant to
be in your journey, but not all of
them are meant to stay till the end.
Yucky gross. I hope it's not lice but I would treat just to be safe. Yucky yuck. I itch now!
---
"Be a best friend, tell the truth, and overuse I love you
Go to work, do your best, don't outsmart your common sense
Never let your prayin knees get lazy
And love like crazy"