I had my colt gelded at 5 months because I wanted him as a trail horse, he is a grade, and was born with a wonky leg. No reason to keep him a stud at all. He is 15.3, 1100 lbs and has a lovely arched neck now at age 2.5. I am not convinced he would be any more handsome if he were still a stud.

His daddy was cut as an aged stallion and he lost the chubby cheeks that studs have almost immediately. I don't know about the rest of the you, but I don't like the chubby cheek look anyway. I personally think geldings are lovely!
Quote:
Again, the underlined is completely not true. Current veterinary science tells us that the most advantageous time to geld a horse is before he turns one. This is cold, hard science, not any airy fairy "experience" - anecdotes are not evidence.
Could you share some links to this current vet science and the 'right' time to geld being before 1? I always figured that so long as the parts were there and the bugs weren't bad it just depended on when it was convenient for the owner (in light of stud care requirements, money, vet fees being higher for older horses, etc). I hadn't heard any science before but want to learn.
Picture of Stewie the Moose, taken on Sept 11th this year, when he was 17 months old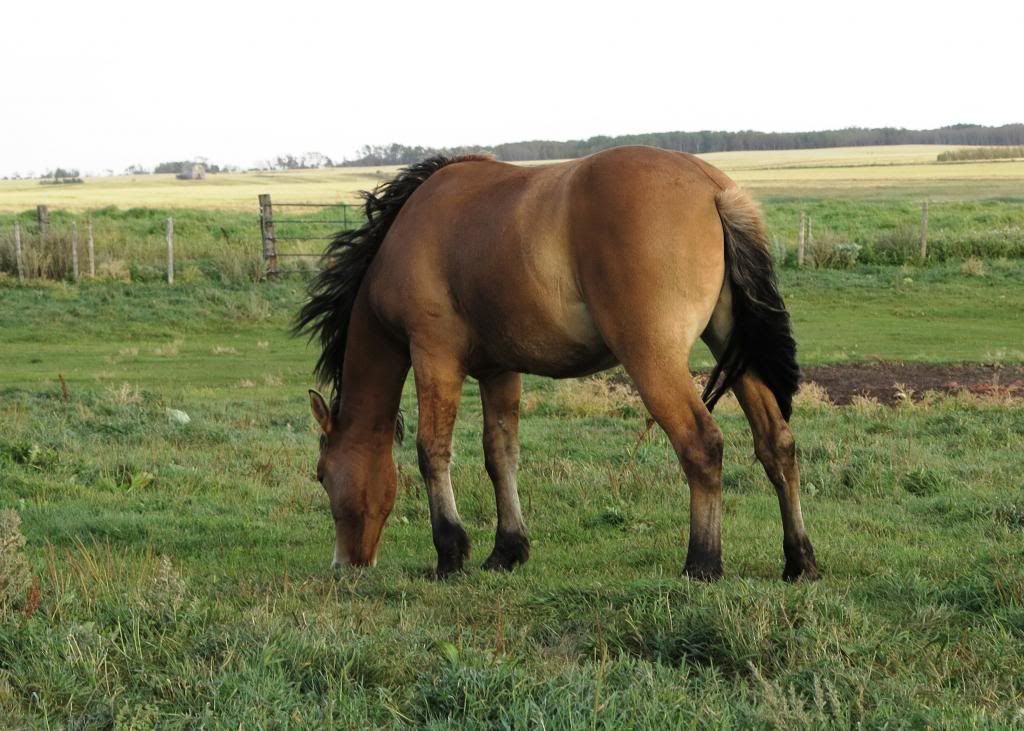 Seems to be making enough frame, not bad for someone who was gelded at just under 4 months.
I will say, Im SOME horse lines, a colt might look more feminine if he is gelding early. I have also seen this happen.

Think about a young male human or female human vs someone who is completely androgynous for example. They start developing adult characteristics appropriate to their gender at what...between 9 and 10 for some of them? If you somehow stopped that process at 12, they would still look more male or female than someone who never started the process. Small things would be changed. Common sense IMO.

So yes, I can believe that some horses might look a tad "more male" if left intact even partially though horse adolescence. Some horses dont seem to have very male or female look to them and so I dont think anyone would notice in those cases if they were castrated early, but some, particularly QHs, do.
---
Married to my One! 10-11-13 Steampunk style:)
What you mention above is true. Pat from Saturday Night Live was not small framed, but was "soft". It's clearly a personal preference, and there are strong opinions for and against. While some people may find Pat from Saturday Night Live attractive, I don't.
Choirboys in Naples Italy were castrated for the opera & the Papal. If castrated before puberty, the boy remained boyish, soft with no adult muscle, voice stayed high, and they were smooth skinned.
In the 1800-early 1900's, a Russian cult used to castrate boys before puberty. The boys developed a distinctive appearance and perhaps a distinctive personality. Because they never completed normal puberty and missed the developmental changes brought about by the adolescent phase of testosterone production, men castrated as children remained beardless with fresh, clear complexions and had patterns of fat deposition characteristic of women. The epiphysial plates, that is the growth plates, in their long bones did not close at puberty, resulting in an individual with unusually long arms and legs and a tall, though frail stature. The bones of the lower face did not mature, resulting in a triangular face with a small chin.
Same is true in dogs. I assume the breeders listed below suggest buyers of their dogs wait, as they don't want undesirable lack of development traits to negatively reflect back on their breeding program.
Wisteria Goldens | Wisteria Goldens on Spay/Neutering | WisteriaGoldens.com
"Families often ask when they should spay or neuter their dog. This issue has been debated among the experts for awhile. While I have always offered my opinion, I also advise families to discuss the pros and cons with their vet in order to make the best decision for them. From my research and experience in raising our English Cream Goldens, it became noticeable that dogs spayed or neutered at a young age, were not as well developed and proportioned dogs as ones which were left intact until full grown.
While I am not a vet, it seemed reasonable to me that removing organs which produce vital hormones before a dog was fully developed would cause developmental issues. I compare it to teenage girls and boys going through the puberty. Teenage years mean hormones are released which turn girls into young ladies with curves and boys into young men with muscles. Most obvious to us are male dogs neutered at a young age and how they lack muscle build and are "leggy" in appearance.
We personally prefer the well-developed muscle and build of a fully developed Golden Retriever and have advised families to wait until the females goes through her first cycle and a male be at least a year old. While there are inconveniences associated with this decision, such as keeping a female from becoming pregnant, we personally do not mind the inconveniences in order to achieve full development of dogs. We would make this choice even if we were raising "pet only" dogs.
I discovered an article that was written by Laura J. Sanborn, M.S. "Long-Term Health Risks and Benefits Associated with Spay / Neuter in Dogs." It is important for all pet owners to read this article, and take it to their vet in order to make a truly informed decision about spaying/neutering early. While there are inconveniences and risks with spay/neuter at a later age, there are also long-term health consequences for doing it at a young age.
A few health risks associated with spay/neuter dogs at a young age are:
Osteosarcoma (bone cancer)
Cardiac Hemangiosarcoma
Hypothyroidism
Orthopedic disorders
Adverse reaction to vaccinations"
To each his own, though, clearly some people find pre-pubescent characteristics appealing.
Horses are not dogs and using what is given advice for them on horses isn't something that should be done... You need to look at the actually data regarding horses to decide for horses... not use information on dogs.
An interesting discussion, but no, I'll stick by what I believe to be true, as this have produced good results for us. Like I said, to each his own. And yes, I'm aware dogs and humans are different than horses.

As for the proof and hard cold facts, regarding this, it reminds me how one day "scientists" have cold hard facts that coffee is bad for you. Then the next day "scientists" have are cold hard facts that coffee is good for you.

One can look at what's presented and decide what kind of results are desired. It's like voting for socialism/communism, or free enterprise/capitalism, the choice is yours.
I've looked at what you've posted and see NOTHING scientific. And No, you cannot use information from dog breeders in regards to making gelding choices in horses. They're not the same animals....
If you chose to geld later, that's your own choice, but please do us all a favor and stop claiming that the links you've posted are scientific and proven. They're simply not
---
People with true credibility and integrity don't need to tell other people how great they are.
Green Broke
Join Date: Oct 2010
Location: Some times Llanelian - North wales, sometimes Hull in East Yorkshire (UK)
Posts: 3,679
• Horses:
5
My golden retrievers perfectly disprove your theory 6W. The one of mine that was castrated young is quite butch and well filled. The one that is still entire looks lie a 30kg puppy and could quite easily be mistaken for a female!

My Connie gelding who was castrated before 8 months looked very butch. My arab gelding who was cut at 6 yrs old was very very pretty and feminine.
My current gelding (splodgey pony) is far more masculine than his entire full brother and has bulked out far better.

Get some hard Vet science and prove your theory dont just rely on anecdotes.
A statistical study of n=1 is statisticly useless and of no relvance.
---
RIDE your horse FORWARDS and keep him STRAIGHT


Well cold tends to shrivel things as we all know...

And with castration the colt needs to drain properly and with very cold temperatures the blood can coagulate and or block and stop the drainage if the temperature drops to low at night. a few hours is long enough for it to close completely.
But cool weather to cold is good for them. I just wouldnt do it with a cold front moving in for below temperatures. Otherwise I would rather geld in the colder months, just have a heat lamb on hand incase.

If the water buckets are froze in the morning your colts drain hole is most likely closed.
---
"If you have control of the hoof you move the mind."