Those of you who have taken the time to rescue a hose have my utmost respect. This year on Christmas eve Ms.Piggy was delivered to us. She came in as a bag of bones in horrible condition. Information on her can be found under the horses section. The first image is her backend on December 24th 2013. The second is her rear end now. She is very pregnant in both pictures. She has been quite the blessing. Even with her heart problems. I just wanted to add that one excuse I absolutely abhor for an underweight horse is "Oh they are old" Old does NOT equate skinny or emaciated. This mare is 20+ yrs old as is her pasture mate. I have only had her for 4 months. A round of psylium,wormer,basic vet care including shots and floating now look at her... and she is pregnant!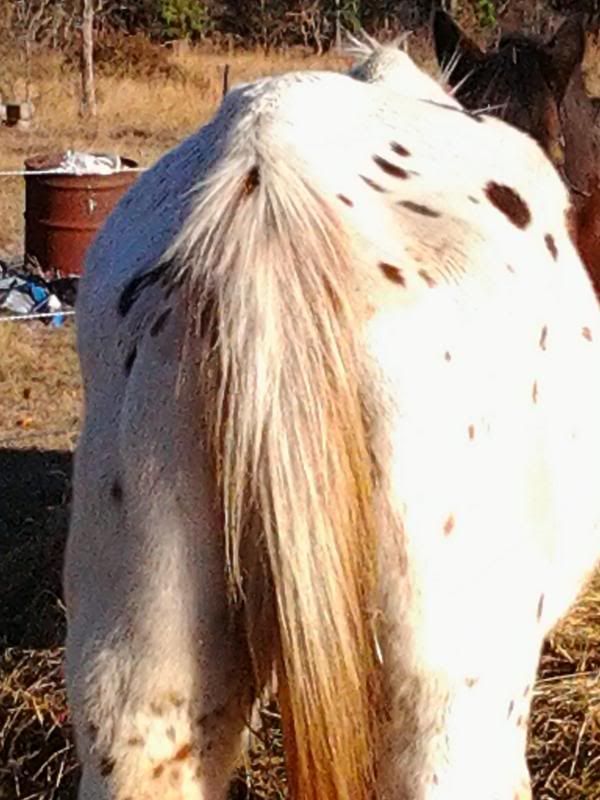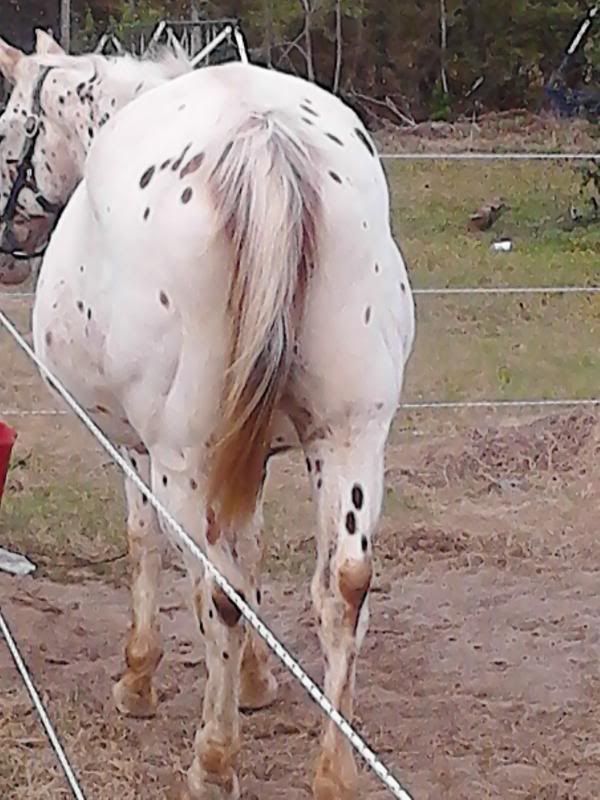 ---
Last edited by livelyblueyes; 04-05-2014 at

07:49 PM

.
Blue Eyes - my guess is that this horse will repay your tender loving care with respect and perhaps by leaving you with her offspring.
Best of luck with her.

Barry G
Blue Eyes.
Remember the horse you rescued needs very careful husbandry.

Certainly before being worked she must be exercised - gently - on the lunge.
She'll need some muscles.
Her feet will need trimming.
Food is not enough but too much food can be dangerous.
The foal may need supplements to compensate for the lack of condition in the mare.
Keep a daily diary in which you stick some photos.
A local nutritionist will make some suggestion regarding diet. Phone the local feed blender and ask for advice.
Have the teeth rasped.
Ask the physio to run her hands over the back.

But remember you'll not be home and dry until the mare trots along after you, on a loose lead, at the shoulder, with foal trotting along at heel.

Take care with rich green grass - hay is safer.

and if you are going to think of riding her English, then first have the saddle fitted by a qualified saddle fitter. Check with the physio before you ever think of buying her a saddle.

There mare many rewards in saving an emaciated horse - as hopefully you will discover.

Barry G
I appreciate the advice Barry.

I agree she needs some muscles. When she came in she had virtually none. She has since developed a bit. I have not worked her hard. I have in actuality been letting her make her own pace. I will not be pushing her at all until she has had her foal and she is ready for it. Currently her exercise is mostly jogging around the pen when it is feeding time. ( she does this of her own accord).
As for her feet they are trimmed regularly but grow very slowly. My farrier is due out tomorrow morning. Her feet have been quite the challenge. She is sound on them but they are loaded with cracks that are taking forever to grow out. When she first came in the bars on her back feet had grown and started curling in on their selves. She had a heck of a time walking with them in that condition. It was a week after she got in before I was able to get the farrier to her (Christmas week makes it seriously hard to find one even when yu have a regular one). She stills has a lot of cracks but they no longer reach up so high. It is just taking a while to grow out.
As for the feed I agree completely. I took it real slow on moving up her feed amounts. I did this in conjunction with my vet. We have also had her teeth floated since she came home. The feed choice she is on has a lot to do with her dental situation as she is missing a fair few of her molars. Her feed is all soaked to essentially a mush.At one point we had attempted to work her into some alfalfa cubes but she does not react well to alfalfa regardless of how slow you try to change her to it. Even now a small handful will have her colicing. We did a heavy round of psyllium as well as a power pack when she came in. I have never seen a horse dispose of such a heavy load of parasites in my life. The pen is cleaned regularly(as in a couple times a day) to be certain to remove all poo. Our biggest worry was getting her back up to par without overdoing the feed. She was not gaining at all but barely holding steady until we came to the feed mix she is now on. She is now holding steady at her current weight and not really gaining anymore. She has no access to green grass. She is in an 80x80 pen that is essentially a dry lot.
Ms.Pig is about the most in your pocket horse I have ever seen.Her only vice so far is food. We have been steady working on food aggression which while I say aggression she is not mean just insistent. She is learning to wait now for us to set her bucket and back away before eating otherwise it is removed until she calms down.This has worked well as now she is no longer pushy. I would not go so far as to say patient but she is getting there.
I will not breath easy until the foal is on the ground,healthy and so is she. Currently we are on foal watch. She has been bagged up for a while now but only recently started waxing. Her ligaments are super loose and her vulva is starting to elongate. No mucus as of yet and no huge lengthening to her vulva but has gotten noticebly larger and relaxed over the last day or so. When we got her we had no idea she was pregnant. I had planned to have her palpated but given her age and condition.. and he no stud around we did not imagine she would be pregnant. We put the bloated gut up to a belly full of sand and worms. (she had a lot of both in there). She currently does have access to a mid quality coastal bermuda hay. Not cow hay by far.
I do not have access to a physio here. I have gone by my vets recommendations. She wil not be ridden English. She will be ridden western. I have already gotten rid of the tack she came with as none of it fitted her properly. I have yet to purchase a saddle for her as I will be waiting until well after she has foaled so that I can be certain it is a correct fit. The one saddle I have at the moment is fitted to her pasture buddy Sunny. Which is rather amazing as it fits her(Sunny) like it was made for her.. and we had it prior to getting her from a previous horse we owned.Sunny was a little under with bad overgrown feet but otherwise healthy feet ( You would think we sprinkle miracle grow on the things! have to trim at 4 weeks on the nose)
As for my rewards.. I got them the day we found out she was pregnant..not because of the foal but because of what the vet said. He told us flat out if we had left her where she was she would have already been dead. He has seen her through every step of the way. I would by far pick him over any other vet any day of the week. He is not about the money but about the animal. SO many vets in this area are not like that. ( don't get me wrong I always pay my bill at the time of service). I have only gone through roughly 800 in vet bills on her since she came in. I count that as lucky since I know it could be much much more.
Ms.Piggy has me wrapped. My biggest fear right now is the possibility of losing her as neither us nor the vet are certain as to how her heart is gonna handle the birth. It may sound cold but above all else I want her to make it through. Not that I do not want the foal but she is my first priority. My vet knows this.

In all truth Barry I sincerely appreciate all the advice.I take it in the manner it was meant. Helpful advice from one horse person to another. If I had this to do all over again I would do it again for her in a heartbeat. My joy with horses comes from the act of taking care of them. I have had so many people ask me why I put so much time and effort into two old mares I didn't know from adam. My response is as follows " Old does not mean useless. It just means they need me more"
Well, Blue Eyes, it seems you are on track. Some horses show tremendous resilience and come through despite all the odds. It makes you wonder as to how she got pregnant.

It will be interesting to hear how she copes with the foal. Remember the first year of the foal's life is learning how to live like a horse (as against live like a human's pet) but much will depend on the mare's attitude - will she act motherly?

As I wrote the other day - the big reward is for you - you'll learn a lot over the next few months about horses. Well done so far.

Keep us all posted as to how it all works out.

Barry G

PS We rescued a stray cat a few weeks ago. She was meandering across a country lane along which we were driving. She weighed 2 kilos - say 4.5 lbs. Suddenly we realized the animal was blind. Obviously some b**tard had dumped her alongside the highway. We've watched and learned bit by bit as to how she copes with being blind in a fresh environment. It's fascinating to see how Mother Nature copes with adversity. Poody Tat is now doing well and putting on weight. She has been innocculated and tested by the vet. It seems she is about 10 years old. The dogs have let her into the household without any aggro.
I only wish I could learn how to inhibit her miaowing. She could sing an anthem .
Blueseyes, some horses, like people, do lose weight with old age. At 27 my gelding began to lose weight, just a little but noticeable. His diet was altered in my attempts to get his weight back up. He'd gain some then lose it. He wintered well but continued the gradual weight loss. It didn't matter what he ate, the weight wouldn't go back on. One has to realize the organs aren't functioning as they should. That fall, he was thin and there was no way I wanted him to try to endure our very cold winters so he was put down.
Saddlebag- I was not intending to insult anyone. You said yourself that his organs were no longer functioning as they should. That is a part of old age. I can understand the weight loss in that situation. The only point I was trying to make is that it seems an acceptable excuse (age that is) for being very underweight. I do realize that some do indeed waste away the same as some people do. I most likely should not have generalized that statement in regards to weight. I have just heard the excuse so many times, to excuse neglect. ( I am not by any means saying you neglected your horse from what you say you did everything you could for him/her and then had the mercy to put him down instead of let him suffer).
I consider it obvious neglect when the horse is bones,matted, and you can see a lack of hoof care. These are the situations that I get upset with when someone says "Oh they are just old". I am not a person to pamper the living daylights out of an animal.Again I am sorry if you took offense to what I said. I was wrong to generalize like that. I just get so sick of the assumption that all old horses must be bags of bones.
Rescue Part 2
---
A few years ago I rescued a horse that, at the time I couldn't even tell what kind of horse he was. I just paid the guy to quit abusing him basically. I was a long road of one our vet nor I thought he would survive but my nephew was very attached to him so we kept trying. He named him Superman. Really his transformation reminds me more of Captain America.

I recently acquired another rescue. At the time of purchase I didn't realise she was in need of rescuing but I think God works in mysterious ways. I went to see her at dusk and being white, winter and covered in mud, it covered most of her issues well. She appeared a little thin but not as bad as she was. Come to find out she hadn't been being fed and was apparently abused because you can't even approach her in a stall. Though she is a BLM mustang her owners prior to the ones I had bought her from had shown her in 4H for years. These people, who thankfully didn't have her for long, left her in a pen with no shelter, water, food and mud up to her knees. There was wire on the ground for her to cut herself on and she is covered in rain rot and lice. I named her Battle Born since she is from Nevada and it is the state slogan.

I'm not sure if anyone mentioned this or not but I always have the chiropractor out to check them prior to riding any rescues.
Figured I'd post what I think is the "after" of our rescue.
Before:
After: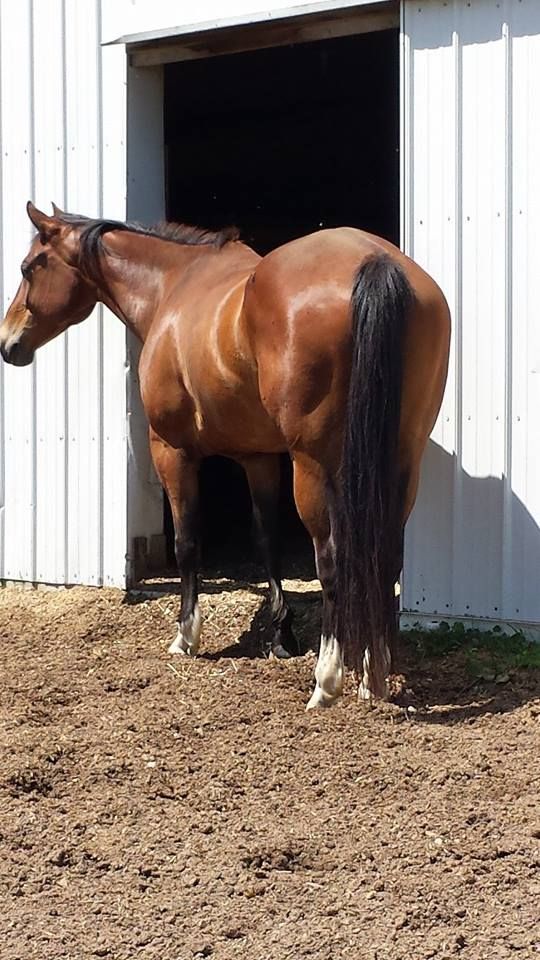 He has quite the personality. Isn't very fond of me, but loves my mom to death. I think he knows I favor Sonny, our other horse
He's a sweetheart with his in your pocket antics though.