Thanks Nutty Saddler for the posting my pics!
I'm not a Cf Farrier, but also trim my own horses (5). So this is just my opinion of what I think I see from the photos.

1st- If you are looking down at the horses hoof, it looks like the right heel is longer then the left, therefore the hoof is unbalanced.

2nd- Looks like your horses almost has tips that are longer then the back of the heels...I'm not quite sure how to explain that. But it doesn't look right.

3rd- Again the right heel looks longer then the left, only this angle is easier to see it.

It almost looks like the heel is beinging to grow "underun".

I don't know if that helps out at all but that's what I thought based on the photos posted.
I was thinking the same thing about the heels, zany - but I'm new to trimming, so I thought I'd lurk on this one a bit more.
---
Ask Often, Demand Nothing, and Reward Generously.
CRAP this was supposed to be a new post...continue on lol
---
Last edited by stacieandtheboys; 06-21-2009 at

05:16 PM

. Reason: mistake posting
They do look unbalanced to me. And is it just my feeling, but are they wet or something? It's great you have old guy to look at the trim. Hope he'll be able to do something!

BTW, sometime depending on conformation the farrier HAVE TO take more hill on one side. My horse's back feet have really strange shape and she wears inside much more (or outside - don't remember at this point), so the farrier usually leaves more hill there. I spoke to like 4 farriers and ALL told me the same thing. But she's some kind of weird exception anyway.
Thanks for all the replies. I just went out to see him and he is walking much better today was full of himself from the rain and colder weather we are having today but I did notice when I cleaned out his feet that they are very bruised in the sole. He was running and bucking today when I brought him in the indoor so im hoping that this guy can just rebalance him without any further issues. I am glad you guys noticed that his feet dont look balanced, so im not thinking im crazy when people say just do this or that!! I feel better that he is feeling better but something needs to be done about getting him balanced for sure.

Kitten Val- they are wet in the pics, your not crazy.. haha I washed them to get decent pics.
I'll share my experience here - remember, I am not a Farrier either, nor do I trim my horses feet.
I had a Farrier for about 2 years doing Nelson's feet - I never paid much attention, because he was the professional, so I trusted him.
Over this period of time, Nelson started reaching short, tracking up, landing on his toes - I didn't realize it was his feet, I thought it was because he was getting older and needed Injections.
He couldn't keep a shoe on either. He would throw a shoe within weeks of just being done. Dry Brittle Feet, thin soles, all that stuff that goes alone with incorrect angles.
This is what his feet looked like at that time - believe it or not, these pictures were taken after he threw a shoe, after a few weeks of just being done. During an 8 week period, he would have 0% growth. NO heels *my Farrier at the time said that is just how TB's are and just accept it for what it is* and very thin soles. My Farrier had no where to put new nails, beacuse of the old holes from previous nails being put in.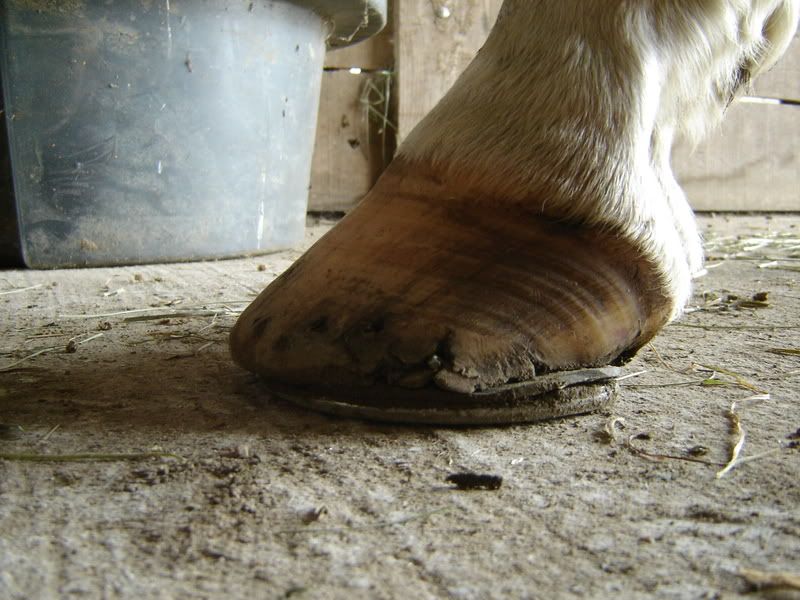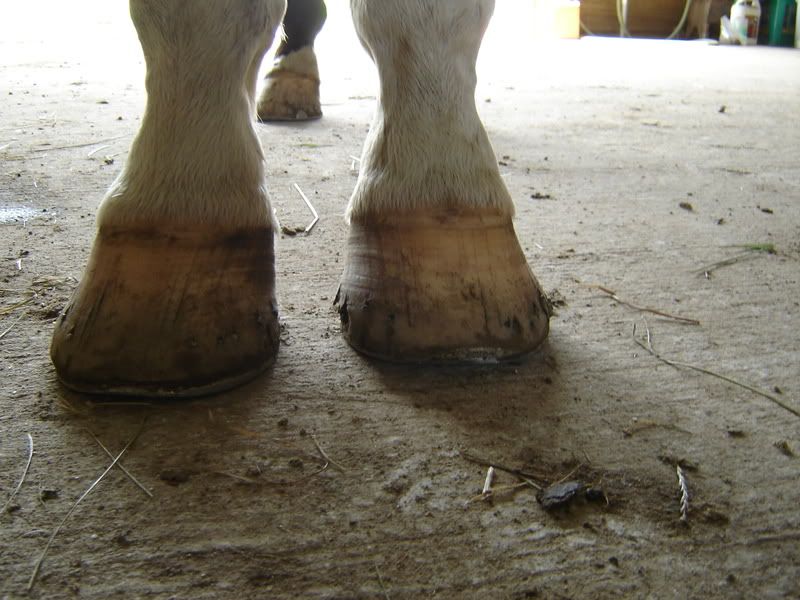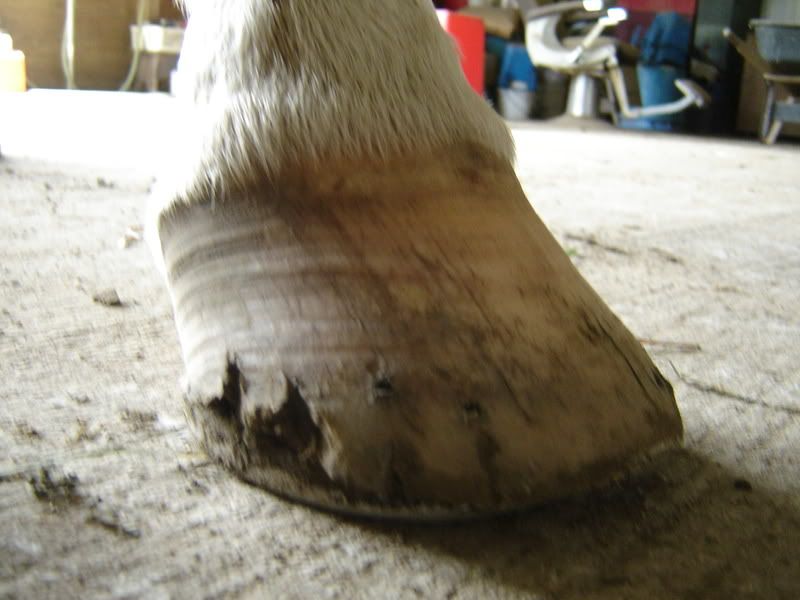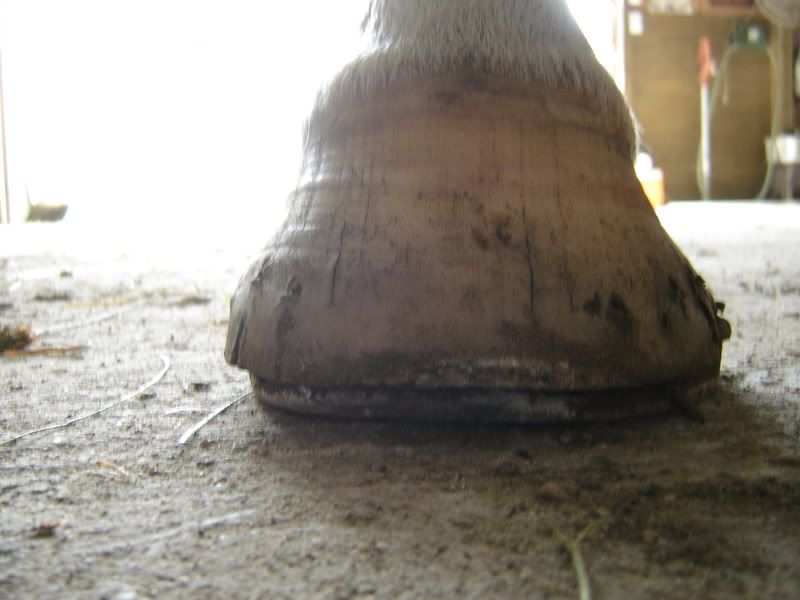 So - one fateful day, he threw a shoe - yet again. I called my Farrier to come and do an emergency shoeing, but he couldn't - he was on his way out of state for holiday....so I had to find another to come and put his shoe back on.
I found one, thankfully. He showed up and took one look at his feet and asked me "when were his feet last done?" I said - just a few weeks ago - and he was shocked.
He took me threw the steps of where his feet should be, the angles and the percentages of where what should be and how. From his heel to his breaking point and from his breaking point to his toes. He showed me how his angles should be in accordance to his pasturns and his shoulders and hips.
He also showed me how much pressure were in his toes. He proceeded to walk up to Nelsons left shoulder and he did some massaging - and Nelson almost collapsed due to the pain. He told me that is because of how poor his angles are.
So he started to do corrective shoeing with Nelson. When he pulled his toes back, you should of seen how much blood and bruising was built up in them from how off his angles were.
We had our 3rd session already, and are awaiting our 4th on the 1st of July. I'll get pictures of his new toes for you to see the MASSIVE difference.
Nelson now has short toes. He now has heels growing. His frogs are opened up, and his soles are thickening up with growth.
It is all about Blood Flow! I've learnt so much just from my new Farrier.
Nelson also, during the time of the previous farrier - wouldn't land on his heels, because he had none, nore did he trust them. If you watch him under saddle even to this date, he will still land on his toes because he hasn't figured out that he can trust his new growth of heels.
BUT he is now tracking up much more easier than he was before. I don't need to inject his hocks - because that wasn't the issue, it was his incorrect angles that were causing the problems.
I have a new horse because of this :) And I am very thankful and blessed to of had my eyes opened!
---
Firstly looking at the two pictures of the heels together you can see that one is cut shorter than the other - this will unbalance your horse .
Looking at the side on picture
1. the heels look to be underrun and not at the correct angle - if you look to the lines on the hoof wall you can see this. The angle of the hoof at the back should be similar to that at the toe - clearly yours are not.
2. the sole of the foot does not appear to have any cup - this will make your horse footsore as the hoof wall should be the weight bearing part of the hoof that comes in to contact with the ground.
3. if you look at where the hoof has been rasped ( yellow coulor ) you can see a step at the back where it meets the heel.
all in all not a good trim
The hoof being underrun is a concern - and is NOT the fault of the farrier this time round ( even if the trim is not good ) . A underrun heel is almost typical of a navicular foot - this dosen't mean that yours has navicular but I would have words with your farrier about corrective trimming to bring the heels into correct alignment.
read this :
Hoof Cure Navicular Syndrome
some of the pics are a bit graphic ( yuck ) but you can see a similar look in your horses feet - it also outlines some methods for correcting the foot
Difficult to see if too much toe has been removed from the pictures but a simple guide is to measure from the point of the frog to the toe - the distance should be aprox 4.5cm
If you don't mind can you keep us in touch with what your farrier has said
Quote:
Kitten Val- they are wet in the pics, your not crazy.. haha I washed them to get decent pics.
Good job! I'm always too lazy to wash them - just use the hoof brush. Lol!