Chestnut shedding hair on face?
---
Every spring when my chestnut sheds out his winter coat he starts to lose the hair between his eyes... and then it turns into black patches of skin for the rest of the summer.
i know it's not serious, because it happens every year (and to other chestnuts at the barn).. but it's just not that nice looking. Does anyone know what it is, or if anything can help it?
here's a picture: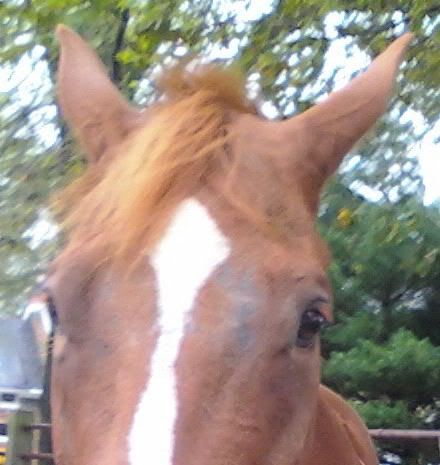 thank you!
---
Cisco
14 year old Quarter Horse gelding

"some horses come into our lives and quickly go, others stay awhile, make hoof prints in ours hearts and we are never, ever the same"
my horses do this too, but I always thought they were just rubbing their faces
it happens to my bay as well every summer. i dont think you can get anything to stop it or help it. its just a natural part of their shedding. dont know why it happens to some horses and not others. some one might have a better answer than me lol!
---
Horses lend us the wings we lack
Chestnuts are generally darker in the face, and this is natural. My chestnut mare does the same thing.
Similar Threads
Thread
Thread Starter
Forum
Replies
Last Post
Losing hair on face....

idance0nhooves

Horse Grooming

7

09-11-2008

06:17 PM

Shedding Dog

FGRanch

General Off Topic Discussion

12

07-23-2008

04:11 PM

Shedding Out

MistyAcres

Horse Grooming

15

07-16-2008

08:03 PM

Shedding

Shiloh Arabian

Horse Grooming

9

03-19-2008

08:56 PM

Shedding

ImaFlashyBit

Horse Grooming

9

03-15-2007

11:08 AM