Conditon of this horse
---
We just got another rescue in.
He is a Clydesdale (we assume) cross. He is 8 yrs old.
His owner just left him with her mother, stopping buying feed for him and the woman was unable to keep him up on her limited income.
So, we went and got him. His name is Big John - which I think will suit him once he is bulked up!
He is totally child safe and my older son loved him, so he should make a great beginner horse for him once he is in better shape.
I just wanted opinions on his condition. Everyone says something different on how much weight they think he needs.
I currently have worked him up to a 3 lbs sweet feed, 2 lbs beet pulp, rice bran, flax seed and alfalfa pellet/cubes mix twice a day, 1/4 a bale of hay twice a day and a semi sparse pasture diet today. I am thinking this will need upped if he needs the weight I think he needs. There is still grazing in the 3 acre field, that is why the hay is at 1/4 a bale. We've had him 4 days.
There is a photo of him next to Happy, our rescue gelding. He is a little on the thinner side, but seems stalled at gaining more. Everyone says it is just the saddlebred in him. . . lol. Seeing him next to Big John shows HOW much weight Big John needs and how much condition, especially when I consider Happy is, at best, a 4 1/2 on the BC scale. Our 12hh blk/wht pony, Lucy, is behind Happy, and she, on the other hand, is on a diet . . .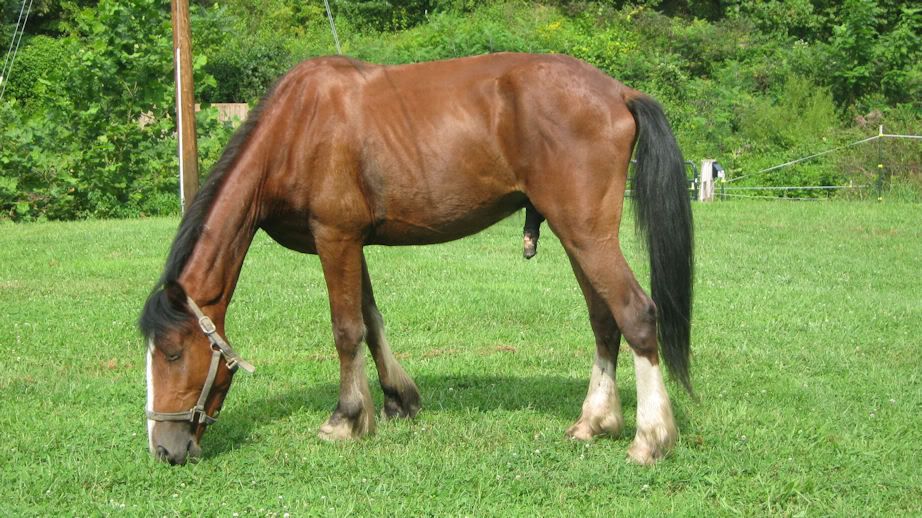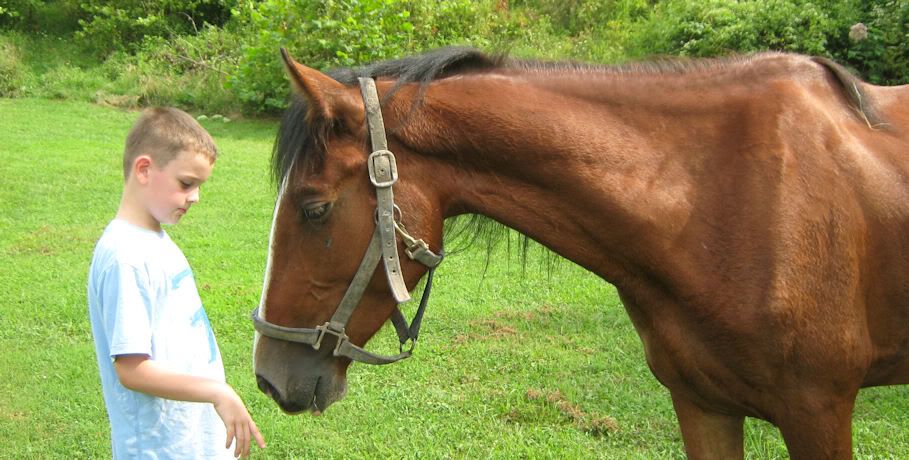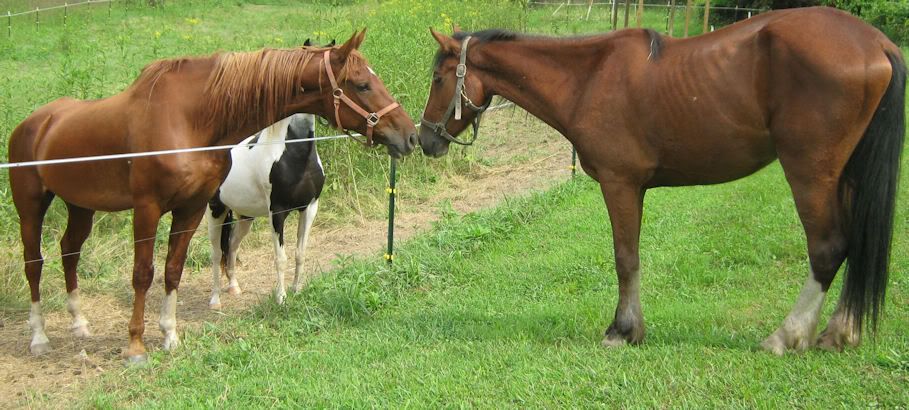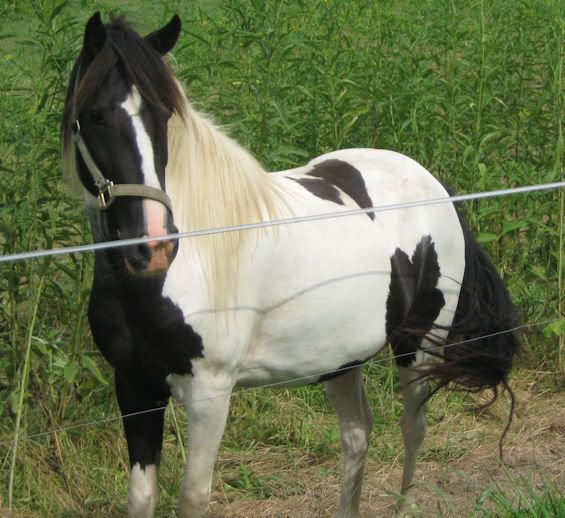 Thanks for opinions!
Congrats on him!

I think you have a good feeding program. It's not very clear, but do you give 1/4 total or 1/4 each twice a day (totaling 1/2)? If 1/4 total then I'd still increase it to 1/2. I noticed often they prefer to munch on nice hay rather then graze on pasture. Why? Don't know - I guess less work. Lol!
1/4 twice each day... so 1/2 a bale a day
I do not like giving sweet feed to put weight on. It's like an athelete trying to put on muscle & weight by eating candy bars and ice cream... It just isn't healthy!
I would have him on free choice grass or timothy hay, 5 lbs of Alfalfa split in to two meals (pellets or cubes work well), 2 lbs of whole oats mixed with rice bran or flax, a vitamin supplement (like select II or grandvite), and a probiotic (add a little oil or water to make it all stick). This is a much healthier mix for weight gain and stabilizing his metabolism and gut function. You can feed up to 2 cups of Flax or Rice bran, along with up to 1/2 cup of oil for good fat calories. You can increase the alfalfa to 8 lbs and the oats to 4 lbs if needed, though most horses will gain weight very well on 5 and 2 respectively, if they have free choice hay.
I think he's about a 3.5 on the Henneke scale. He's not terribly skinny (emaciated), but definitely thin. Depending on his height, he'll need 150-200 lbs on him, maybe 250.
Also, don't judge his temperment now... I had one that was a puppy dog when she was thin and had shipping cough. Once she gained weight and was healthy again, she was NO beginners horse, lol. Drafts are usually calmer in general, but Clydes are the more "spirited" of the drafts, and he's definitely a cross, so who knows! He looks like a sweet boy though. It's great you got a hold of him and he's in good hands now
.
---
Last edited by luvs2ride1979; 08-19-2009 at

10:48 AM

.
Yearling
Join Date: Jan 2008
Location: British Columbia, Canada
Posts: 1,284
• Horses:
4
I agree, ditch the sweet feed, it's candy. I also agree on waiting to see what you have till you get some weight on him, they can get a little spunky.

I love his kind eye, good for you for helping him.....!!!!!
Quote:
I agree, ditch the sweet feed, it's candy.
My "hard keeper" half TB turned in to an easy keeper as soon as we STOPPED feeding him sweet feed or any kind of horse feed that had grain products in it, wheat, or molasses. Poor guy can't even have oats, lol. He put on weight faster than I'd ever seen on him, and it was good muscle weight, not belly weight/fat.
My mare also quit ballooning up so fat and her seasons/heats were MUCH better when she was off the horse feed. If I didn't see it myself, I wouldn't have believed it, but our WHOLE BARN at the last place I boarded at improved when the BO switched to a forage based diet. They all calmed down (some spunky gaited horses!), the mare's were not so "mare-y", and the horses just had a better "look", even the ones who were never ridden.
------------------------
Ohh! I forgot, to the OP: I would have your vet check his teeth ASAP and deworm him. That will help put weight back on quicker. I would deworm with Pyrantel now and Ivermectin in 4 weeks. That should clean him out well, and make sure he's getting all the nutrition, and not the worms
.
Aw, he is just adorable. His eye is so kind and soft. You have gotten some really good advice about feeding so I just wanted to pop in and say good on you taking him in. With time and feeding, he is gonna be a gorgeous horse.
---
Always remember that feeling of looking at a big, open country over the ears of a good horse, seeing a new trail unwind ahead of you, and that ever-spectacular view from the top of the ridge!!! Follow my training blog:
http://robertsontraining.blogspot.com/