Crested neck, Is there anything I can do?
---
The clyde on the right is a horse I'm working on getting, the crested neck doesn't bother me but I am just curious if there's anything I can do to make it go away. She is fat off of a coastal round bale. Any ideas would help! Thanks in advance!
Green Broke
Join Date: Oct 2009
Location: Outside of Oklahoma City
Posts: 2,653
• Horses:
6
For the most part, no. It's genetic and the way she was bred to be built!
Posted via Mobile Device
She needs to lose weight asap. The crested neck is a good indicator of horses are are at risk for Insulin Resistance, laminitis and founder and other metabolic disorders.

If I were looking at her to purchase (even cheap or rescue), I would not touch her without x-rays of her front feet. I would want to make sure that she has not previously foundered, even lightly, and does not have any rotation in her Coffin Bone.

A thick, cresty nest is a big warning flag for me.
crested necks
---
Unless she's terribly overweight all over and showing signs of abnormal fatty deposits then the crest is just part of being a Clyde, they were bred to push on a collar in harness for plow work (they dont pull) so they tend to have huge fronts, shoulders and a big neck is part of that build. Our part Clyde has a huge neck but the rest of her is a good weight and you can feel her ribs, its common in a lot of cobs and draft breeds
If you are concerned ask your vet to do a blood test to check for blood sugar and insulin levels and at the same time do a body score for you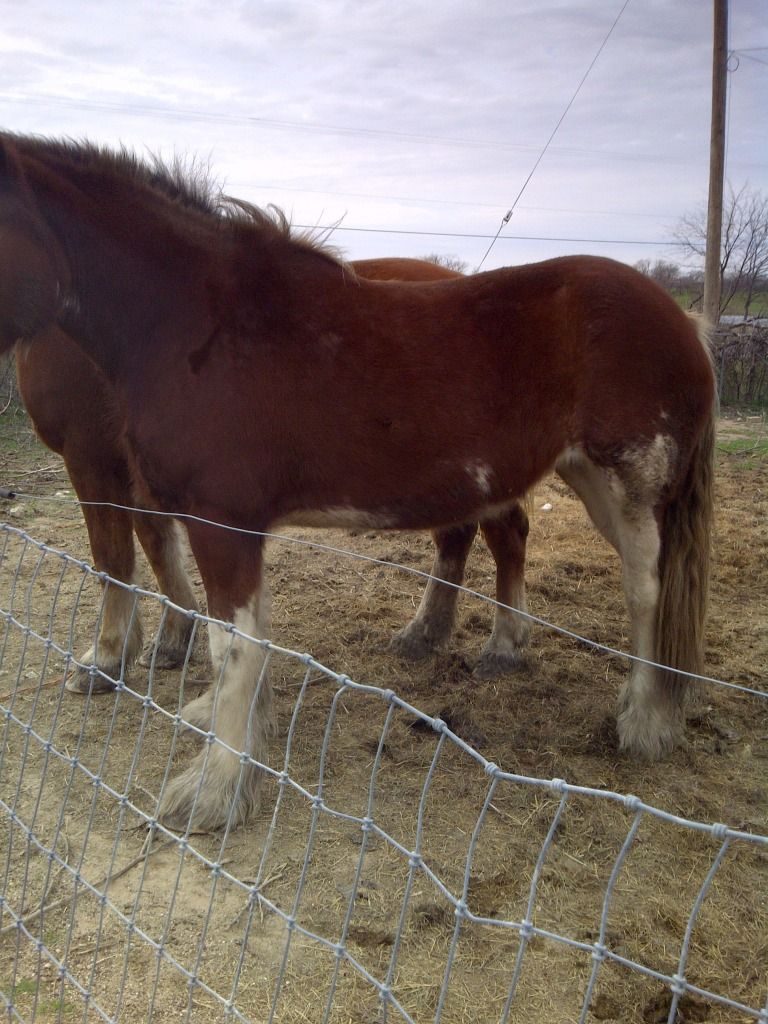 She is chunky all around, She has no job but to eat the round bale. The lady hasnt had any issues with founder or anything else. the lady has owned her since her birth and has done nothing with her except for ground work.
cresty neck
---
She doesn't look overweight at all to me, I can see the slight crest in her neck but its not massive by any means.
Certainly paying out to have her feet X rayed is worth doing and you should have her vet checked anyway so ask his/her opinion then
Like I said I'm not worried about it, but the pictures I have are not the best but she is on the chunky side in my opinion as you cannot feel her ribs. I plan on getting her checked but I was just curious if there was anything that could help it. In the second picture it's not as noticeable as in the first one.
I also do not think she is obese by any means. Since drafts have such huge percentage with metabolic problems, (hence their tendency to founder), tie up and not be able to eat grain, lush grass and hays that are high in sugar, I would probably still have her checked out by a Vet and x-rayed. Many horses have lamanitic episodes and a good many founder lightly and the owners do not even know it if they are not working or using them. As soon as they are worked, it comes back to bite them.
Agree with jaydee. It's the breed. And once you start working her a little she'll trim down. Blood test and foot xrays are a good idea, just to be on the safe side.
Now, if I wouldn't like big necks I'd have to look into different breeds.....just saying
Posted via Mobile Device
cresty necks
---
Quote:
Originally Posted by
deserthorsewoman
View Post
Agree with jaydee. It's the breed. And once you start working her a little she'll trim down. Blood test and foot xrays are a good idea, just to be on the safe side.
Now, if I wouldn't like big necks I'd have to look into different breeds.....just saying
Posted via Mobile Device
Yes - she is never going to be a slim Jim TB so you have to make up your mind now if thats what you prefer and if she's young she's only going to get thicker set as she matures -
Drafts and cobs - you either have to love them for what they are or leave them well alone