Dangers they find. Photo heavy and very gory!!
---
Horses have a habit of getting into all sorts of trouble!
I had two yearlings turned out with two empty brood mares. Normally if the weather is hot and the flies bad I bring them inside but Thursday was a heavy day and I left them out. Checked first thing and all were OK.
Went to check them when I was walking the dogs and saw that one had a 'nasty' gash along his side. Nothing I could do at that point so hurried home, put dogs away, called vet. No reply on his cell phone so left message and called surgery, so they could alert him on the radio.
Vet calls back immediately to say he was 45 minutes away - that was fine.
Brought the horses in. They had moved from the top of the field and were all grazing at the bottom.
This was a prize injury. After they were in and waiting the vet I went to see if what he did it on could be found. Didn't take a lot of looking. They had the run of two fields. The gate was tied back but I think that the flies had driven them bonkers and they had galloped through the gate he had caught his side on the staple gate latch (first picture) This was pulled out of the gatepost one side and the other was at a right angle so the fitment was flat against the post.
He had not caught himself on the piece that actually catches the gate but on the rounded side.
The rest are pictures of the injury.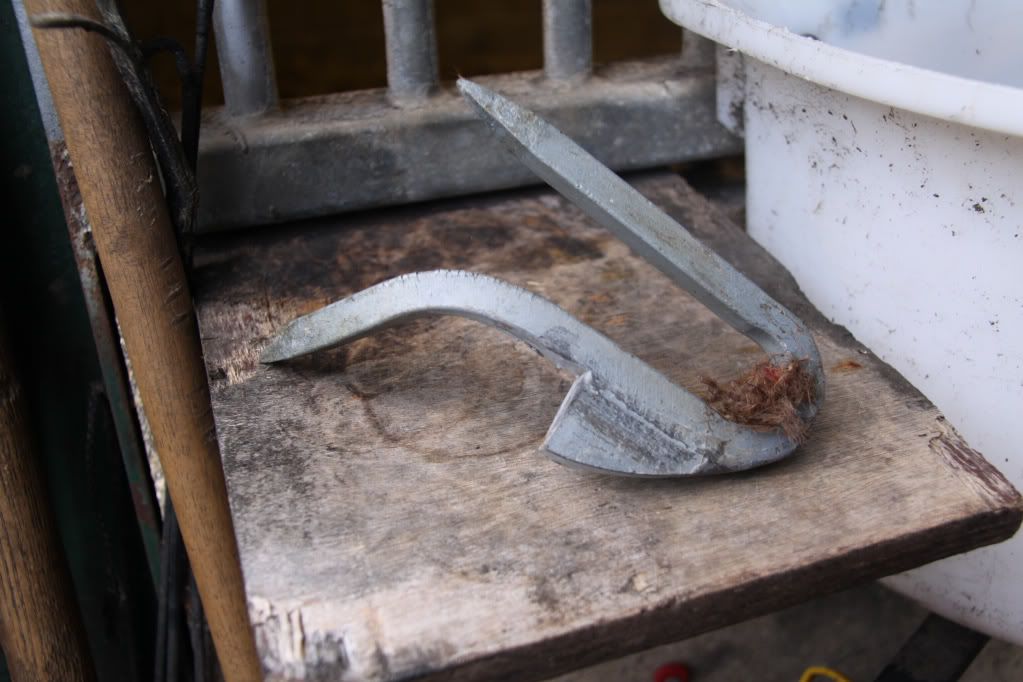 Showing the flap that he had punctured under - stitching the muscle back together after removing a broken floating rib. The white piece to the right of picture.
The tubes were stitched in to try and take some of the pressure from the stitches holding the skin together. The yellow is thick grease to stop the oozing from burning his skin.
---
Last edited by Foxhunter; 08-14-2012 at

03:01 PM

.
The fifth picture really got to me!

I'm sorry that that happened, I hope that he heals soon. I find external wounds to heal faster than internal...
OMG
!!! Poor guy!
---
Always remember that feeling of looking at a big, open country over the ears of a good horse, seeing a new trail unwind ahead of you, and that ever-spectacular view from the top of the ridge!!! Follow my training blog:
http://robertsontraining.blogspot.com/
I get a little sick looking at horse injuries. I am SO SORRY and praying for complete recoveries. PLEASE, everyone, check out your turnout areas for dangers.
Oh wow!! Fingers are crossed for as speedy recovery as possible :( The poor chap! :(
---
Stop for a minute, open your mind, learn. You may not agree with what I say, I may not agree with what you say but we will both learn something new.
Oh mine did something similar!

I used a human product called Dermoplast. Its a spray on antibiotic, pain killer so you don't have to touch it. He really liked it, maybe you can find something similar over there.

Poor baby will have a good scar from that!
Green Broke
Join Date: Jan 2010
Location: south of nowhere, north of nothing
Posts: 4,643
• Horses:
6
OUCH! holy cow....it hurts ME to see what horses do to themselves! poor guy...hope he heals fast!
Ouch, he sure buggered himself good! Sending healing vibes your way. Please keep us updated on his healing progress.
---
Life is like a camera. Focus on what's important, Capture the good times, Develop from the negatives and if things don't work out, Take another shot.
Super Moderator
Join Date: May 2012
Location: CT USA an English transplant
Posts: 24,609
• Horses:
3
injury
---
Gosh that looks awful, worst sort of injury of that type I've ever seen. I do hope he's going to be alright. One of our past riding horses turned brood mare turned back into a riding horse had a similar scar on her side when we bought her so they must repair and recover but still terribly painful.
He was probably actually lucky that it caught him there if it was going to catch anywhere as I remember a lovely TB that Mick & Dawn Burton from the Stocking stud bred that caught his stifle on the end of a rail as he went through a gap out on exercise and literally ripped the whole stifle out and he eventually had to be shot.
He has this whole thread rooting for him!!!
Wow! Great photos, thanks for sharing. I know he will get better, give him lots of love from all of us here. Honestly, for a big wound at least he did it in a way that is pretty tidy. I would prefer an injury like this than a bad injury on the hoof, joint, leg, etc....the silver lining right? lol

Please keep us updated with more photos documenting his recovery!