Diary of a wound, treated with Underwoods medicine
---
I thought this may be interesting for others to see.
On April 28th I went out in the morning to find Ace looking like this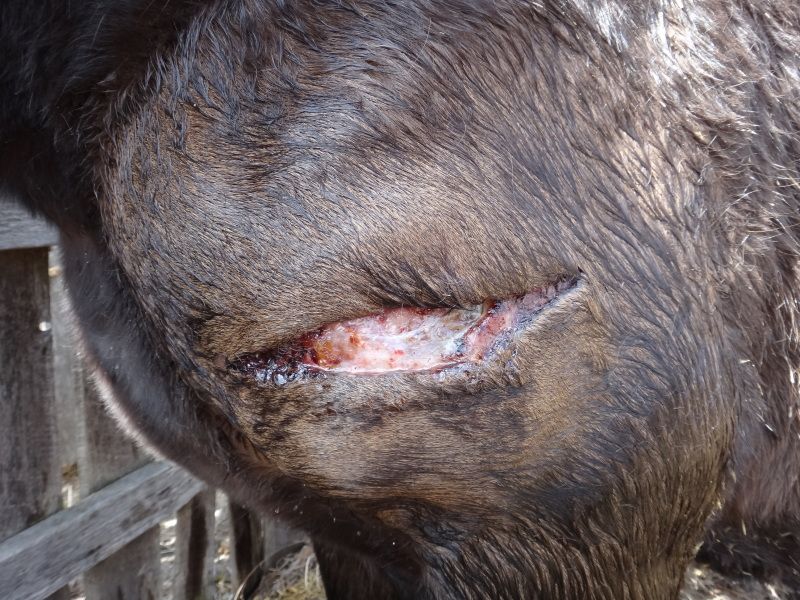 I was horrified, and called the vet out, I was then even more horrified to get a bill for over $200 just to have her drive out take one look at it, announce that she couldn't stitch it, because it was to old, advise treating with unpasteurized honey, and then she left. Now to be fair it was the weekend, because horses only ever get injured out of hours, anyone else scared this long weekend! It was also so wet and flooded around here that I couldn't trailer her into the vet.
I didn't have any honey to hand, but did have some Underwoods left, so I started with that, hosed the wound thoroughly to start with, even though you don't have to with Underwoods, and have treated her twice a day from then.
I don't know how her healing is compared to not doing anything, or using a different product, but so far I'm happy with the progress.
At one week, it looked gunky so I hosed it again, not as reccomended, but I felt it needed it, only the second washing it got.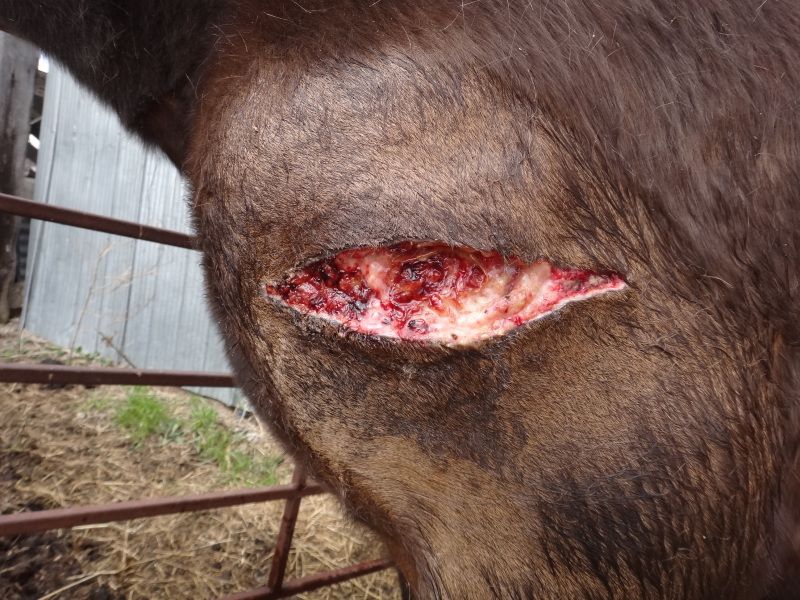 At two weeks from injury it was looking a lot better, apart from some straw stuck in it, but I left it alone.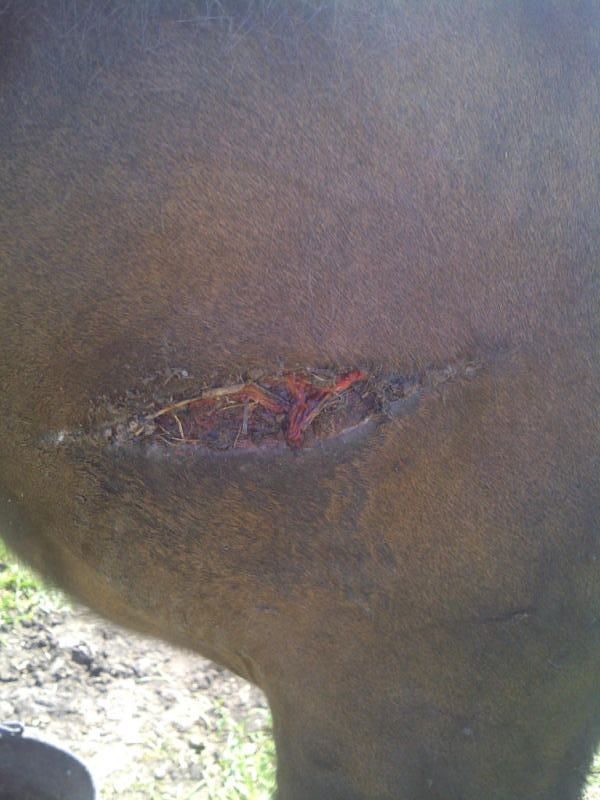 Today 3 weeks from the original injury, looking pretty good.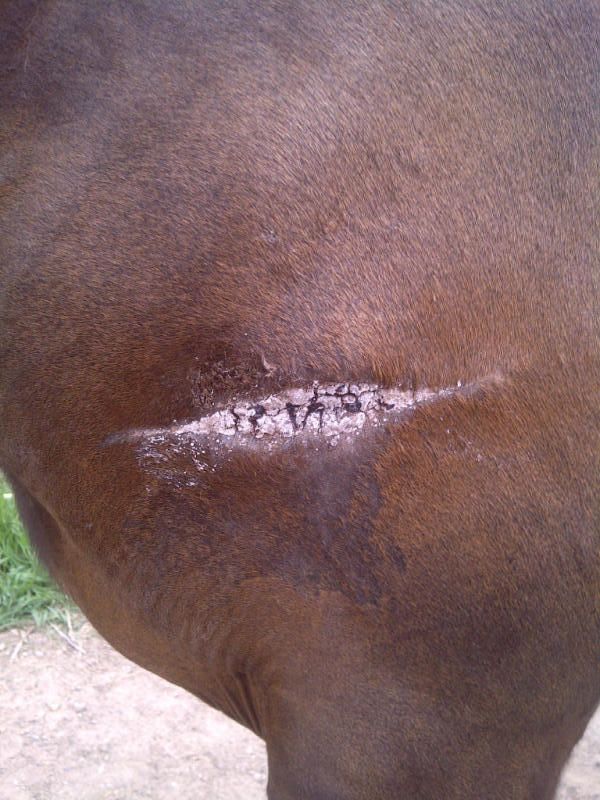 I have never dealt with a cut like this before, so can't say if the Underwoods is a magic potion, but I am really please with the progress.
Looks like your treatment regimen has worked. Keep up the good work!
Teen Forum Moderator
Join Date: Dec 2010
Location: South East Texas
Posts: 7,157
• Horses:
2
OUCH, poor Ace! Looks like you're treating it well though, its looking good!
---
Everyone in your life is meant to
be in your journey, but not all of
them are meant to stay till the end.
There is absolutely nothing better for healing up a flesh wound. We have used it for years.

Buddy Underwood lives just a few miles from us. We have used it before he was labeling it and selling it commercially. He used to sell it at the local sale-barn and 2 or 3 of the local feed stores.
I have read other reports saying that it does nothing, and that there are substances in it harmful to the wound, but I am a firm fan. I bought it a while ago when dealing with an injury on a hind leg. I had tried a lot of different things, but I couldn't get it to heal, partly because it was such a horrible battle every time I tried to doctor it.

Underwoods was my last resort, and I wasted a lot of the first bottle as she would cow kick every time I tried to spray it. After a 10 days or so I could just spray and dust her as she was eating, never moved a muscle. I know that it saved our relationship in that case, so much easier than having to have a battle the whole time. That injury was in a bad way when I started, so although the results were great it wasn't the best test.

This is the first injury that I have treated from day 1, and I'm impressed, but I was hoping that someone may be able to tell me if this is a quick healing time for a cut like that or not?
Wow! What on earth did Ace get herself into..

That is a fast healing time for a wound of that size and depth, in my experience.

It took 2 weeks for a puncture the size and length of my pinky to begin to heal on Sky, with stitches of course.. but over 4 weeks before he could be ridden. His other injury is a mess so I won't mention that, but it began to close up within 3 weeks whereas yours is almost completely scabbed over!
---
"Strength is the ability to use a muscle without tension"

She is pastured with Fancy and Flight, because she is a great babysitter, but Fancy can be a bitch sometimes. We found a sheet of tin had torn away from a nail in the gales we have been having, and we think that Fancy probably made a face at Ace, who is the biggest coward out, and she spooked into the tin.

What was even more frustrating is that was the first night she was out without her blanket, if she had been wearing it she would of probably been OK
Something eles that will work is cooled bacon grease.

I heard that from an old guy years ago and tried it.

It worked!!!

Not my first choice....but, in a pinch.....
I have been treating wounds for over 50 years. I have found nothing better than Underwoods' for flesh wounds -- anything above the knee or the hock (and that includes Vetricin -- I just had to try it).

I have found better ways to treat large wounds below the knee or hock but nothing beats it above them.

If the OPs horse was mine, I would now switch to either bacon fat, lard, Corona or a white people creme in a jar called 'Uderly Smooth' (this is my favorite). I would not use any of these things until after it was completely closed and only a hed scab showing.

Then, after it softens, I watch for proud flesh and switch back to 'Underwoods' or 'Prouds Off' until the proud flesh is gone and I go back to the creme. The creme encourages regrowth of regular colored hair and leaves less scar -- at least that is how it has worked for me.
---
Last edited by Cherie; 05-20-2012 at

11:23 AM

.
Quote:

If the OPs horse was mine, I would not switch to either bacon fat, lard, Corona or a white people creme in a jar called 'Uderly Smooth' (this is my favorite).

You would or would not?
My current plan is one more week on the Underwoods, and then onto bag balm, or udderly smooth, love that stuff.