It was supposed to say 'now'. So, I fixed it. Having Mod tools comes in handy. Thanks. Cherie
It does indeed, wish I had your tool kit
I really love Underwood too....but my 2 yr old Mystic loves to eat it if it is in a place she can flex to get to it.... Crazy mare!
Love seeing how well Ace has healed on what I'm sure was a shocking find that morning along with the shocking vet bill...ugh!
Posted via Mobile Device
If a horse tried to chew on a healing wound (it itches as it heals), put a 'bib' on it. They can eat with one but it is pretty hard for them to chew a wound.

A more restrictive measure to take on horses that still manage to chew a wound, is to put a pole ((3-4 foot piece of a broom handle) from a halter to between their front legs to the bottom of a surcingle. [This works good for an old nurse cow that has learned to suck herself, too.]
I LOVE Underwood's! Awesome stuff. And just because it was mentioned, Honey works wonders too. I was out of Underwoods, it was after hours, the cut was too old when I found it and deep enough it needed SOMETHING so I went in the house and grabbed a jar of plain old Walmart Honey, pasturized and all. Slapped it on a Maxi Pad and wrapped it up with vet wrap. We hosed and changed the bandage every 2 days and within 3 weeks the cut was completely healed and never once looked infected. I was AMAZED.
---
That's good to know, Dream Catcher, I'll make sure I always have honey on hand then, but I have also just ordered another couple of bottles of Underwoods
Week 4.
I stopped using the Underwoods, and changed to Feibings Udder cream massaged in twice a day this week.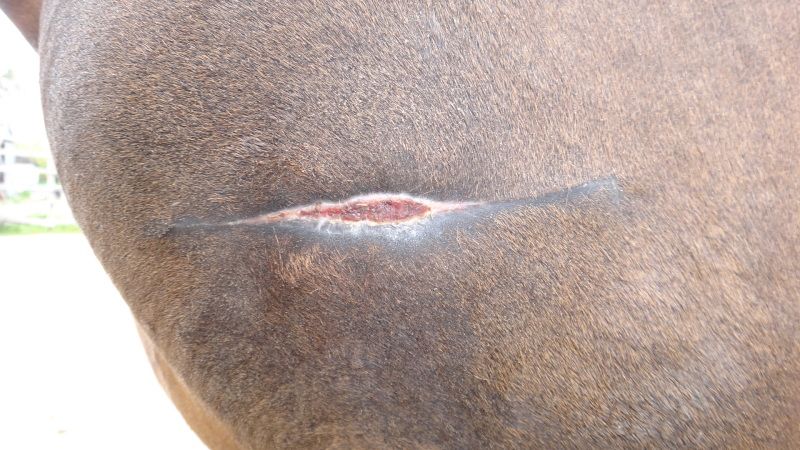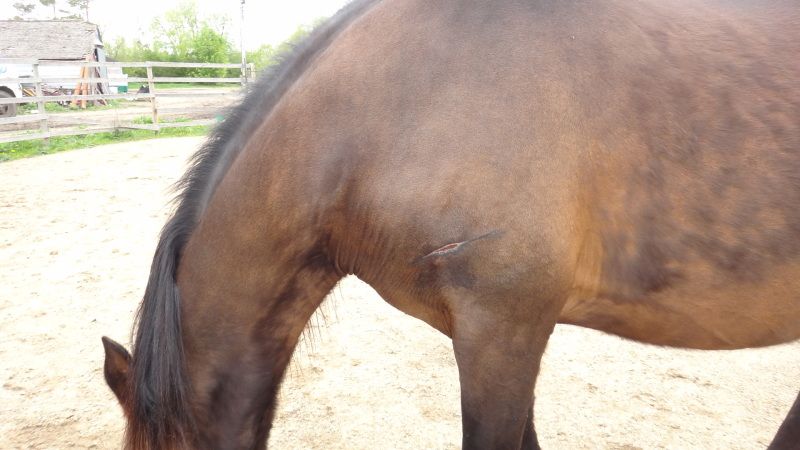 Glad it healed so nicely, I love Underwoods too!
Quote:
I have been treating wounds for over 50 years. I have found nothing better than Underwoods' for flesh wounds -- anything above the knee or the hock (and that includes Vetricin -- I just had to try it).

I have found better ways to treat large wounds below the knee or hock but nothing beats it above them.

If the OPs horse was mine, I would now switch to either bacon fat, lard, Corona or a white people creme in a jar called 'Uderly Smooth' (this is my favorite). I would not use any of these things until after it was completely closed and only a hed scab showing.

Then, after it softens, I watch for proud flesh and switch back to 'Underwoods' or 'Prouds Off' until the proud flesh is gone and I go back to the creme. The creme encourages regrowth of regular colored hair and leaves less scar -- at least that is how it has worked for me.
Cherie, what do you do for wounds below the hock? My colt managed to gauge out a big hole the back side of his right front leg just above the coronet band. Vet stitched it up but after the initial healing stages it would be good to have some options from someone more experienced.
First of all, have the stitches held? If they are holding and the wound does not break open, I would leave it alone and wrap or bandage it according to what the Vet the sewed it up instructed. I would keep ALL topicals off of it as long as the stitches are holding.

That said, my experience with sewing up wounds below the knee or hock is that the stitches hold for a few days and then the wound breaks open and you have a bigger open wound to heal up that you would have had if you did not sew it up in the first place. It took me several years and several failed Vet stitching jobs to figure this out. I think I just wanted, so badly, for it to work. In reality, almost none of them did.

Wounds below the knee or hock tend to get a lot more proud flesh in them. You have to have some proud flesh to close up the gap in the skin on an open wound. Proud flesh is nature's band-aid. You have to have a little of it to fill in the gaps and to cover the exposed bones and tendons in a deep would.

So, in the beginning, I will thoroughly clean the wound ONE TIME an one time only. Then, I NEVER put water on it again -- ever.

When it is clean, I dry it with a paper towel and I put on some DMSO with a daubber and then I put Furacin Salve on the fresh wound and keep it wrapped. I will keep it wrapped, changing it daily for 2 or 3 days and then going to every 3 days.

When the gaps are filled in, I do not use Furacin any more. It promotes proud flesh and once there is enough of it to close the gaps and cover the underlying tissue, I work on getting it actually heal.

If it is summer and the flys are bad, I will use Underwoods' and baking powder because the flies stay off of it. Whenever I see any proud flesh protruding beyond the level of the skin I put 'Prouds Off' on it and let it 'eat' it back down to the skin level.

When it is dry and scabby, i put an unmedicated salve on it to keep it soft. I will alternate between the 2 or 3 things until the wound almost disappears and then I just keep a salve like 'Udderly Smooth' on it to help it hair back up.

When I started using DMSO on fresh wounds, I quit having any problems with infection. It also reduces the inflammation and swelling that can be so severe. Underwoods on a flesh wound also stops really huge wounds from getting infected. I do not know why, but bacteria cannot seem to be a toe-hold with either DMSO or Underwoods.

Deep wounds and puncture wounds always call for a Tetanus shot (anti-toxin). I keep a big bottle of it in the fridge.