Does he look better?
---
When I first got rocket he was all ready kinda skinny then started to get skinnier until we got his food all figured out. I am wondering if he looks better now that he is getting three pounds of grain, one pound of cracked corn, and grass for a few hours a day. It's hard for me to tell since I see him every day.
first day that I had him.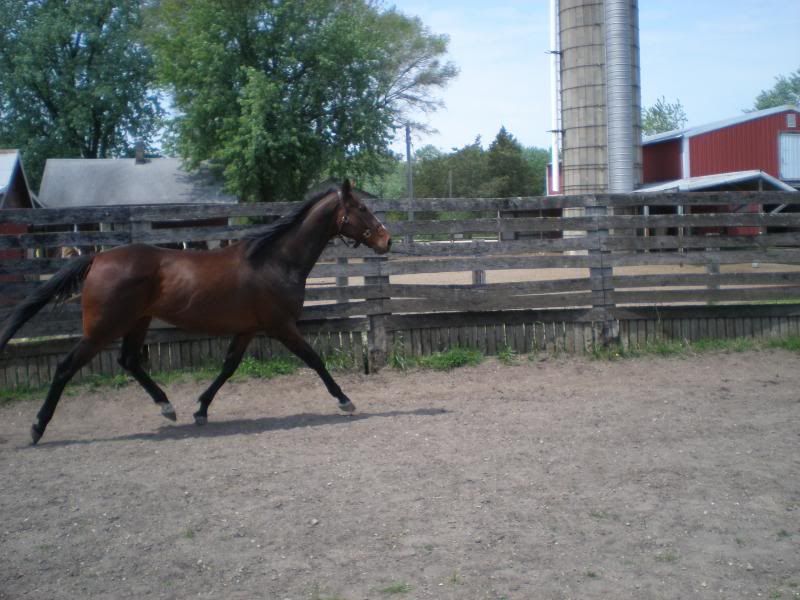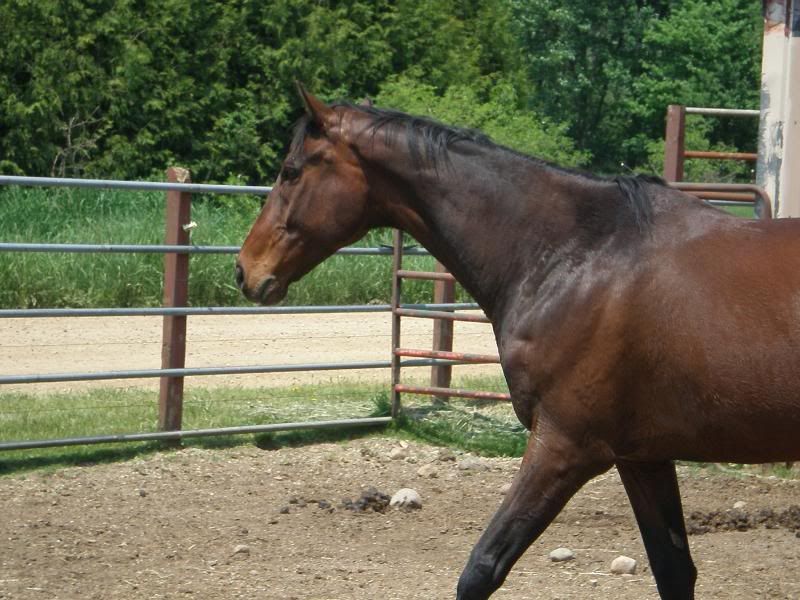 Sorry no good shots of him when I first got him.
Couple weeks after having him. Bad finger for getting in the way.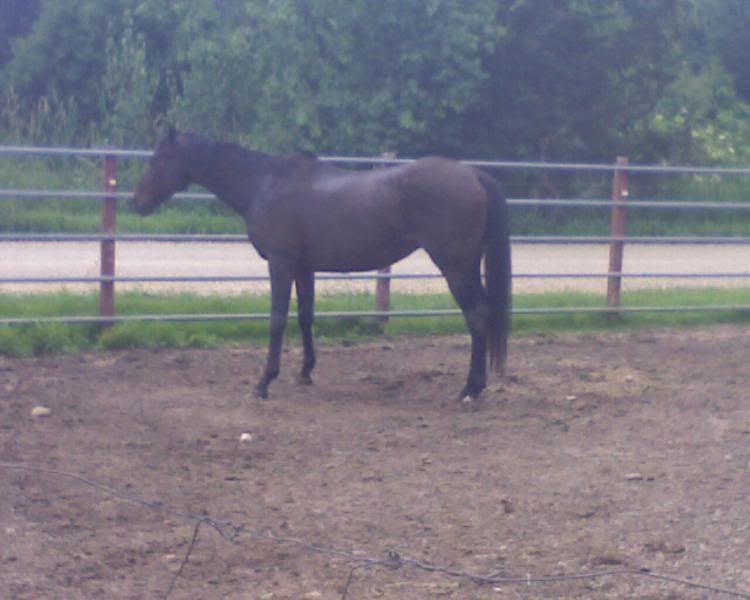 About two weeks ago
yesterday with my sad attempt at a running braid.
He looks even thinner now. His ribs, hips, and shoulders are sticking out with less muscle than when you first got him.

Do you give him any hay? If so, what kind and how much? What kind of grain are you giving him? Why are you giving him corn?

If he were mine, I would have him on as much grass hay or timothy has as he can eat (when he's not out on pasture). I would feed him a combination of alfalfa pellets, stabilized rice bran or flax, and a vitamin supplement for horses on no fortified grain, like Balance II or SmartVite Maintenence Grass (from SmartPak). This diet will give him all of the vitamins, nutriend, fat, and calories he needs.

Take his diet down to 1/2 of what your giving him now. Mix that with 1 scoop of Alfalfa pellets (3qt feed scoop) and 1/2 cup of rice bran or flax. After two weeks, quit with the grain and corn you were feeding, and feed him 2 scoops of alfalfa pellets, 1 cup of rice bran or flax, and add in the vitamin supplement. Use a little water or corn oil to make it all stick together. Leave him on that for 30 days and see how he does.

Once he's up to a good weight, go back to 1 scoop of alfalfa pellets and 1/2 cup of flax or rice bran, with the supplement. Adjust as needed depending on his weight.

This diet worked great for my TBxArab gelding who was a "hard keeper" and normally very hard to put and keep weight on. He now keeps his weight on with a lot less feed than when we used more traditional horse feed/grain.
Green Broke
Join Date: Mar 2009
Location: Kansas in the summer, Kentucky most of the time
Posts: 3,028
• Horses:
3
sorry but I have to agree. He looks skinnier now than in the first pics. :( Stupid summer heat!

If you are having trouble getting weight on him... PLEASE look into Amplify. It's a wonderful supplement that I started using about a year ago on my very very very hard keeper. She has made a complete turn around and it only took about a month to see a difference. It's a Purina product and is made under the Nature's Essentials branch.

good luck!
---
Look like a SUPERSTAR, Ride like a FOUR STAR, Win like a ROCKSTAR
Eventers: Making BAD Dressage look GOOD!
Amplify is just a blend of flax and rice bran in a pelleted form. Plain whole flax or stabilized rice bran is cheaper and IME works just as well.

Grain/feed products and corn can make a horse LOSE weight. The high starch/sugar content makes the horse more hyper and burn more calories, and it can alter insulin levels, not allowing the horse to properly utilize all of the calories in the feed. Taking the horse OFF grains, corn, or pelleted feeds containing grains or corn, helps return a horse's metabolism back to "normal". The horse can then more easily gain (or lose in the case of a fat horse) weight while still receiving proper nutrition from the forage-based diet with added vitamins and fat.
---
Last edited by luvs2ride1979; 07-26-2009 at

06:36 PM

.
I do honestly also think he looks thinner now. His topline looks like it is the main area that has been affected. I would offer hay at least twice a day in addition to what you are doing, and I was going to try Amplify or something with similar blends as suggested above for a rescue mare I have.

I actually think he is probably an ideal weight in the first photo. I know to most people he might seem quite trim, but I've read so much on how we are now programmed to actually find somewhat too heavy of a horse visually correct, that I lean toward a healthy slender look now. I do not think he needs to gain much, but I would try to get some weight on until his topline looks better.

You can look up great body score indexs online to give you an idea of how tell a healthy weight.
Kinda skinny??? While they're not the best pics, am I the only one who doesn't think the horse is skinny, in any of the pics?? I know many people are accustomed to seeing roley poleys, but that horse looks a healthy weight. He does look like he's lacking muscle tho, esp on his topline & hips, which can make them appear 'thin'.

I definitely would advise you stop feed him buckets of grain, especially not corn. As someone pointed out, that could be part of the reason for him having probs keeping weight on. What was your reason for feeding him grain? Take a look into some equine nutritional info to learn about the various problems caused by grain(esp corn) & other sugary/starchy feeds. I would also be particularly hesitant about these ingredients given that his feet look problematic anyway. If for whatever reason you feel the need to feed him grain, oats are about the safest, most easily digestible, and they should be fed in very small amounts, at least 4 times daily, for them to have much benefit and as little detrimental effects as possible.

I'd be giving the horse ad-lib hay, turn him out full time with some mates, to ensure more exercise(& wellbeing generally), ensure he's getting well balanced nutrition, in the form of a *good quality* supp, and I'd also be feeding alfalfa hay or such, for the extra protein, for muscle building.
I'm having a lot of luck with rice bran and beet pulp.
Green Broke
Join Date: Mar 2009
Location: Kansas in the summer, Kentucky most of the time
Posts: 3,028
• Horses:
3
everyone i know that has used Amplify has had tremendous success with it. i use it with Ultium and whole flax and it works great. as for the above post, if you can see his ribs, he is too thin if he isnt a TB in race training
---
Look like a SUPERSTAR, Ride like a FOUR STAR, Win like a ROCKSTAR
Eventers: Making BAD Dressage look GOOD!
I agreed that in the first photos, he is probably an ideal weight as well. But the topline looks like it has changed for the worse, so it might just be the type of feed more than anything else.
Wow, yeah - your horse has lost allot of weight since you got him. Corn is a horrible feed to give a horse.
---