Quote:
Thanks. I am adding beet pulp, flaxseed and rice bran as well, so it will not be hay only, and for now, they are on pasture (though sparser than I'd like).
By hay-only I meant no grain or feed. Regular Accel is find for a horse getting at least some fortified feed or grain, but it's not enough on its own. I'd get the Accel Lifetime. Dr Fosters has it on sale for a good price right now.
Just wanted to add that I think Rocket is starting to look better with the increase in pasture time. I will try to get some new pictures, the ones I took today were kinda dark.
Okay, so I know it has only been a couple weeks but I wanted to post some pictures of Rocket from today. He's been going out to eat grass all night and some of the morning ontop of getting hay and grain.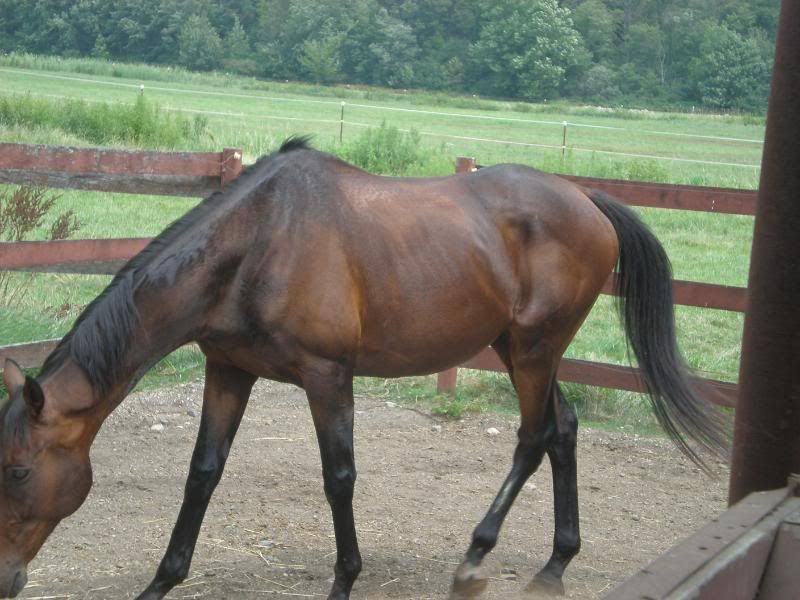 And in case anybody is wondering, that grey stuff on his hind leg is ointment for when he scraped the skin off his leg while being lazy over one of the solid jumps we have out in the feild. It's what promted me to go on my quest for hind boots.
he does look better, just needs to be "filled in" in the rump area and maybe some on his topline.
---
Nancy