Yearling
Join Date: Jan 2008
Location: British Columbia, Canada
Posts: 1,284
• Horses:
4
That looks just fine. The frog can shed a couple times a year. It looks like your farrier isn't touching the frog and that's just fine. It's a natural process. The only time we help it out is if a large flap occurs. Fungus and bacteria can get under a flap, which can become thrush.

What I would be keeping an eye on is picture number four. There looks to be some seperation starting around the white line. When was she last trimmed?
He is getting trimmed on Saturday. It's been about 8 weeks.
Yearling
Join Date: Jan 2008
Location: British Columbia, Canada
Posts: 1,284
• Horses:
4
Prefect, I would love to see another shot of number four after a trim. I'm sure the farrier will cut most of that away.
Frog looks contracted to me and the heels are all too high.. Take some fresh pics right after the trim if you can. Those heels shouldn't be so high even tho they are due to be trimmed. The peeling is just the frog shedding. If the trim is right and the ground is a bit rough often you won't see the shedding.
---
Thanks all. I can definitely get some shots right after the trim tomorrow and will post them tomorrow evening.
I agree with Appyt -- let's see some after-farrier shots if you can...
Is the rest of the hoof wall strong and firm? If the rest of the foot is strong and your horse isn't sore, chances are it's just wearing down that's all.
Just give it a good cleaning. Dry it thoroughly and apply a nice moisturizer if his frog is shedding. Itll come off when its ready or you can trim the dead skin off if youre skilled enough
---
ACCOUNT ABANDONED
Thanks so much everyone. I'm really impressed with the farrier who comes to our barn, he's very thorough and took a lot of time to talk to me, explain how/why he was trimming the way he was and to tell me that Blaze has pretty bad...
Thrush
I feel like such a bad mom. I know about thrush and have read that there is often a really bad smell associated with it. I haven't smelled anything on his hooves, and didn't know that frogs were supposed to be fairly firm and hard. His are quite soft and have the splitting toward the heel. It's not bad on all for feet, mostly just the front 2. Now that I know I can treat it, but his owners were out visiting for the first time since I moved him and I felt a little embarrassed.
Right front post-trim: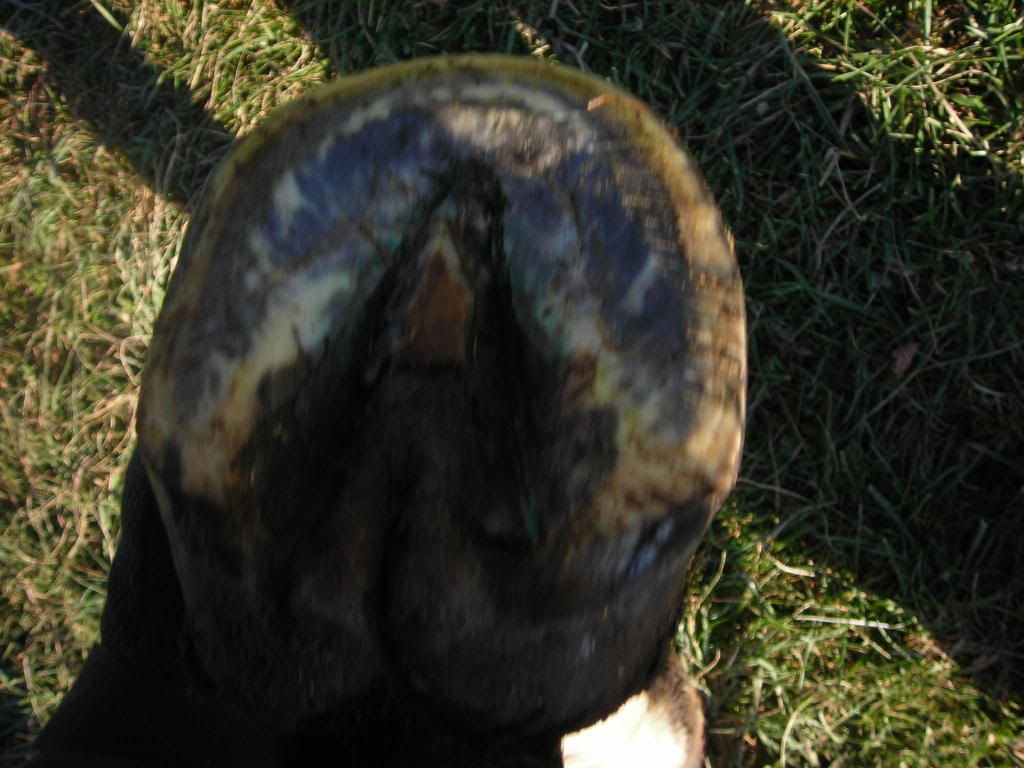 Right front #2:
Left front post trim: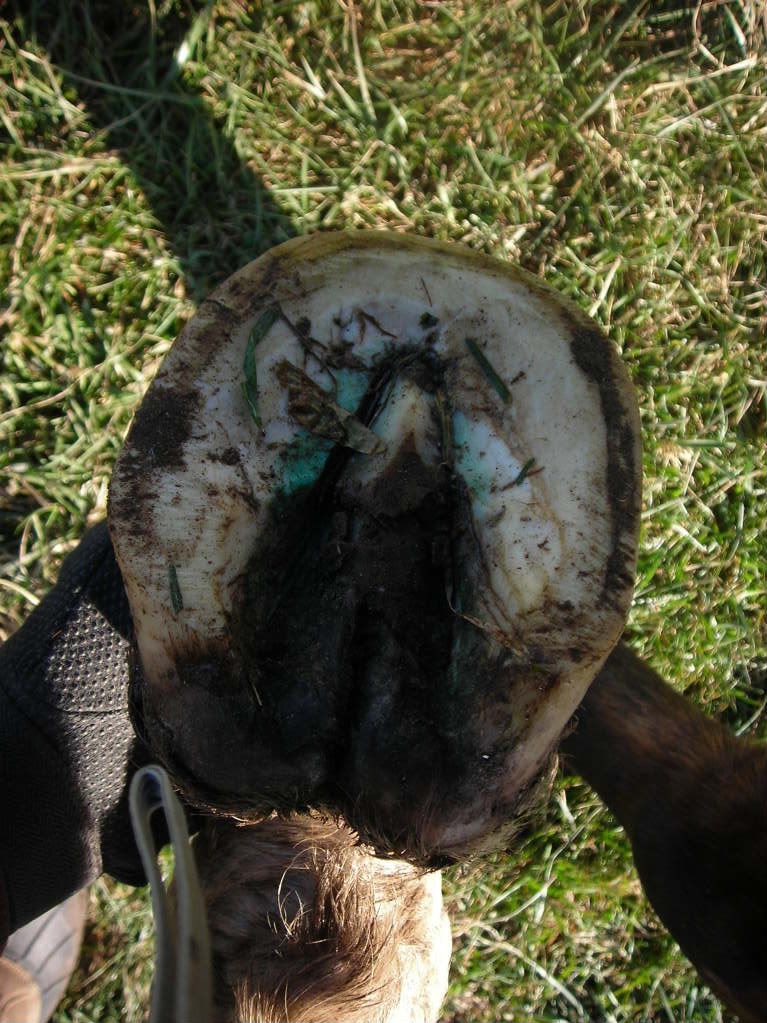 Left front #2: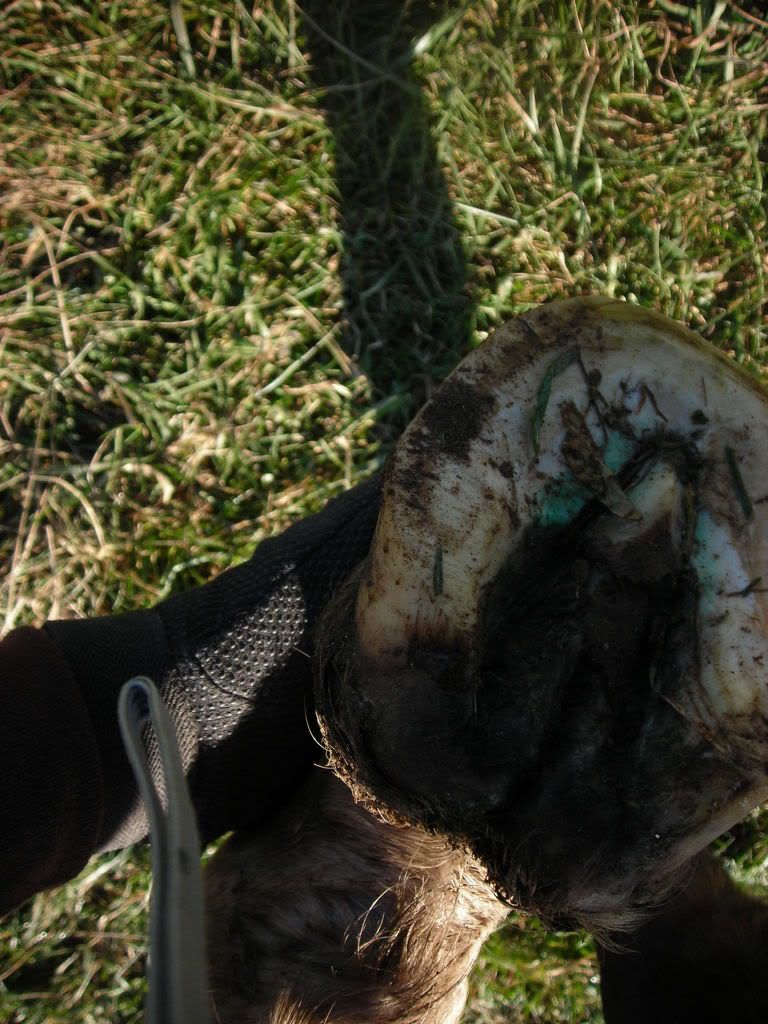 Awww, so sorry to hear about this Missy. But you are NOT a bad mommy. *Hugs* Sometimes it's hard to tell things without a professional. Thrush isn't life-threatening, he'll be fine. I've heard of using piroxide I think it was, on the frog to get rid of bacteria. However, its argued that it gets rid of good bacteria as well, so not sure about that one. But I'm sure your farrier will tell you the course of action to take.

Good luck!
---
"'For I know the plans I have for you,' declares the Lord. 'Plans to prosper you and not to harm you, plans to give you a hope and a future'" ~ Jeremiah 29:11