Does This Look Like Rain Rot?? **picture**
---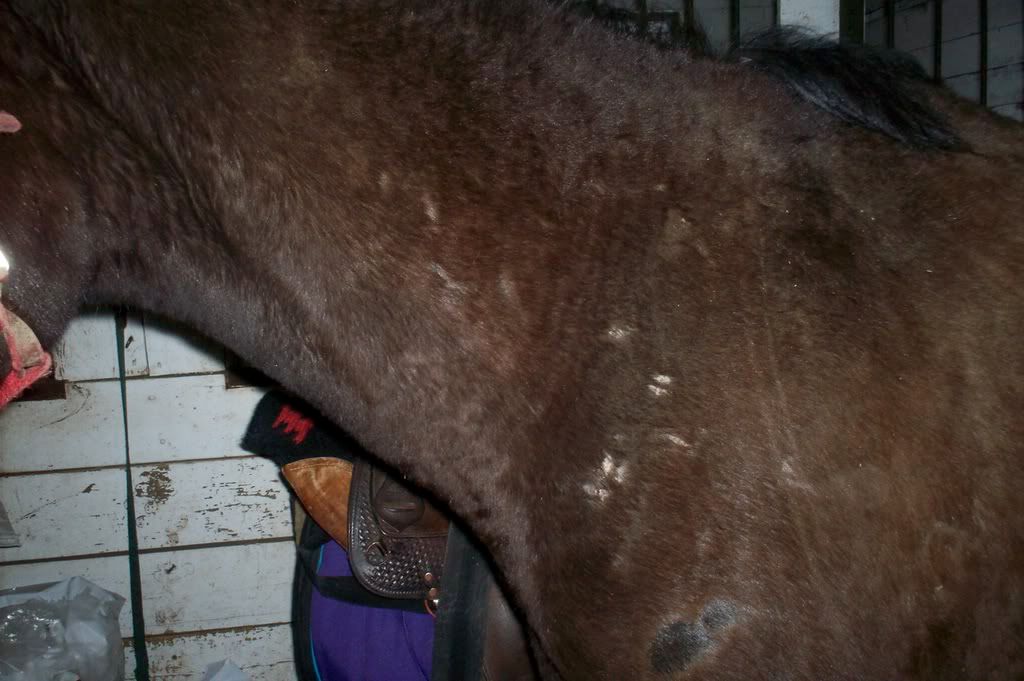 She has a few of those over her whole body... the thing on her sholder i think is from her rubbing.
It's not rain rot, possibily ring worm?
shes on a daily worming scedual. Its just spots with missing hair and dried skin
I'm pretty sure that a wormer won't do anything for ringworm. You have to use a fungacide. I've found that "Blue Lotion" works great for it.
we had the vet out and he didnt say anything about ring worms.. Do u have a link??
Quote:
Originally Posted by HorsesAreForever
shes on a daily worming scedual. Its just spots with missing hair and dried skin
i dont know much about horses but i dont think daily worming clears ringworm (that is if your horse has it) as ringworm is a fungal infection and not a parasite.
I had this issue with my horse last year (not year before, not this year). She shed away lots of hair and ended up with bold spots here and there (kinda looking like yours but bigger). It happened after she was with no shelter for month under the rain (the new gelding kicked out all horses from there and that was main reason I moved both my mares away from the place). My guess was rainrots, but I never talked to vet (it didn't look bad - just bold). After I moved her to my place with shelter and all she grow the hair back in 1.5 months. I didn't use anything on skin, just let it go naturally.
I dug up some photos for you...hopefully this will help. Your horse's scabs do look like possible rain rot to me...if your horse has an especially fluffy winter coat, sometimes all you see are the bigger scabs, but there will be more on the skin that you don't see under the hair, lots of tiny bumps. Often, the hair might seem clumpy or streaky in the effected areas (because rain rot sores are not dry) with sort of moth-eaten little patches where small clumps of hair have come out. If those scabs are more like flaky dry skin with dry swelling, I wouldn't rule out some sort of fungus.
So here are some rain rot photos:
Severe case on an animal (cow) with a short hair coat...I've never seen one this bad, since I've only dealt with rain rot during rainy winters when they are hairier. But see, they are smallish, consistent bumps covering a wide area.
Ringworm Photos below:
she deff does NOT have ring worms my gosh lol! But um she shed A LOT this yr like omg horrible it took 2 weeks to get most of it out which is when i started seeing this so its just like bald spots. Im thinking about putting some alcohol rub on it to see if it helps i heard it helps rain rot. Chance has been out all winter with shelter but she doesnt go in it much.
its definitely not rain rot...horses dont loose hair like that from rain rot. rain rot is basically when the horses fur grows mold. my horse had a little case of it.