Thanks everyone. Vet visit and pictures from today are underneath this. The vet seems quite positive that it should heal ok. Just got to be very careful about infection. He's getting very restless in his stable so he's allowed out for a couple of hours each day.
EZFEED, no, they didn't put a drain tube in it as far as i know.
Today:
Went up to Doug at about half 10. Mucked him out, topped up his water and hay. He was really antsy and getting in the way when we were mucking him out. Waited for the vet to come. Dougie was pretty stressed out. Pacing around his stable, kicking the door. He wasn't even eating his hay. He was in such a bad mood, he was gurning at everyone.
The vet arrived, i went and put his headcollar on. He was being really bargy and pushy, and biting the vet and me, and headbutting everyone. She had a good look at it. She said it looks really clean and that it should hopefully heal up nicely. They may have to do a bit of work on it if it's healing very slowly or if there are bits hanging off ect. She decided to just leave it as it was, rather than clean it again, as it looked clean and she wanted to let it heal a bit on it's own. She gave him 2 injections today. His third dose of the very strong antibiotics and a tetnus booster that he was due in a couple of week anyway. She noticed how wound up he was and said we could actually turn him out for a couple of hours each day. Yay! The snow could keep it nice and clean and he was more likely to damage it flinging himself around a stable than outside where he would be calmer. She gave us a huge box of the antibiotics we have to put in his feed twice a day, and a painkiller/anti-inflammatory called Danolin which we were to give him with his evening feed when we took him back in. He would probably be a bit sore after being out. So yes, she gave us all his drugs and scheduled a visit for Monday to clean out the wound again. Poor baby.
After she left, we turned Punch out and then went to turn Doug out in the bottom paddock right infront of the stables, on his own of course. Doug was going mental when Punch went away so we had to move pretty swiftly. Took his stable bandages off and i lead him out to the field. He was rather excited. Turned him out. He went for a bit of a trot up the field but it must of been hurting him quite a bit. He came hobbling down to the gate looking very sorry for himself. The sill boy came and stood at the gate and wa slike "Can i come in now?". I tied up a haynet for him and a bucket of water. We're going to take him in at 3.
So yes, very very pleased. It's good he's allowed out for a few hours, poor boy. If the healing goes well he might not have to be stabled for very long. Fingers crossed.
Here are the pics from today.
http://i157.photobucket.com/albums/t53/i_l...und/Day3001.jpg
http://i157.photobucket.com/albums/t53/i_l...und/Day3005.jpg
http://i157.photobucket.com/albums/t53/i_l...und/Day3007.jpg
Poor Pone...Good thing he has the pain meds! The wound looks way better today! I just love his furry face! He's sooo cute!
Hugs to Dougal from CA, USA ! Sunny Jim sends his best.
---
It's the little things that drive me wild...
UPDATE! It's been 3 weeks yesterday since Dougal injured himself.
Dougal is doing very well. He's out on full turn out now, he has a very old, quiet companion to keep him company. He's completely sound at the moment and his shoulder is healing fantastically well. The vet is very very pleased.
The vet is coming in 2 weeks [she came today] to evaluate his soundness and if he is sound i will be able to ease him back into work.
*graphic* Pictures the night it happened to yesterday, just so you can see the huge progress he has made.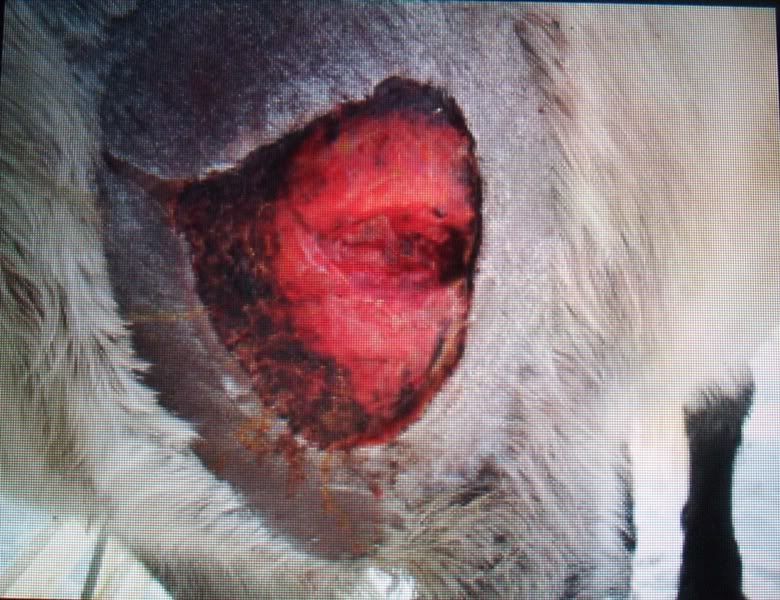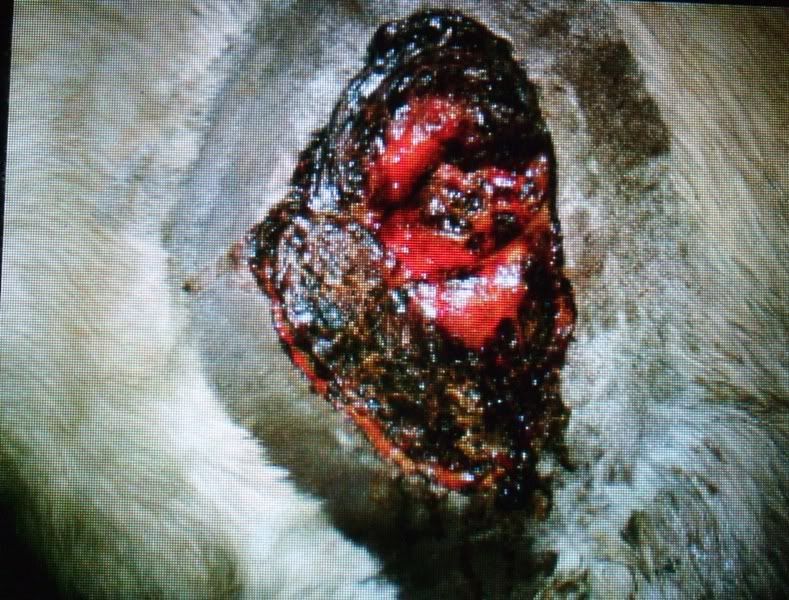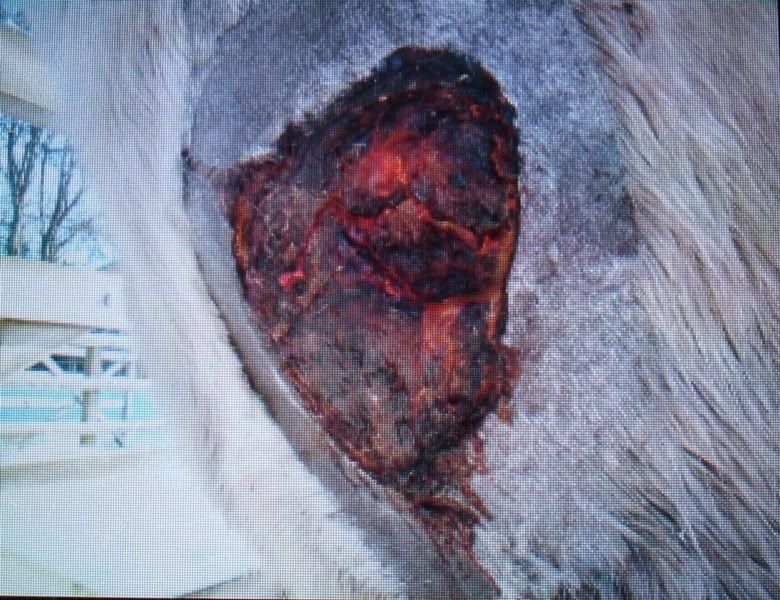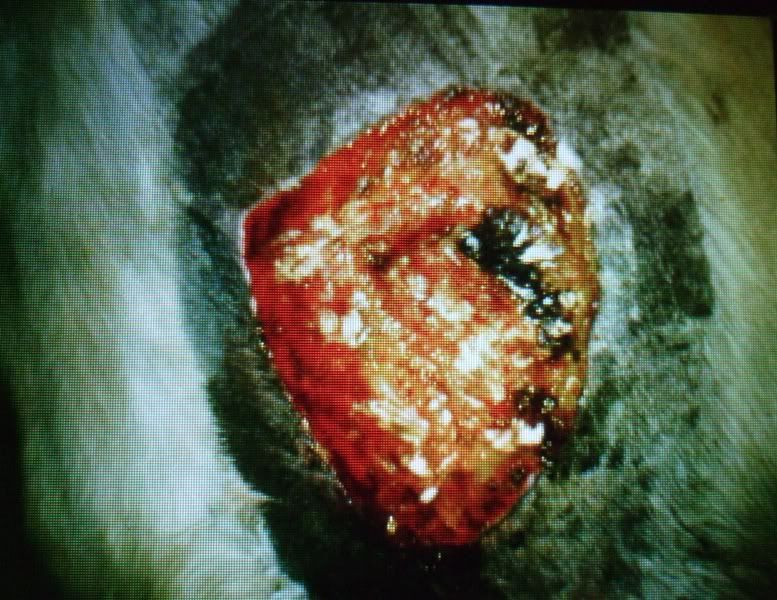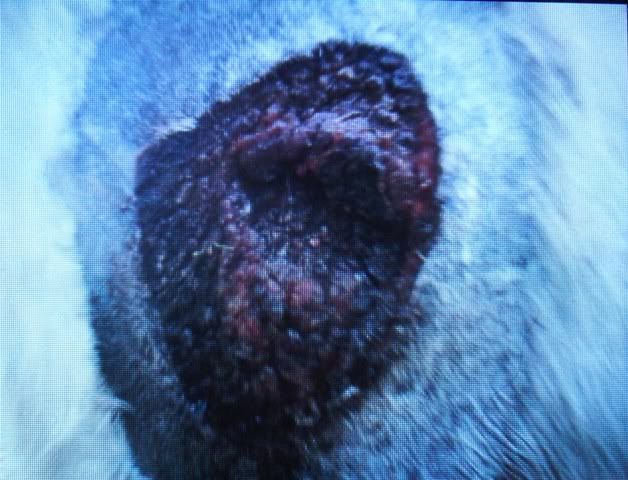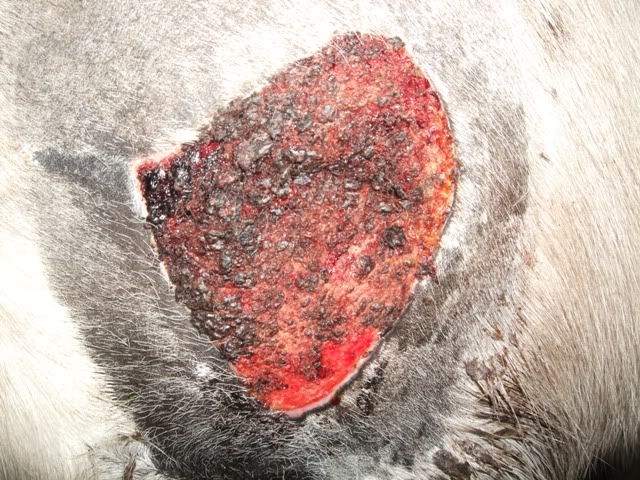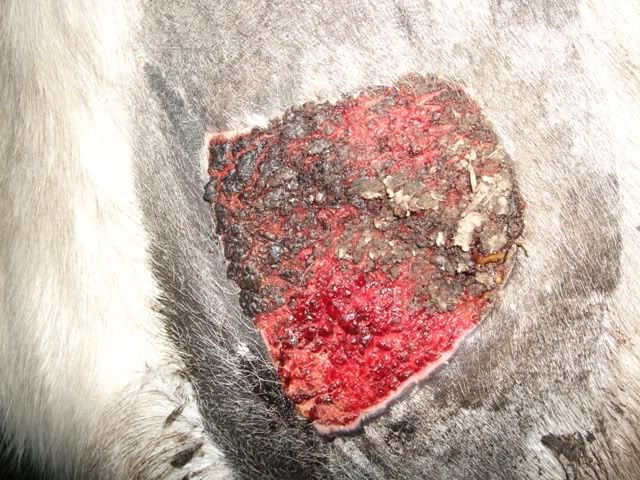 And, the difference in size.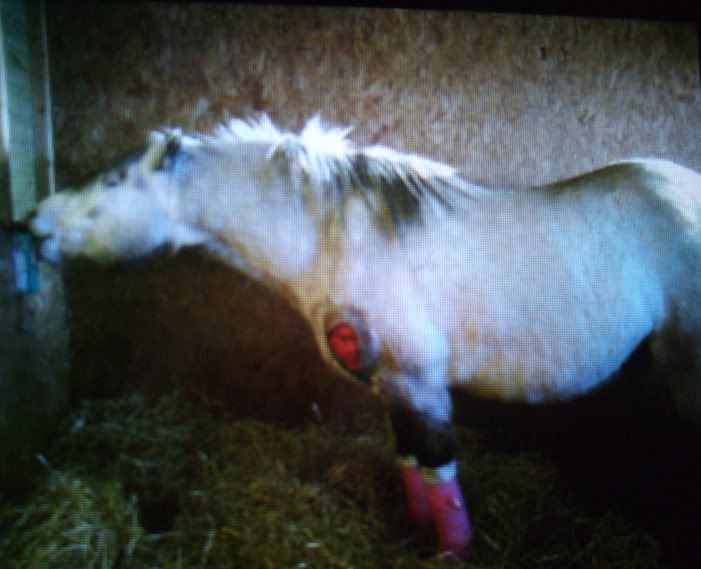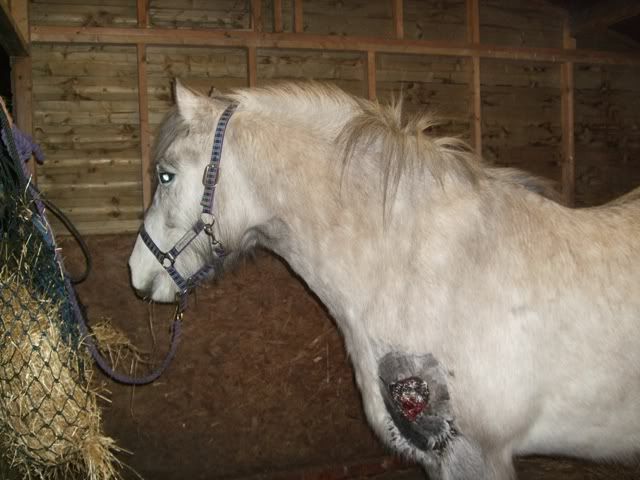 He is healing SO well.....it's amazing how they come back with proper care and love. Great work on your part and great healing on his :)
---
~Horses aren't a hobby, they are a lifestyle.
Website
just curious, do you know HOW something like that happened?
wow, What are you putting on it now? You should try fiskes, it works really well to heal wounds
---
Last edited by brighteyes08; 01-28-2010 at

01:13 PM

.
I'll bet you a dollar that when it is all healed up you won't be able to see a scar.
---
There's nothing like the Rockies in the springtime... Nothing like the freedom in the air... And there ain't nothing better than draggin calves to the fire and there's nothing like the smell of burning hair. -Brenn Hill
Thanks Everyone. So pleased with his progress. He's been such a brave boy through it all, and everyone is amazed at how well he is healing. The large hole in the middle has filled in a huge amount.

BrightEyes, I put Flamazine on it. It was twice a day, but he is now on to once a day.

JustSamBam, we think he ran into the hinge bolt of a gate.
I'll tell you, after this thread started, I went out and 'horseproofed" <HA!!!> EVERY single sharp, somewhat sharp, could be sharp, not sharp but could do damage if hit hard enough, dull, couldn't hurt a fly thing I could find. I wrapped duct tape around some, cut tennis balls and put those on, over, under and through, bubble wrapped every corner and post, sawed every branch and twig, put foam on every edge...so far so good!
GREAT to see how well, and how fast Dougal is healing!
---
It's the little things that drive me wild...