Early signs of laminitis, weight loss
---
The last time our farrier was out, he had showed concern about my horse Princess. As I have mentioned before, she is overweight. His concern is the early signs of laminitis that she is showing. That had been eight weeks ago from today, he came out again today. He complimented on how she has lost some weight, but that she has a hundred to two hundred more pounds to lose. He gave me a few things to do to help her lose the weight and prevent full blown laminitis, which is to get way back on her food and exercise her daily. Now the purpose for this thread, is I thought I would post her progress. And I welcome any advice or encouragement. I know this isn't gonna be any walk in the park.
Here are some pictures I took of her today with my phone while the farrier was out, so don't mind his butt in one of the pictures, lol.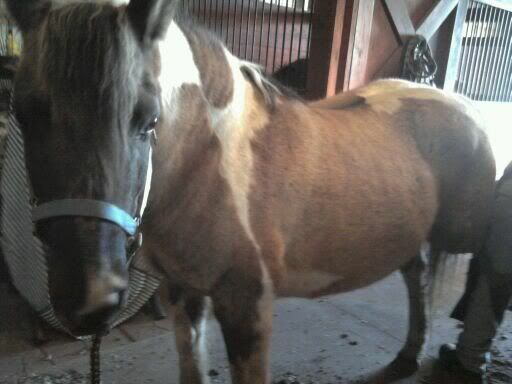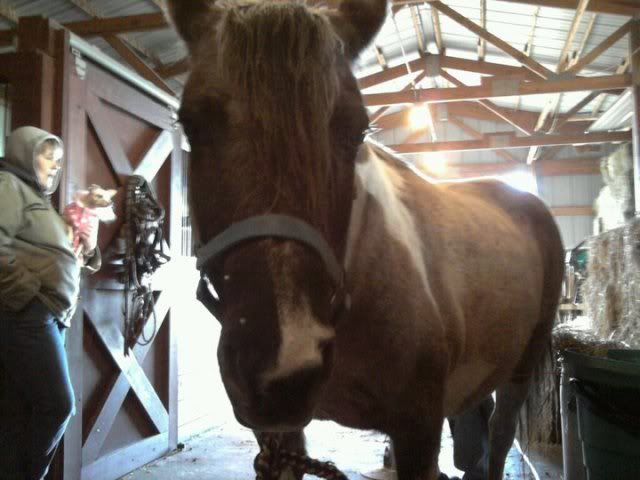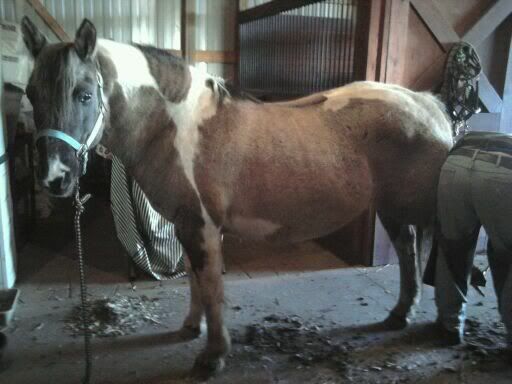 I'm gonna really start working on her since I'm on my spring break right now and things are so hectic. Wish me luck.
Good luck with her! She's really cute!!! Definitely wouldn't want to have any issues with laminitis that's for sure!!!
---
"The ideal horseman has the courage of a lion, the patience of a saint, and the hands of a woman..."
Your farrier is right. Her cresty neck indicates that she is not only at risk from being obese but is at great risk for insulin resistance. I would be surprised if she is not already insulin resistant.
What are you now feeding her? Hopefully NO grain or other concentrates at all.
You should also feed her hay that is very low in sugar content. Obese IR horses can get laminitis from hay alone if has too high a sugar content.
I urge you to go to
www.safegrass.org
and read up on hay. You may even want to send in a sample of your hay in and have it tested for sugar content to see if it is safe to feed.
She is very cute and I agree, it'll take some work to get her slimmed down. That cresty neck may not ever go away. I used to help out on a horse farm where my friend worked and a lot of the guys horses were like that, overweight with big cresty necks. Even with the horses on a severe diet that neck never slimmed down even though the horses lost enough weight you could see ribs.
How is she kept currently? How much pasture access and how much grain or other supplements is she getting? Has she been getting worked fairly regularly?
Weanling
Join Date: Apr 2010
Location: Somewhere on Vancouver Island
Posts: 601
• Horses: 0
She is incredibly obsese and I would be very worried about the possibility of founder.

Its not only her neck that is cresty......she has fat deposit on her shoulders over her rump on the underside of her neck..she also has fat deposits on her back...I would consider her a 9 on the hennke scale.

I would try to find a low sugar hay.....cut her back to just 20 lbs a day preferably divided into four feedings....and absolutely no grain or grain products period.

The other think you can do is put her on Thyro L......I did this with my overweight mare......I had her on the max of 5 scoops for about 3 months and took off about a 100 lbs.

I would start by hand walking this mare for 30 minutes a day and then start lunging her at the trot.

The other thing I do in the winter is a trace clip and don't blanket.

I would not allow your mare any grass what so ever until she is at an appropriate weight.

Super Nova
---
Last edited by Super Nova; 03-29-2011 at

12:34 PM

.
Right now, we just have her on hay. She's outside in a dirt paddock all day, with no access to grass. We don't give her any grain. She gets two flakes in the morning and two at night.
Also as I said above, we keep her in a dirt paddock during the day and we bring her in the barn at night. Giving her only two flakes in the morning and two at night. We've only started her diet when winter began. Over the summer, she was out on the pasture all day. I had been really busy with work over the summer and hadn't been able to work her. She currently does not get any grain or any other supplements, for the fact that I can't afford at any supplements for her at the moment. As for working her regularly, I have been walking her around for about ten minutes a day. But I plan on stepping that up to a good 30-40 minutes.
Here are a few pictures of her back a couple years ago.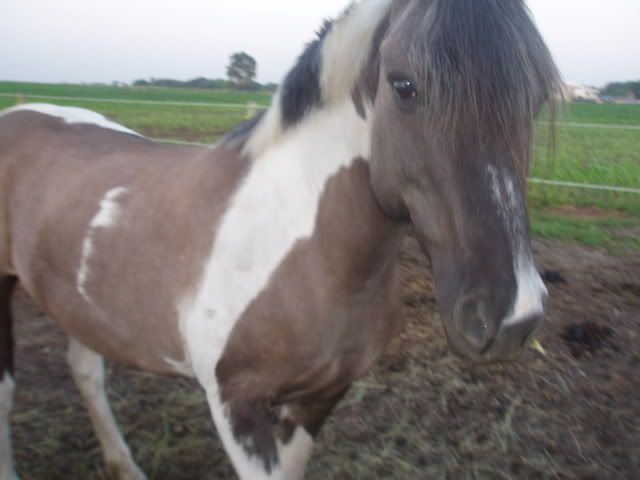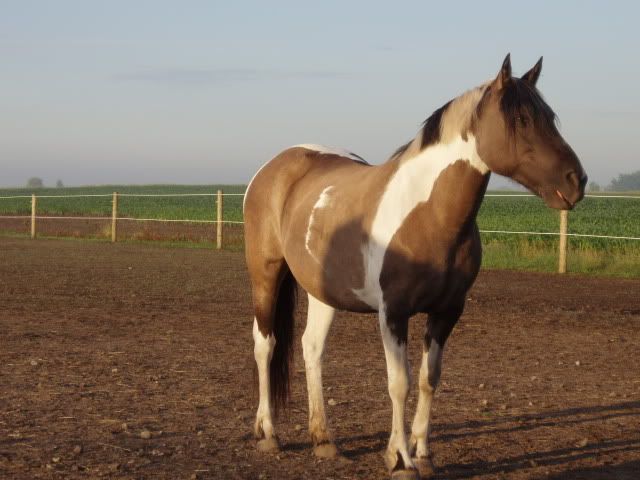 Weanling
Join Date: Apr 2010
Location: Somewhere on Vancouver Island
Posts: 601
• Horses: 0
She is still what I would consider overweight in those pics...still see fat deposits just behind her shoulder...........she is a nice looking horse when she is thinner......I would consider her a 7 to 7.5 in that picture......I would be aiming for a 4 to 6 with 5 to 5.5 being ideal........if you go to TheHorse.com I believe they have a video you can watch that shows you how to score your horse.

Her cresty neck is strictly due to having to much weight on her at one time.....it is one of the last places they lose weight.....so you will actually have to get her on the lean side and keep her that way for awhile in order for the neck to go down.

Super Nova
---
Last edited by Super Nova; 03-29-2011 at

09:25 PM

.
Just to give an update on what is going on, I've been working with her every single day for a good half hour - forty five minutes. I've cut back on what she's eating as well. Unfortunately it has been raining here nonstop for the past week and it is nothing but water and mud here. We don't have an indoor arena, so I've been stuck with just walking her around in the mud.

So far she has lost weight, but still has quite a way to go.
it will also help to double or triple net her hay so it takes her more work to eat it

I have had great luck with Remission on my mare that wants to get cresty and fat ... also important to remember not to neglect the nutrition on this diet
---
I have been called the NSC Nazi more then once ... I hate traditional feed methods of loading our horses up on grains and junk food :)
Hmm, I will definitely look into that. The thing is, when we let our three horses out in the paddock, we just throw hay out there. We separate the hay so it's far enough where the horses can get their own two flakes.