if you dont have hay you dont have hay, but that doesnt mean its whats best. Horses are grazers, their bodies are designed to constantly be nibbling on grass and hay.
MLS, we've been through this before, if you wanna weigh and measure, and make excuses for rationing fiber, and think thats best go for it. I'll never agree with you, and am not interested in arguing the point.

To the OP, if you get up in the AM and every scrap of hay is gone, you didnt give them enough. If there is alot scattered every where you gave em to much. The horses generally will only over eat the first few days till they figure out plenty is there. Shouldnt take you to long to figure out a decent balance to throw out there.
please be careful not to over feed if your horse is already overweight, this can lead to equine metabolic disorder.
---
Gypsy & Scout <3
Everybody is a genius. But if you judge a fish by its ability to climb a tree it will live its whole life believing that it is stupid. ~Albert Einstein
Definitely good.
---
"Strength is the ability to use a muscle without tension"

Showing
Join Date: Jun 2011
Location: Cariboo, British Columbia
Posts: 11,952
• Horses:
3
Quote:
IMO, there is no such thing as extra hay, I dont believe hay or grass should be rationed. Mine have all they want 24/7. Unless he is working.
My horses love your way of thinking. However if I gave them all the hay they wanted to eat, they would be lardarses.
Because my horse lost a ton of weight last Winter, if it's cold, he gets extra hay. He has feeders in both his stall and turnout so if he doesn't eat the extra, it's not wasted.
Our mares agree that there is no such thing as extra hay.
In the cold/wet of winter, they will eat a round bale to the ground in a week.
It you're worried about waste, using a hay rack/feeder for square bales or a hay ring for round bales will
drastically
reduce the waste.
---
On the sixth day, God created the Quarter Horse.
On the seventh day, he Painted the good ones.
YES! All the way. In fact, free choice hay is one of the healthiest ways to feed horses. Also, all that fiber will help keep them warm on those chilly nights. As long as it is grass hay, if it is Alfalfa, you will be feeding a pretty big protein imbalance.
---
"Good things come to those who wait… greater things come to those who get off their ass and do anything to make it happen." - Unknown
Always extra hay during the cold - just came in a while ago from checking on/playing with my mare, and she has icicles hanging from both of her sides, some on her mane and tail, and not so much as a shiver. That internal heating system is truly amazing!! (Good thing, as we have about 6 months of winter here).
As Tigerstripes and mvinotime have mentioned, I also rake up any extra that gets strewn around and bank it along the inside of her shed to nibble at night, and place some around her pasture under trees. Gives her something extra to do and pass the time on a snowy afternoon. :)
Quote:
Maybe you don't have a budget or have to clean up the waste.

Or as in several parts of the country - have a shortage.
RE; rationing--THAT is bad. However, when you figure out how much to feed, rationing can prevent wasting. For instance, my 3 horses are 1,000 pounds, 1,100 pounds and 1,350, maybe, 1,400 pounds. I feed about 75 pounds of hay/daily--two get 6 flakes/day and he gets 8 flakes/day and THEY ALL clean up what I feed them. The 2 lighter ones are about 5-6 on the Apgar scale, the heaviest is 5, closing on 6 on the scale--he's the tall guy in my Avatar. I ALSO feed 1/2 pound of oats to two, 1 1/2 pounds of oats to him, in the mornings, and 2 1/2, 2 1/2 and 3 pounds, respectively in the eveneing, and those add calories, too. To stretch MY hay, I've started to replace one flake of alfalfa daily with alfalfa cubes. I store them just like I do grain, in a metal lidded trash can in my grain room.
JUST an FYI.
January 15, 2012 pics of them for your perusal. =D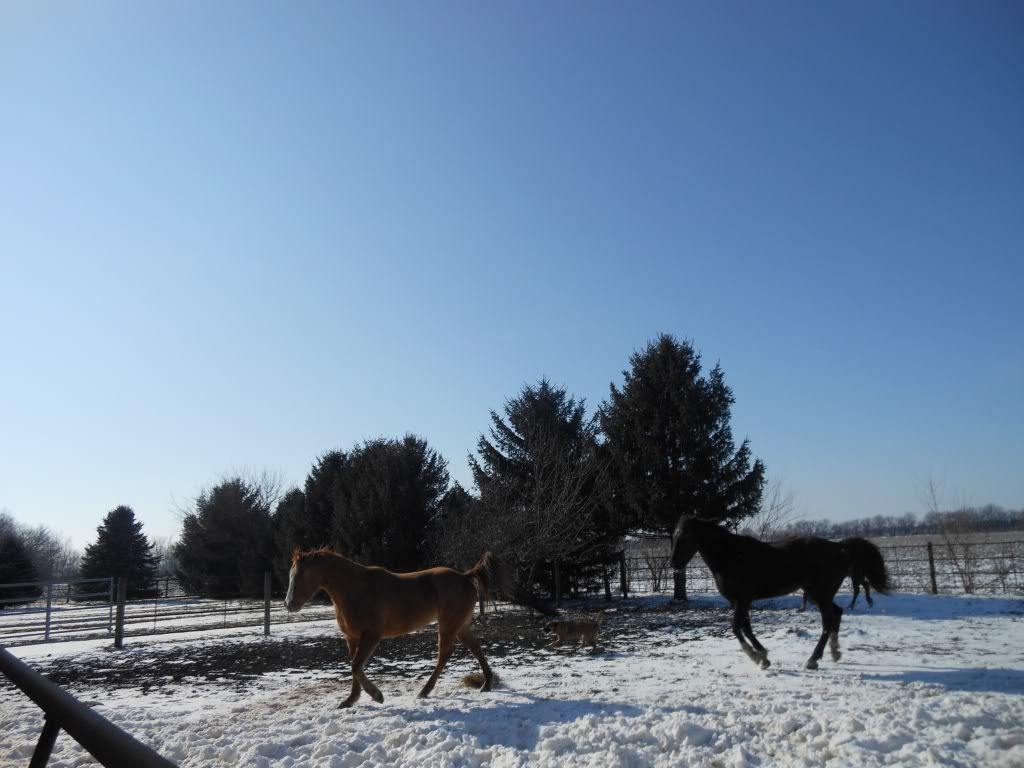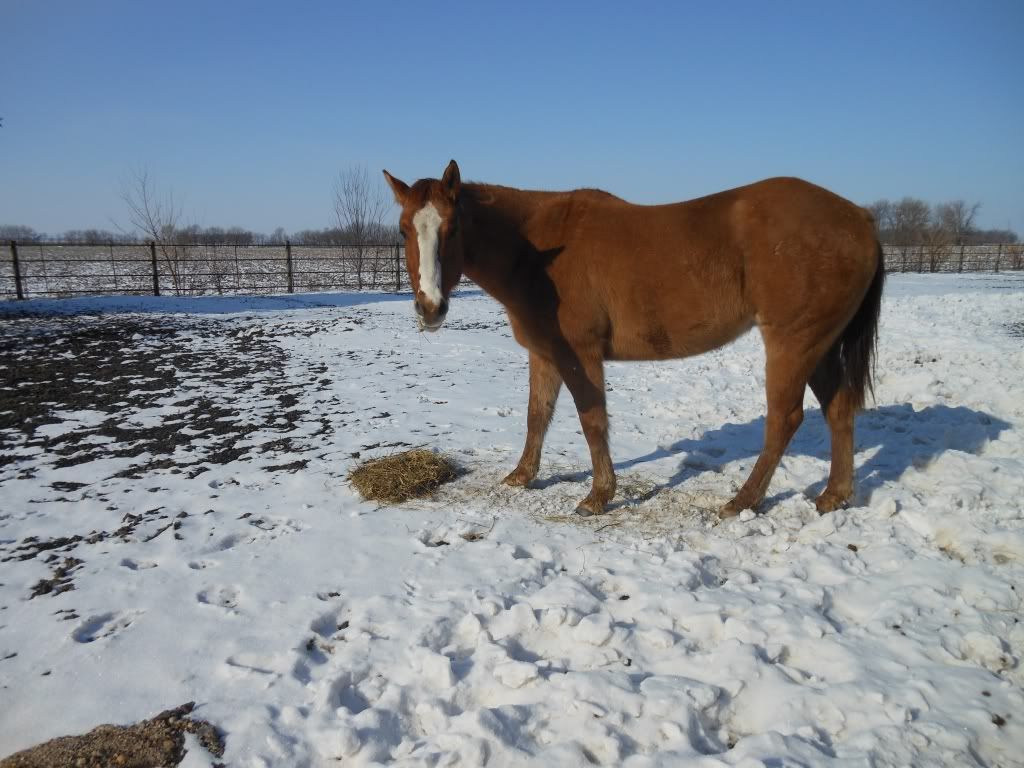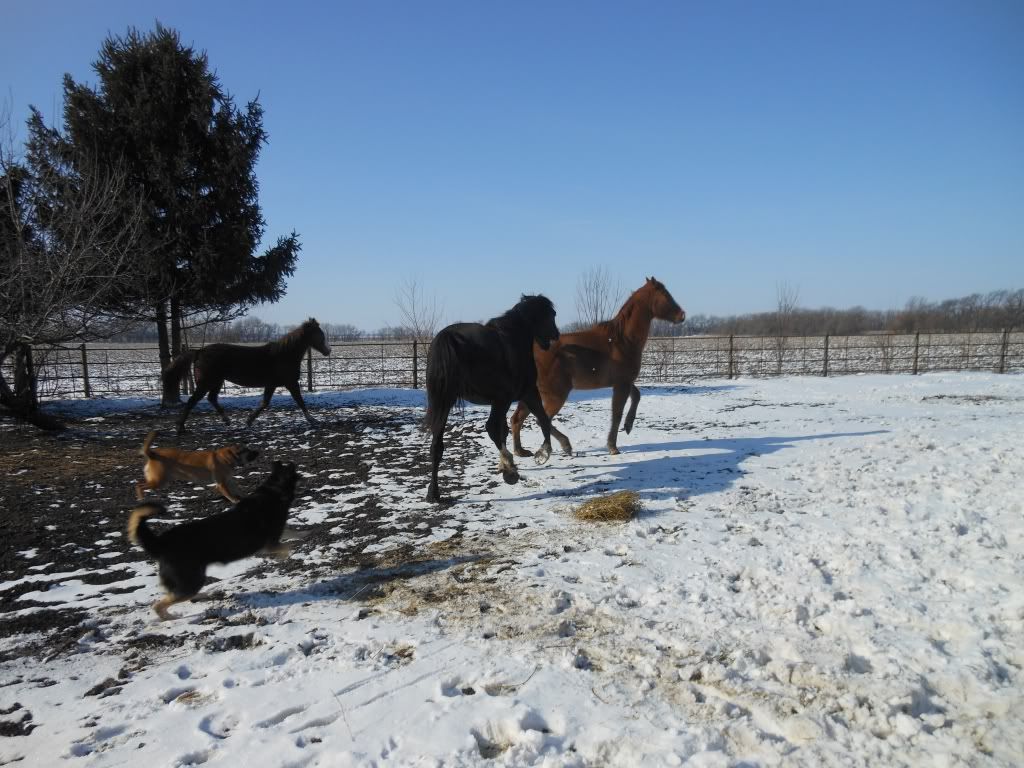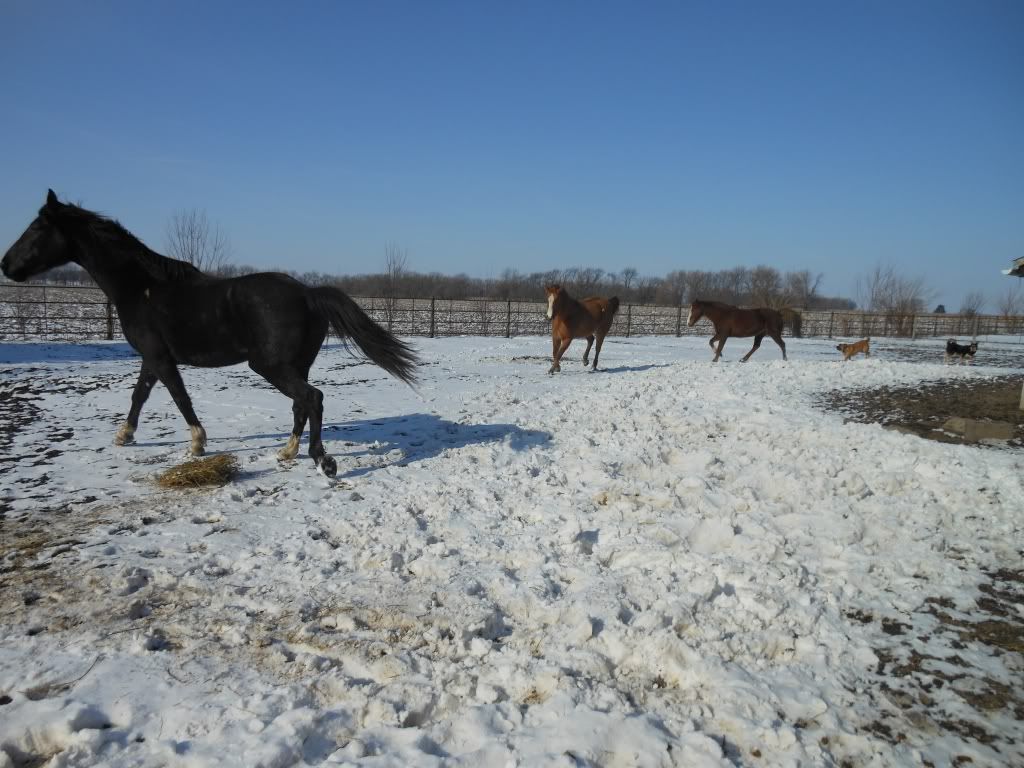 I always give extra hay in the winter. I have a 22 yr old QH gelding that has trouble keeping weight on so I try to have hay in front of them at all times, or at least for most of the day. If they start leaving hay, I will cut back. But until they do that, I sock it to them