Fat 3 year old
---
So when Thunder had his check up a couple weeks ago, the vet said overall he's in good health, but his weight (he exaggerated) is equivilant to a 150lb 5th grader! lol He said he needs to start some training and that he needs to tone it up. I got the bill in the mail the other day and in the comments it said "large body and tiny legs"!!! lol I need to get him in shape, any ideas to build leg muscle besides hills....as I don't have any. even when I wasn't slacking on his excercise he never really seemed to build back leg muscles. Am I worrying too much or should I be on a strictor schedule?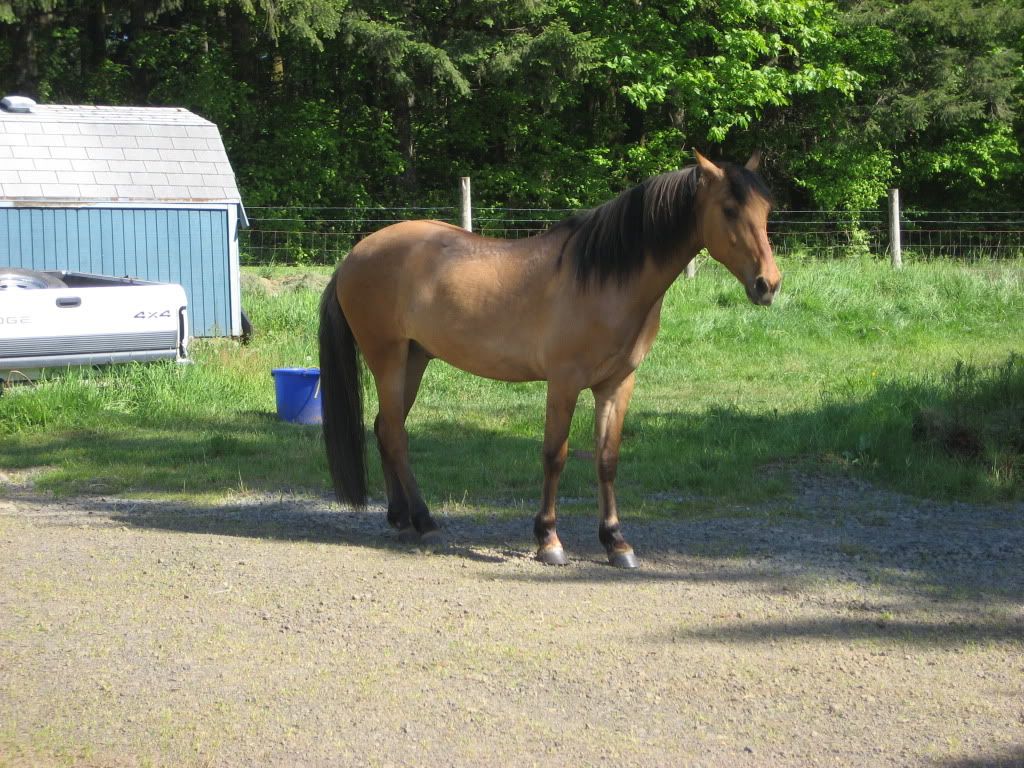 ---
Last edited by free_sprtd; 06-14-2009 at

03:00 AM

.
Wow - he doesn't look overweight to me at all... I mean. He could stand to gain muscle, but I don't see him being obese? Maybe I'm missing something...
How accustomed is your vet to seeing mustangs? :p He looks pretty typical to me and I would hate to see what your vet would say about both of mine. Thunder is skinny next to them. LOL. He could use a little more muscle, sure. But remember, he is still just a youngster. Dobe weighed about 800 lbs as a 3 year old and now at 7 is closer to 1100. I wouldn't worry about it too much. With more time and riding, he will build some muscle tone and even out some. Of course, you could always ship him to TX for a while. ;p I would be glad to ride him up and down some hills for you and maybe rope a calf or two off him. LOL.

I still just can't get over how stunning he is. :P' ' ' '
Quote:
Wow - he doesn't look overweight to me at all... I mean. He could stand to gain muscle, but I don't see him being obese? Maybe I'm missing something...
I agree he doesn't look overweight.
As far as muscle, do you know any information about the parents? Some lines mature physically a lot faster than others. Out first Paint filly was 1050 lbs and muscled like a tank when she was 3 (perhaps her Impressive blood). Our youngest, though, has a line in which all her siblings took a full 6-7 years to physically mature, and they didn't start filling out until they were done growing. She's 5 now, 900+ lbs, and has just started to fill out muscle wise.
---
On the sixth day, God created the Quarter Horse.
On the seventh day, he Painted the good ones.
He really doesn't look overweight to me. Unless he's way hairier than the picture looks like, I don't see the tiny legs comment, either. He could stand to gain a little muscle, and for that I would suggest just ride him as often as possible, not necessarily fast or hard, just get him working a little, enough to wet the underside of the saddle pad is fine.
Here is a link to a short description of body condition scoring for horses.
How to Condition Score Horses - by Susan Evans Garlinghouse
The pics aren't very good, but you can get an idea of how to give your own "second opinion". There are a lot of other sites and literature on this kind of scoring. It's difficult to tell from a photo alone, but he looks about moderate to moderately fleshy (5, 6), not bad at all, to me. I have seen morbidly obese horses, (as in, seriously, a score of 8-9! The size was explained to me as being massive muscle. No. ) and your horse is nowhere near the "150 lb. 5th Grader" mark.
---
A stubborn horse walks behind you, an impatient one in front of you, but a noble companion walks beside you ~ Unknown
ya that's what I thought too guys thanks! I just had to post about it because thats what was written in the comments on the bill lol. They said he needs a job he can work at and enjoy and that riding him 1-2 times a week wasn't enough to build the soft muscle he has. Sorry it was late last night....forgot to put that in there. I guesss they were joking around with me?? lol I didn't think he was uber fat either, that's why i needed your folks opinion! lol. I don't know much about his bloodlines except the names and there's not really any info on them. I just think he's not matured muscle wise yet. He is 15.1hh and about 900lbs im guessing on ther weight. Thanks again i feel better!
He doesn't look overweight at all to me. I could only imagine what your vet would say about my haflingers. LOL.

I used to have a mustang out of Nevada and even at 5 years old he never had the big muscles on the hind like my other horses, but he sure could move pretty!

Does your boy get a lot of turn-out where he can excersize on his own and run around? That will help some when you can't ride. If he is still young I wouldn't be overly concerned right now with building up too much muscle until he has matured a bit. 5-7 years of age is when you tend to see the best muscle development on a mustang it seems.
---
All I pay my psychiatrist is cost of feed and hay, and he'll listen to me any day!


Yep, just to kinda give you an idea of how Dobe developed, here is a pretty crappy pic from when we got him at 3
And here is a pic from when he was 4
Here is a picture of him last year at 6.
And finally, here is the most current pic I have, he is under saddle and the picture is not very good, but you get the idea.
So you can bet that Ol' Thunder has a quite a bit more growing to do before he is through. :)
oooooh sm!!! That makes me feel so much better!! Dobes had the same body style at his age!!! oh im so happy lol, I figured he would always be gauky like hahaha. Thanks so much for sharing :)

and ya he get's turned out daily i guess it's just his body type until he grows up! Thanks guys that's very helpful!
He doesn't look that fat but yeah he could maybe do with a little muscle. You could help him gain that just by walking, trotting, lunging. :) He looks fine. Very cute.