feed
---
I own an ottb. She gets 2 quarts strategy twice a day. She has free choice hay 24/7. She is worked intensely for a good hour to an hour an a half every day. She looks to be at a good weight, yet she's still a little ribby. Not severe, you can't really see them, but you can easily feel her last couple ribs. She is wormed every other month (vet/owner administered, depending on what month). I don't want to increase her grain or add any special supplement to it. What I'm asking is what kind of grain would you recommend? I want something to pack on the pounds in her barrel with the same amount she's getting now, while keeping her sane. Sweet feed doesn't work. She was on Omelene 200, and she didn't gain a pound and was absolutely wired.
What would you suggest?
*please note that this was taken during the summer. She has a lot more muscle mass/topline, a new farrier, etc.*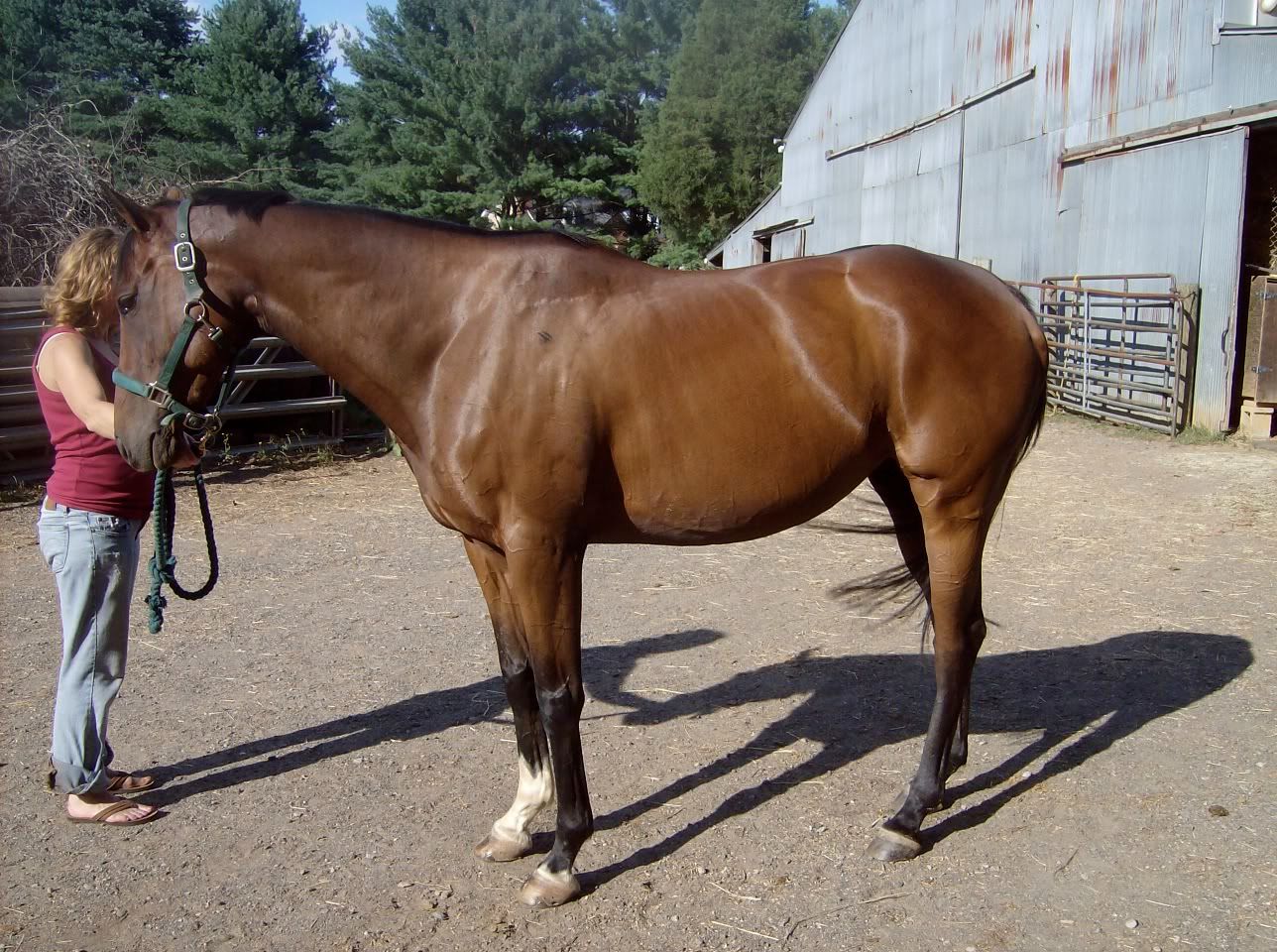 She looks fine to me. I would say that she is at a good weight. TB's tend to seem a little thinner just because of their confo. She may just be a little ribby no matter what you do. If she has bulked up with more muscle since that pic was taken, I would say that she is just fine. Pretty girl by the way. So long as she is healthy, it is not necessary for her to be rolly-polly fat. :)
---
Always remember that feeling of looking at a big, open country over the ears of a good horse, seeing a new trail unwind ahead of you, and that ever-spectacular view from the top of the ridge!!! Follow my training blog:
http://robertsontraining.blogspot.com/
Triple Crown Senior or Complete ... maybe Ultium
---
I have been called the NSC Nazi more then once ... I hate traditional feed methods of loading our horses up on grains and junk food :)
She looks good to me. My TB looks just like her. Just a hint of rib. Chubby's not a good look on TBs. As long as she's feeling good, I wouldn't mess with it. By the way, is she shoeless on her rears? If so, how long did it take to accomplish that without soreness?