FINALLY A New Farrier for Kainne, What Do You Think?
---
FINALLY! As you may have seen from my previous posts, it's been hell finding a decent farrier in my area..we've to settle for less than great for a long time and my horse was losing shoes left and right.
A friend was just telling me about a farrier she just recently switched back to..he had been out of the game for quite a few years because of a serious health issue. She had used him before this period and returned to him afterward and recommended him to us..so far things are looking good to me...I'd like to see what you guys think.
I caught a few quick pictures after the job.
So first here are the pictures from the last time the PREVIOUS farrier shod him after a lost shoe: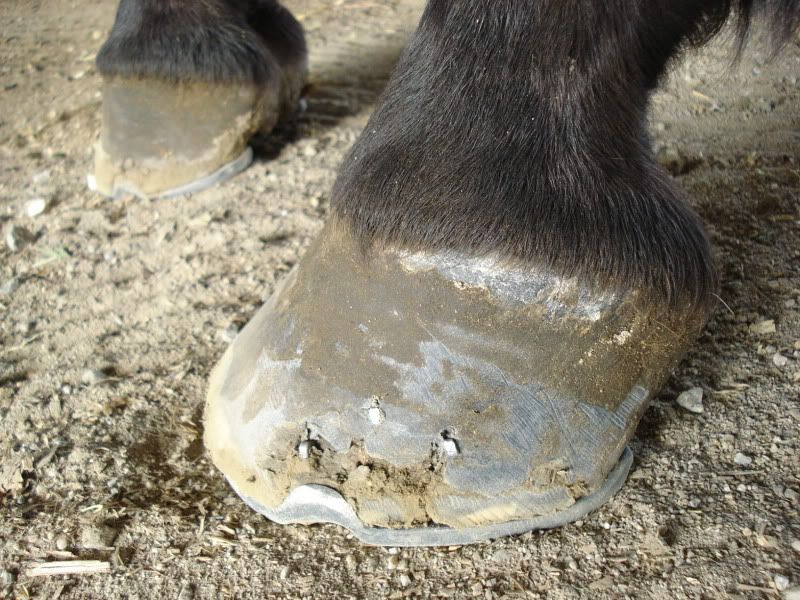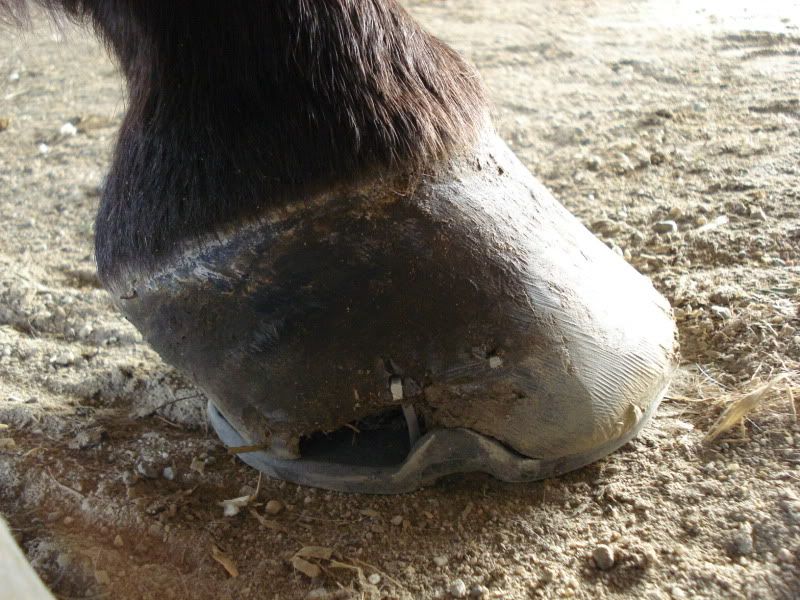 And here is the same foot after the first visit from the new farrier (after he ran around like a crazy thing for awhile):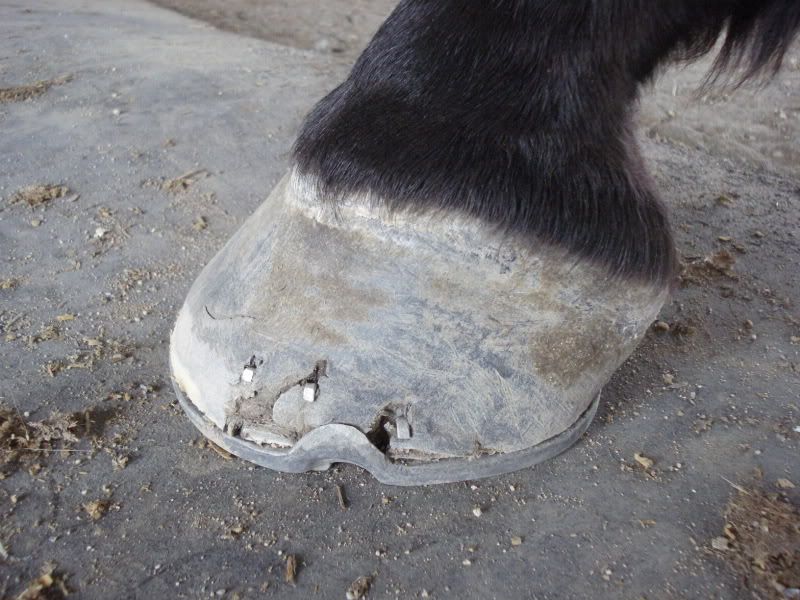 And both feet..the one shown above is the far hoof in this picture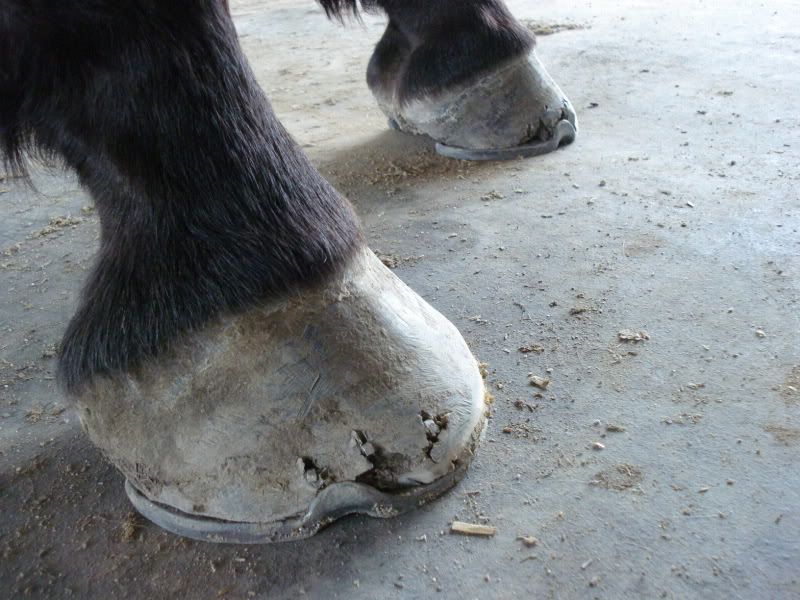 And here are his barefoot hind feet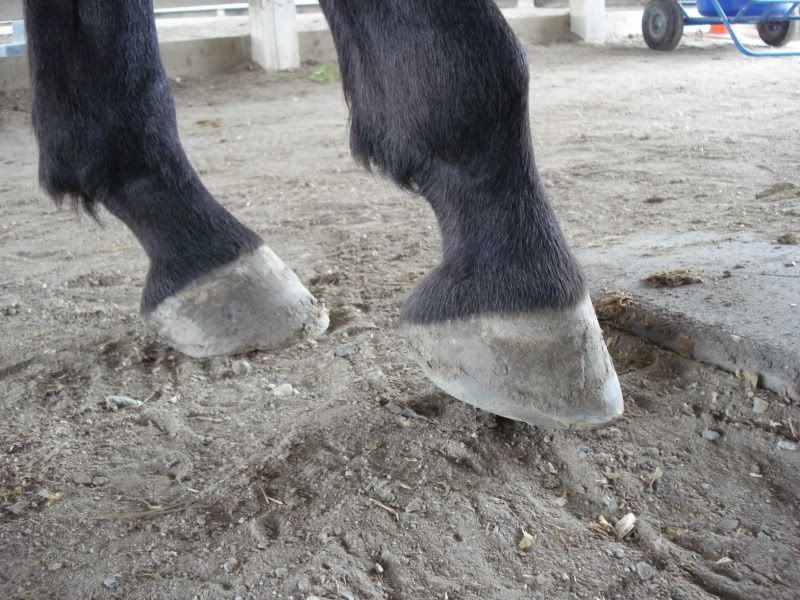 Sorry, not the best pictures..I can try to get better ones if needed, but so far does it look better? I can only cross my fingers.
So far both shoes seem pretty solidly attached for once which is a great sign to me.
Loads better :) They are much more balanced.
---
"May your trails be crooked, winding, crooked, dangerous, leading to the most amazing view" -Edward Abbey
The hooves look tons better than the first pics. Much better trim/balance.
---
Yes, much better. I hope you can have him out often to monitor. With the weakness in the walls, your poor horsey needs some lovin'! Thanks be for the new farrier.
Is there a reason you can't pull the shoes on his fronts and just use easyboots when he is ridden? If he were mine I would have him on biotin and pull the shoes.
So glad to hear it, everyone!

Yes, despite what some people will try to say, some horses can not be barefoot. I tried pulling his shoes and he went dead lame. I was told to keep trying and put him on high quality hoof supplements and put on easyboots when I took him out. Still lame. Tried keeping them on 24/7. Still lame. He developed laminitis and I had to put the shoes back on ASAP. Voila, normal horse, instantly.
I agree that hoof supplements would help him but it probably helps to have a farrier who knows what the heck hes doing too!
Oh thats too bad. I wasn't questioning your decision, just trying to offer an idea. I've never had to have one of my own horses shod, they've always been barefoot. To me that is the ideal, but if he isn't comfortable without them what do you do?

I am sure glad you found a farrier that is better! The photos look a lot better.
Sorry if I seem a bit defensive, I'm at an NH barn and am used to people who are very forceful about barefoot, haha
I definitely see it as the ideal whenever possible, but it's tough with these TBs especially..there's always something wrong with this guy's feet, they're sore or too dry or too moist or they chip up and throw shoes or they're laminitic..sigh =/ haha
All of my previous horses have always been barefoot, though..it would be nice, for sure.
Well, I think I have just been spoiled by horses with beautiful hooves! =)

And please, no offense taken at all.

Say, have you seen that stuff that is like Bondo for hooves? I had a cow catch a claw and tear a great chunk out. Our vet sedated her and we used this "stuff" that he mixed together and pasted on, then it hardened and he sanded it down to basically make a new claw. It grew out and wore down as it healed. I bet it might be worth a try?