Foal with pus-like nasal discharge
---
So yesterday after noon I go check on my foal and find that she has ***** discharge coming out of her left nostril. I immediately called the vet. He told me to give her a day to see if she gets better on her own as she has no fever and is acting normal and has no cough. Today there has been no more ***** stuff just kind of a clear discharge. And I checked her temp and it's 101 so no fever. Im just so worried. I'm going to call the vet later to give him an update. Im just really worried it might be strangles but I didn't think that such young foals get it but I could be wrong. I also noticed that under her jaw her lymph nodes are slightly swollen. If you guys have any ideas it would be greatly appreciated!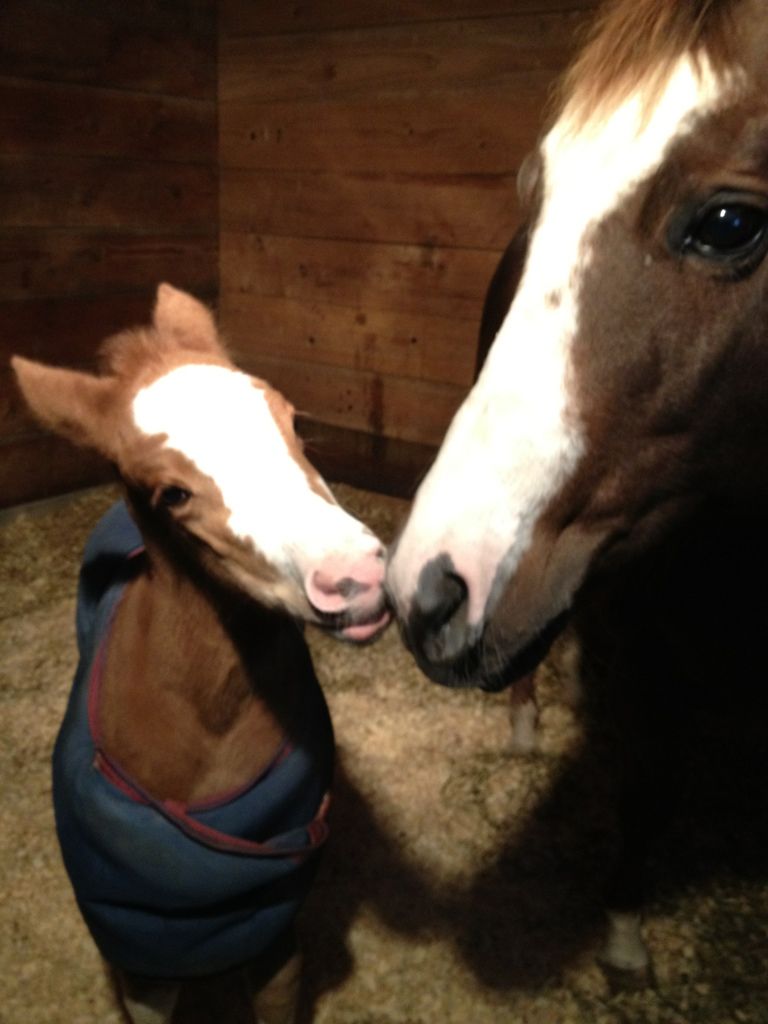 Posted via Mobile Device
How old is she? Did you do an IgG test when she was born to see if the mare passed on her immunities?

Watch her very closely, foals can go downhill so fast it's not funny.

PS. She's adorable!
---
If you suspect strangles, call your vet back and request that he come check your horse out ASAP... or call a new vet. Better safe than sorry, especially this time of year.
very cute Foal I hope she is ok. it good you called the vet. i have to wonder why you called it pus (*****) and not snot they are 2 different things
---
Don't Flatter yourself Cowboy I was looking at your Horse

LORI

I got the IgG test done when she was 12 hours old and she was over 800Mg/dl. I'm going to call my vet very soon and he will probably come out to check her over better. I called it puss as that is what it looked like to me. It was thick and yellow/white. She was born Jan. 21.
Posted via Mobile Device
With no temp and creamy, yellow-white discharge, she's probably fine but I'd keep an eye on her anyhow. If the discharge was more green, I'd be concerned.

Glad to hear she got her IgG and was over 800, she'll most likely be fine. Probably got some shavings or dust up her nose and needed to flush it out with a good thick snot.

Having the vet out to check her anyhow is never off base with these little foalies, they can go down so fast it's just crazy.
---
Sometimes very young foals will get milk streaming into their nostrils from the other teat while nursing.
The ***** looking stuff has come back. I talked to my vet. He's coming out tomorrow. I check her temp four times a day and she doesn't have a fever and is acting completely normal still. The only thing is maybe she is sleeping a little more then usual. I have a pic of the discharge from this morning.
Posted via Mobile Device
foal with ***** nose
---
the colour greenish looking seems to indicate strangles tricky had it when he was a foal and he gave it to for other ponys and a horse on the yard and we had to wait for the lump in the throat to burst we gave them 24 hour nurseing and thay all pulled through.
the dealer were we picked him up from all of his horses had it and he did not give a dam what thay had i had never seen it befor but with tricky i know now all had thick green discharge.
I am so glad you changed the title ;)
---
Don't Flatter yourself Cowboy I was looking at your Horse

LORI