Founder or Abscess?
---
Hello a month ago tomorrow my horse supposedly foundered. I hadn't ridden him since the Tuesday before and it was on a dirt road so it wasn't hard ground. He wasn't over heated and drank too much water and he did not get into anything he wasn't supposed to. Plus he had been grazed on lush grass that whole summer so his stomach was used to that. His eyes weren't glazed over there was no heavy breathing and he did not have a temperature. However he was favoring both front feet and they were both swollen. He was in the typical rocking horse stance. I nor the vet were able to pick his feet up but she said it would be too rare to have both feet have abscesses at the same time. So I didn't really look at for them after. But she gave him pain killers and I have him bute for a few days after. But it was almost the next day and he already seemed better. The week after he was walking completely normally again and didn't show and signs of foundering. I have been taking him for short walks and he is walking very normally, showing no signs of pain and actually is walking faster than me and trotted a couple of times today. We walked around in the snow and when we got back I cleaned his feet out and noticed holes on both feet that I never noticed before. I feel embarrassed because it seems like I would have noticed but they must have been filled in with dirt. So I am wondering with his quick recovery if it wasn't a rare case where he got abscesses at the same time. Another thing is that I haven't noticed founder rings and I should have by now. he has one big ring across his hoof but that is something else because I looked at pics from before and he had that on there already. The only thing that I have changed right before this happened was I was putting Hooflex on his hooves because my farrier said he had some bacteria and she suggested I used it to keep the hooves moisturized and moist hooves can cause abscesses. So what does everyone think? I attached pictures I took today. Sorry if they are a bit blurry.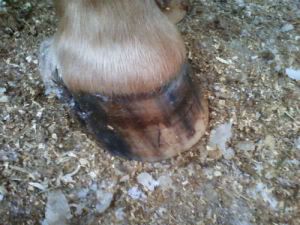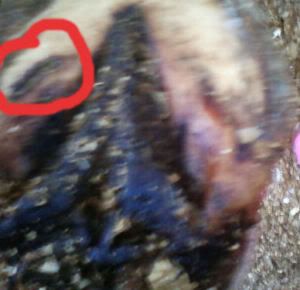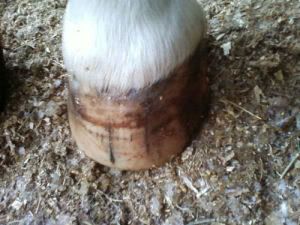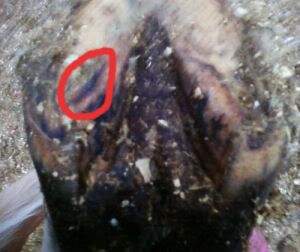 It certainly looks like where an abscess could have blown out. I'm not a vet though. But yes, it does look like it, especially if that hole is deep.
If I were you, I would be thrilled about finding the hole(s), because that is a much better diagnosis than founder.
I have seen them blow out at both the coronet band and the back of the frog. I don't see why it couldn't come out at the bars either though.
So hopefully it's that, especially if the horse is suddenly better.
I know I was actually happen to have spotted them today because of the fact that its better than founder that's why I wanted another opinion. They aren't super deep but they are noticeable holes and I have compared it to other pics online and that's what it looks like to me. Its just weird it would happen on both feet at the same time.
It is kind of odd that he would recover from founder so fast.
Those do look kind of like abcesses.
---
So in lies the madness, the pursuit of the impossible in the face of the complete assurance that you will fail, and yet still you chase.
I agree his recovery has been really fast. The abscess happens within the lamenea so would that cause blood within it when she did his feet? That farrier came up the same day to help me with some wedges and she gave him a roll. So she said there was blood in the lamenea when she did it. But already then she said he was looking really good he was standing on an incline with the more weight on his front legs. She seemed rather surprised because his pain killer would have been worn off by then.

It's cetainly more likely to have been an abcess with a quick recovery like that. Once an abcess starts to drain and the pressure is relieved a horse can go from three legged lame to hardly a limp almost immediately.
As far as the Hooflex, I wouldn't count on that being the problem, but continually having wet feet or something applied which traps bacteria does make abcesses more common, even in healthy feet. Especially this time of year with the rain/snow and unavoidable mud it creates, keeping feet dry is usually beyond our control. The best you can do is pick them out and old timers (including me) will apply iodine/betadine after to help kill any bacteria and dry the soles.
---
On the sixth day, God created the Quarter Horse.
On the seventh day, he Painted the good ones.
The betadine might not be such a bad idea if they were abcesses. My vet also told me to soak my horses foot with epsom salt 2x a day when she was recovering from an abcess.
---
So in lies the madness, the pursuit of the impossible in the face of the complete assurance that you will fail, and yet still you chase.
Yeah I have been putting Bannix on it. That is for fungal and abscesses. My farrier is coming up tomorrow so I am very excited to see what she has to say. Hopefully its good news. Ill definitely have to let everyone know what she says about everything. I messaged her on facebook and she said he might have had the abscesses from the founder but she said it was too hard to tell with the pictures but I'll know for sure. I think he is ready to ride. But I'm not a professional and have never dealt with founder before so I'll have to see what she says before I do anything. I am just plain grateful that he actually recovered at all. He is my best boy and if a horse is a best friend he is mine.
I would suggest what ever happened founder or abcess. Most likely abcess which created a lot of heat n fever in the feet. I have seen it happen before the whole sole area is shedding and he is growing a new sole. He will probably be a bit tender footed when the new sole is exposed till it callouses again. Then he should be back to normal. Hope this info helps you.
Posted via Mobile Device
Ok, so my farrier just left. She said he did founder and she said that one of the holes was an old abscess that is all healed and everything. But she said his feet looked awesome! She said that he was holding himself us super good. There was very little blood and he didn't have any kind of a slipper foot. After she was done with his feet she had me walk him for her just to make sure he wasn't walking lame in anyway and she said he looked perfect. Then she had me trot him a little bit and he got all cute and excited and tossed his head and did a real nice trot and she said it was really great. So she told me in a couple of days I can do some light riding around my field and see how he does with that. And ride depending on how he does and feels. She also said I can start him back on grain, which I am sure he will be happy about, lol. So... happy. She says that I really caught it on time by just knowing something wasn't right. So... happy this was my Christmas wish for him to get a good bill of health and to be able to start riding again.
Similar Threads
Thread
Thread Starter
Forum
Replies
Last Post
lingering abscess??

paint03

Horse Health

2

11-02-2010

09:58 PM

Abscess?

JustLeaveIt2Mya

Horse Health

29

04-26-2010

11:02 PM

Is this an Abscess?

New_image

Horse Health

7

10-29-2009

03:20 AM

Did abscess drain??

servinator

Horse Health

16

11-17-2008

06:49 PM

Abscess

kim_angel

Horse Health

3

04-19-2008

03:14 PM