Going barefoot?
---
So, some have you read my recent thread about shoeing frustrations. It is to the point where I am considering switching my TB to barefoot. Three horses at my barn have made the transition with great success, including a 17 year old TB with navicular issues. It has me very curious about trying it with my horse.

Okay, guidelines. I am not looking for theory or conjecture. I am looking for real data, first hand knowledge of horses who have successfully or not successfully made the transition to barefoot. I already have had a healthy dose of self professed experts who just tell me "don't do it" and "he'll be lame for a year". Here are the questions I am trying to answer.

1. Time it took from when your horses shoes were first pulled to when things were completely back to normal.

2. Problems experienced. How many times was he lame? Abcesses? Other issues?

3. How often did you keep boots on each day versus letting the horse walk around barefoot? I'm assuming you start mostly booted and then work up the number of hours he's barefoot.

4. At what point was you horse rideable? We're you riding around in boots day 1, or did it take months before your horse could carry weight?

5. Are you glad you did it?

Thanks in advance guys and gals. I'm working a double today, so hit me with all the info you can!
---
You just have to see your distance...you don't have to like it.
All of mine are barefoot and I don't have boots. We just ride around my neighborhood in the grass and stuff though. They have never been lame from it.
Being that I have learned more about this in the past 9 months.....I will let you in on my experience. My guy has great feet. Every farrier says that when they see him. But, when I bought him last spring he had front shoes because he was trail ridden where it was very rocky. I prefer a barefoot horse. So, I tried to transition him this summer. Pulled his shoes....poor thing was dead lame for 2 weeks. Since he was in training and I was wasting $$ and time, I put the shoes back on and decided to let it wait until fall. So, fall came, we moved to another barn, where actually, they have ALL barefoot horses. I talked to them about mine, and what they told me was that we had made a mistake the first time by having the farrier pull the shoes, do a little trim....like normal HUGE mistake. Their suggestion was to actually just leave his feet totally alone until they grew to a point where the shoes were nearly falling off. It killed me, but after about 3 months we were at that point. We pulled the shoes, smoothed the edges with a rasp (no trim, better to let them chip naturally I was told)..and the horse has never taken a lame step! He has been fine, frozen ground, stones and all. Feet look perfect. Not even any chipping. Now we can start to trim normally.
---
Signature undergoing edits. Please standby.......
I tried the barefoot game with Nelson - and that was a disaster. I wont do it again with him. Some horses can go barefoot and go very nicely - and others, just cannot. Nelson falls into that "Cannot category"

His feet were a horrible mess. Couldn't keep shoes on him if my life depended on it. Cracks, chips, horrible angles - well, that was the problem..horrible farrier.

So I had his shoes pulled because the farrier had no where to put nails. Bad idea.

I had a super lame horse. Abcesses, miserable, wouldn't walk because it hurt so much. I spent a lot of time, getting him comfortable. I ended up buying him the Easy Boot Epics, which were a life saver for the poor guy - they stayed on almost day in and day out, until I was able to get shoes back on him.

I was able to ride him once the abcesses were finally cycled through and thanks to the Easyboot Epics. But then on one boot, the wire broke. Still sitting in my tack trunk broken.

Thankfully at that point, he was ready for shoes again.

My Bestie - her TB Gelding has horrible feet, just like what Nelson had years ago. Losing shoes, horrible angles, cracks and chips - and thankfully for my Farrier taking them on as a client, his feet are looking fabulous.

He does glue on shoes with him because his walls are very weak right now due to the horrible angles and lack of blood flow. He's working on correcting him, and the glue on shoes are working wonderfully. No nail holes, no chips, no cracks, and the shoes stay on a full cycle.

I will never go barefoot again.
---
MIE, when you had Nelson's shoes pulled, was it with a normal farrier, or one who specializes in barefoot trimming? I ask because all my research indicates that the two styles of trim are very different.
---
You just have to see your distance...you don't have to like it.
I have also had one that couldn't go without.....quarter cracks, thin walls and just bad feet. Frankly, I believe it is a TB thing, JMHO. At least in any I have owned. Feet are now a deal breaker for me. I won't buy one with bad feet. Period. BTDT.
---
Signature undergoing edits. Please standby.......
Yeah, I thought the same thing about TBs until I was told about the 17 year old that recently made the transition within weeks. That one really got my attention.
---
You just have to see your distance...you don't have to like it.
It was with a barefoot trimmer. I found her through word of mouth, and contacted her to come out and work with Nelson.
I found the old pitures.........
This is what his feet looked like under the
shhhht
farrier I had......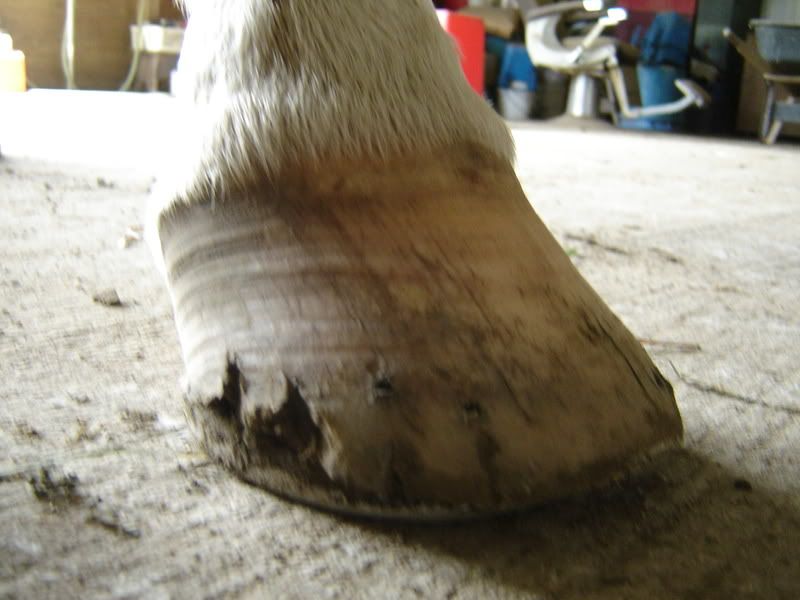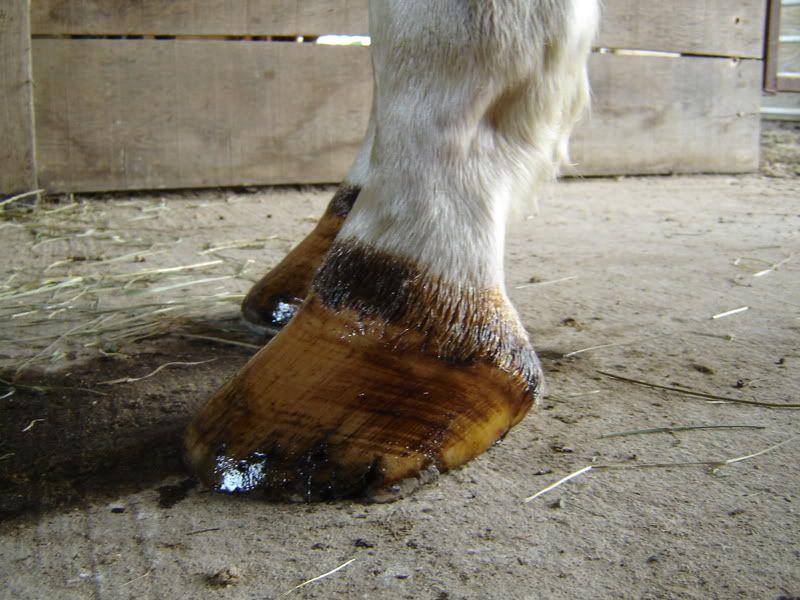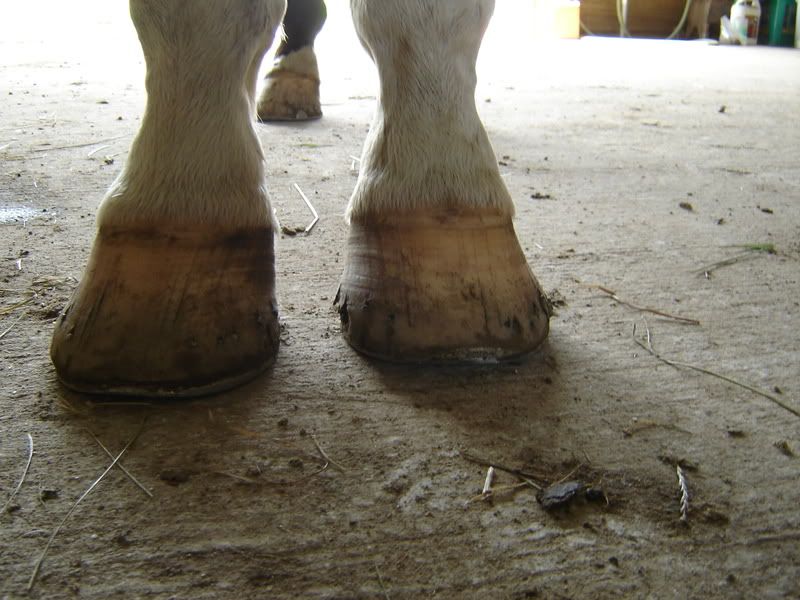 And then this is after the Barefoot Trimmer came....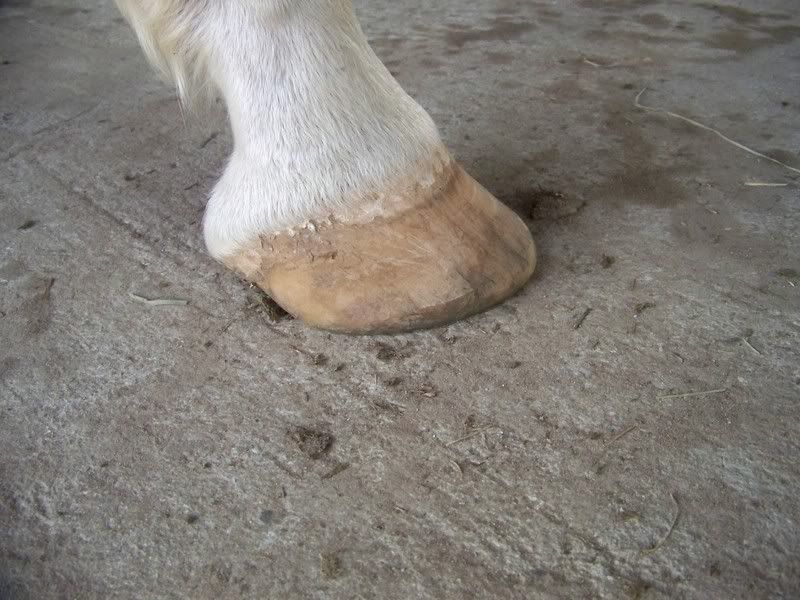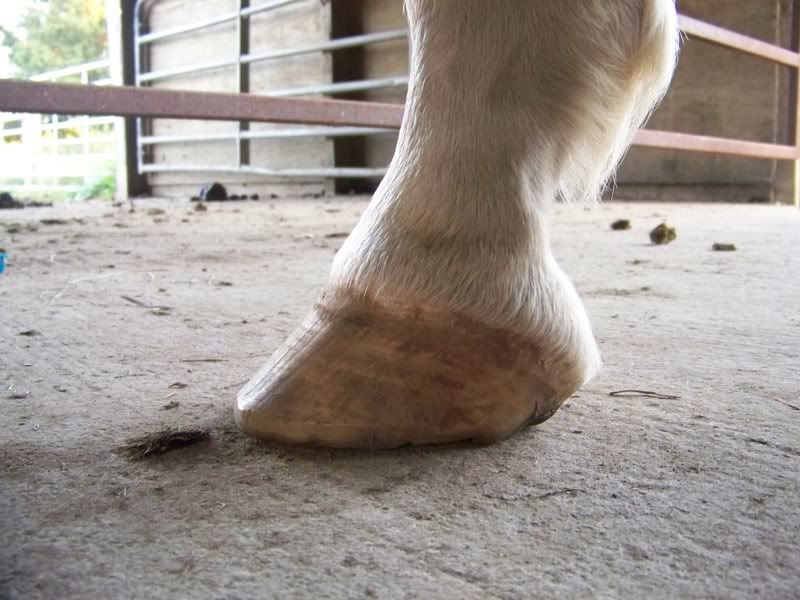 That was directly after the shoes were pulled.....the first session I had with her.
But he was miserable MBP! He really was! I wont put him through that again...but I am thankful for the experience though *I know that sounds horrible* but it led to me a very educated Farrier, and I learnt a lot from it as well.
She herself told me, that he's not meant to be barefoot. She did her best for me, but encouraged me to get shoes back on him when he was ready.
I have a dear friend, who lives in Vancouver. I've known her for years and we keep in regular contact via FB - and she's a Barefoot Trimmer as well. I continulously keep her up to date on Nelson's feet with pictures, and she herself states that Nelson is not meant to be barefoot either. She's very pleased with where he is now, foot wise and what my Farrier is doing with him.
He's come a long way.
---
Did the trimmer say why Nelson is not a barefoot candidate? Is there anything specific in his feet that they pointed out? That seems like kind of a general thing to say. You're sure right about what a crappy farrier you had before though. Wow those were bad!! Glad you got him all straightened out.
---
You just have to see your distance...you don't have to like it.
To be honest, I cannot remember. This was quite a while ago. I am sure she gave an explanation at the time and I remember her pointing things out while she was working on him, but as to what it was she specifically said - it's gone now.

But now, I am watching my friends list on FB to see if my other friend gets online, because now I want to ask her, for her opinions as to why she feels that Nelson is not a candidate for barefoot. She gave her reasons too, but again - it's gone.
---