good news (somewhat) for the navicular horse
---
Well some of you know there's a 5 year old QH named Spice that has navicular really bad....he would always be lame, etc

Well the BO had a different farrier come (my farrier actually) and had him do Spice's hooves....well they put him barefoot.
Today (the day after) a friend rode him to see if he'd be lame (he wasn't lame when we lunged him) and he was fine...no lameness and even listened better.

after he sat in the stall for a while (after he was ridden) he was lame...but for the whole time riding he wasn't lame...kinda weird I think

But the BO thought that it was a good sign and that with more work (slowly building it up) he would be alot better
aww that's great news!

I hope Spice keeps getting better!

Keep us updated :)
Not all farriers are created equal; finding a good farrier is half the battle, and sounds like you found one!
---
The lovely images above provided by CVLC Photography cvlphotography.com
Quote:
Originally Posted by JustDressageIt
Not all farriers are created equal; finding a good farrier is half the battle, and sounds like you found one!
yeah he's a great farrier....he's done wonders with Sonny's feet, and the BO also seems pleased with his work.
Maybe in a couple months Spice will never be lame
UPDATE:
Spice seems to be doing GREAT barefooted...it's amazing what changes there are in him since we took off the shoes. Guess barefoot is definately healthier for any horse...even one with navicular.
Spice was ridden today for a good 20 minutes (longer than he ever has before). He wasn't lame at all and he was soooo energetic that all he wanted to do was canter! I'm soooo happy that Spice can live a pretty normal life.....for now.

Also he wasn't even lame after riding...which is a huge plus cause last time he was a tad bit lame afterwards.

Please keep your fingers crossed that Spice will be as good as he is now. The BO was actually talking about brining him to the fair because he's the greatest western pleasure horse!

I'll upload pics of him soon....but at the moment my computer is being a pain (it's not letting me do anything)
pics: (sorry they are big)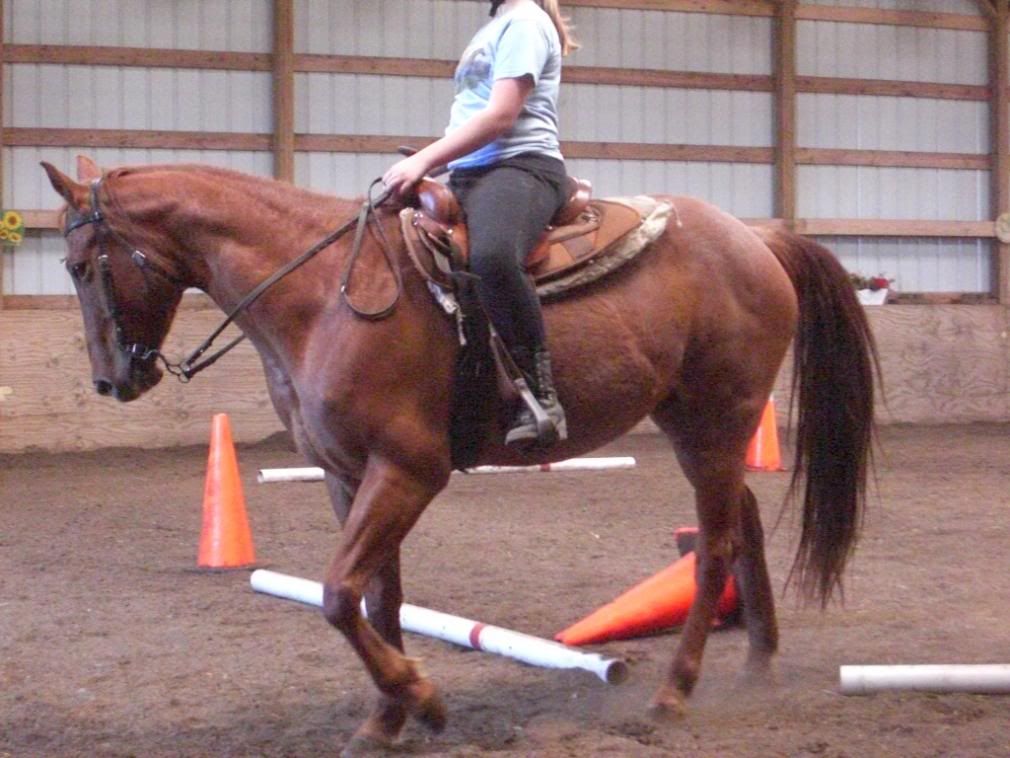 That's great that he's doing so much better. He still seems to be standing on his heels in front a bit, I think.

As for barefoot being healthier -- yes, I totally agree, but just like any farrier, the trim is what really makes it. There are certainly different levels of knowledge in the barefoot trimmer community too.
yeah he's still standing on his heels alot...but he isn't lame...wouldn't standing on his heels bother the navicular bone since isn't that bone on the back side of the leg?
ya, you're right. The nav bone is at the back and usu. a horse will try to walk on his toes rather than his heels, but I think there may be more going on here... have any x-rays been done? Many vets will diagnose nav syndrome without x-rays. I wonder if maybe he has more problems than that, but with the new trim, things are getting better so nothing more was though of it?

Being lame after being in a stall is not surprising either. Quite typical of these kinds of troubles from what I keep hearing again and again. A horse just isn't meant to be locked up in a 12 x 12 box. When my own vet told me my mare had to be on stall rest for 2 months, I lasted about 2 days and said enough of this and made a small paddock just for her -- not big enough to get running in, but lots big for walking and rolling. That same vet told me I'd probably have to put my mare down after 4 months of trying and trying, but in 4 months she was so much better my vet was floored! A year later, the vet didn't even know it was the same horse. ahh, but I digress...

I think you guys are on the right track with this new farrier. I also think xrays or fresh xrays may tell more of a tale to help for this horse's future.