GRAIN HELP!!! WEIGHT GAIN!
---
Okay ive decided to buy my own grain to give to chance addition to what my barn gives her just so I can get some more weight on her.

What kinda grain should I get! Heres the list!!

PURINA:
Theres more but these are the ones I was interested in

Strategy-GX - Provides the energy and protein required to repair muscles and enhance endurance. Helps keep muscles working at the peak. Added fat helps your horse work longer with less fatigue. Improves hair coat and body condition.

Omolene #100 - Complements hay. For horses in good body condition. Provides all the nutrition needed for a shiny hair coat, bright eyes and added energy for work. Improved Omolene100 Active Pleasure with "Controlled Energy™" has less sugar and molasses, more energy from vegetable oil and less starch.

POULIN:

Challenger- This high fat equine ration is a pelleted feed formulated for weanlings, yearlings and performance horses.

Endurance - An 11% pelleted feed formulated to meet the nutritional needs of pleasure and active horses over two years old. Endurance Pellets are a high energy feed that allow the owner to feed large amounts of hay or pasture which makes this a very economical feed.

Sprint 16% High Fat - Formulated for horses that require higher levels of energy and protein.Sprint 16% High Fat is most effective when being fed to foals, broodmares, hard keepers and performance horses that are being fed grass hay. Whole roasted soybeans is the key ingredient in Sprint 16%. Because of the palatability of roasted soybeans foals will typically eat Sprint 16% readily.Sprint 16% formula will also meet the needs of those horses that have a higher requirement for energy to maintain their body condition.Other benefits of Sprint 16% are better skin and coat because of the high fat levels.
how old is she? and how much is she used (as far as riding). that will help decidet he right product. How underweight is she? 100 lbs? 200lbs? curious. Do you have a pic? There is also a purina product called Athlete, it's pretty expensive, like 26 bucks a bag, but you don't use that much of it so it last a long time and it really helps with the weight. WeightGain also works really well, i've used it on my older horses on occassion when they have hard times.
shes 5 and right now she isnt being ridden but worked kinda hard its depends on the day really. And I know her ribs are showing a bit. umm ill look for a picture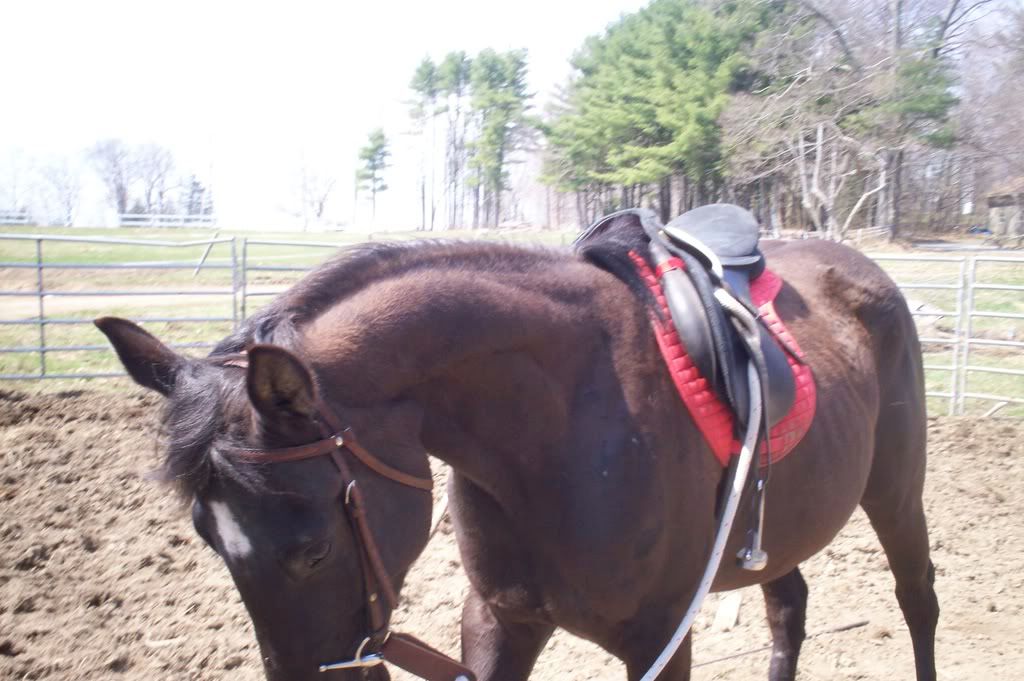 Please take no offence, But she doesn't look so good.
Are you sure this is just a weight issue? She has a distant look in her eye and is rather dull. Have you had a vet look at her? Maybe the vet could recomend what to use. She is a cute horse with a lovely face. She just doesn't look like she feels good.
What breed is she hun? Looks like tb or tb x but cant tell on the pic. She is only young, you need a very high protien diet really to help her gain and keep weight and to be able to grow whilst in work. If i was you, i would turn her out for 6 weeks, no work, feed her a high protien diet and plenty of forage. You will notice a marked difference in 6 weeks beleive me. I have a 17.3h Tb who only farts and he drops 50lb. We are in the process of getting him back up to weight after him coming down very poorly just before i got him. He is not doing any work at all until he has got a good amount of weight on him.
Get your horse a showing mix, one that is high in protien, and high in oil, or add soya oil to her feed, this will help a lot.
Dont be too worried about it as some horses are weight shedders...it makes us feel terrible if they do it, no matter how much we feed, some dont seem to put weight on at all.
Also if you can, get blue chip feed balancer, this will help tremendously, lots of hay and if possible give her some haylage as this will help her gain weight as it is high in digestable protiens.
Basically; high protien mix. Blue chip if you can. sugar beet. chaff. and good quality hay, mix haylage in if you can. Just a suggestion hun.
Hope it works out for you. :)
---
A horse belongs in a stable not on a table!
OOh, if you cant get blue chip, try barley...grain barley or barley rings!!
---
A horse belongs in a stable not on a table!
Quote:
She has a distant look in her eye and is rather dull.
I agree that she looks dull, but it could be the angle of the camera that makes her eye look glazed.
What is she on right now? (What brand, how much) What kind of hay?
I'm sure Ryle has some great tips, but I would think of this:
You want a horse in her condition to be on something with a lot of fat (calories). At the same time, you don't want to suddenly switch from little fat to TONS of fat - also, keep the protein levels in check.
Also, you really don't want to feed something that is different than what the BO is feeding - different companies put different ingredients into their feeds, and mixing them up could result in an overdose of certain vitamins and minerals.
Consider how many times you will see your horse each week. Can you committ to feeding her extra every day? If you can't be out every day, it might benefit you to ask the BO to up her grain, because occasional or spotty feeding (especially in volume) can do more harm than good.
Good Luck and Please Keep Us Posted.
---
kickshaw
Justin (qh/tb)
Boo (asb)
Shes an appy tb x

right now where im boarding my barn sometimes feeds her sweet feed which as molases in it, but when im not there shes turned out 24/7 maybe sometimes turned in at night

Could anyone give me names of grain I could give her because you lost me completely.
I cant change her hay or anything I think its just that grass type hay or w.e

I was thinking about just buying a bag of grain and start feeding it to her when Im there which right now is just on weekends. But Im there over night in the summer im gonna be there almost everyday

and shes out almost 24/7 so she doesnt always get grained just when ever shes in over the summer im gonna try and start keeping her in

I think it may be the camera but i could be wrong cause usually she has a very alert look in her eyes.
i can't see the picture for some reason but feeding her just a few times a week isnt going to solve your problem...has she been dewormed lately?