Hair loss under belly, Again
---
Hi guys,
I've been battling a case of what appears to be sweet itch with my TB gelding,
Since I've had him he's had hair loss under his belly - Which was a year and a half ago. I've had several vets look at him since then who have told me different things and have not come up with a confirmed diagnosis.
One said it was mites - Test for mites was negative, so we went with steriod shot which actually made it WORSE - He came out in large lumps as in picture below V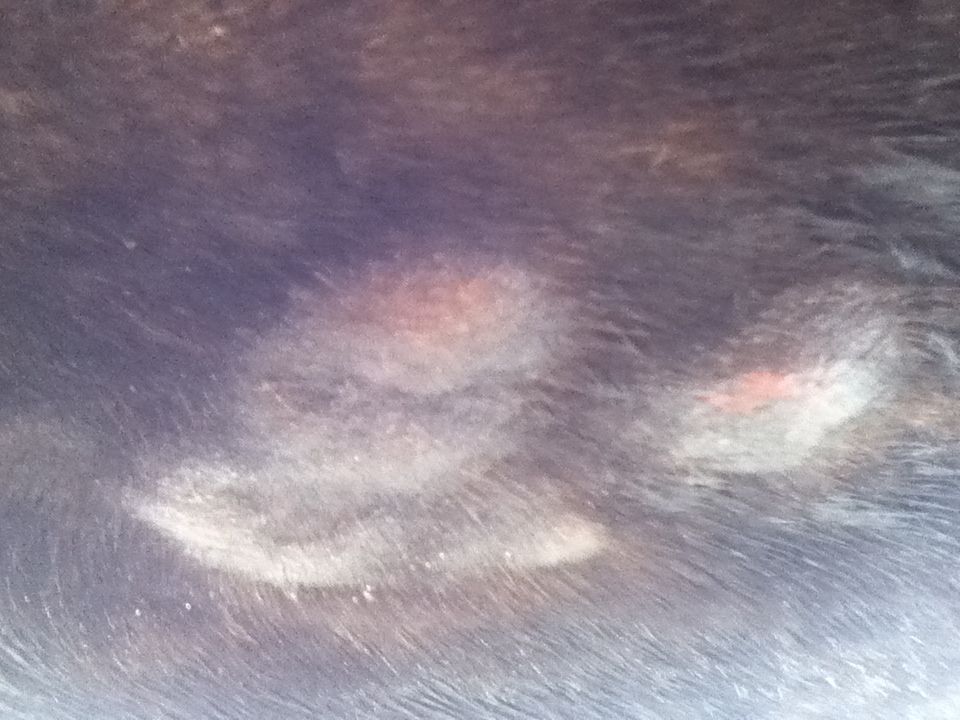 They're not normally lumps, just dry flakey skin with no hair (in patches, not oval type formations)
I'm considering buying a bodysuit which covers his belly to keep the midges off him? Has anyone else tried this with any success?
I'm also going to try keeping him off the paddock during the day and turnout at night - To hopefully reduce how raw hes rubbing his belly.
Something else I've noticed is as soon as i've taken his cover off and he's naked (he's doesnt do this when its on) he starts getting all itchy, tail swishy
and tries to itch his belly. Its almost like the condition is aggravated by the sun, as most of the time I take it off, there are no midges around, yet he's acting like there is a swarm/
I'm quite concerned because already (its not even spring yet) he's showing a lot of hair loss and quite itchy.
I've also been told (over horseforum) about Onchocerca,
I'm slightly worried about treating this without a diagnosis from a vet...
as I'm told the treatment can be very dangerous and unpleasant. Also not sure if its possible, as he only has hairloss not lumps and bumps.
Any home remedies, bright ideas, management ideas, Or miracles are really appreciated.
Thanks!
Would like to add - Have also just heard of the SHOO tag for horses - Which is an midge and fly repellent that you attach to the mane, has anyone found this to be effective?
Looks just like my pony and her sensitivity to biting midges. I treated her for neck thread worms, still do and the improvement has been amazing. I also keep her well coated in fly spray.

Tried tags and drops and they were fairly worthless except right in the area the product was.
Is that itchy flaky skin area where the belly button would be? Right in the middle?
---
~Being on the back of a horse is my idea of heaven!~
I have gelding that will rub himself raw on his belly, and little mare that is terribly affected by gnats and will itch herself raw. I mix diaper cream with sulfur powder into a thick paste and rub on itchy spots I have had great success with it. The diaper cream will help with the dryness and the sulfur keeps the bugs off and works as an anti fungal and antibacterial.
My horse gets eaten up on his belly ever summer. It used to be horrible, but we've been keeping ahead of it in recent summers. What's been working for him is baby wipe the area daily and then slathering on a lot of Swat. For the areas already attacked, some anti-itch cream seems to help. For the areas that get a little crusty, there's a microtek anti-fungal gel that really breaks it up.
---
You just have to see your distance...you don't have to like it.
Similar Threads
Thread
Thread Starter
Forum
Replies
Last Post
Hair loss

rlr21791

Horse Health

1

07-27-2013

01:30 PM

Hair Loss Help

Josh

Horse Health

7

01-30-2013

04:47 PM

Help with hair loss

BarnflyStables

Horse Grooming

8

06-29-2011

08:26 AM

Hair Loss?

armydogs

Horse Health

14

04-04-2011

08:52 PM

Hair Loss?

HannahJo

Horse Grooming

4

09-18-2010

04:51 PM