Has a change in herd and turnout ever helped your horse build muscle??
---
I know this is a strange question. I've owned my Appy for 3 years. Except for spring when grass is very abundant, he can be a hard keeper and has more of a thorobred build. I have always had trouble getting hind muscles on him. He has arthritic hocks and he is 20. (all well managed, and he is ridden 3-4 times a week, light to moderate work - flat only and trails).

I recently moved him to a new barn (end October). I was in angst over the decision, primarily because of the herd change. Instead of being turned out with 2 senior geldings, he is now out with a mid-teen mare and a colt and filly (7 months old). Many vets I spoke to, and others said if anything, it would keep him moving more.

The new barn also has bigger fields that have slightly rolling hills. Not steep but varying terrain, slants here and there and a few smaller, steeper hills. The turnout here is NICE. The trails also have nice inclines.

He has now changed from tall and lanky looking to seriously building muscle! He is starting to look like more of a standard, stock Appy. Hind and shoulder muscles to be proud of. I am not sure what's doing it. He is on 60% alfalfa but was on 100% last winter so don't think that's the difference.

He runs and plays MUCH more. The mare is herd leader and keeps them all moving and running.

Is turnout on slightly hillier land enough to help an old horse build some muscle? I must say old barn had much smaller fields and it was FLAT. Super flat.

Our trail rides aren't long. Never more than an hour, and many just 20 minutes now that it's winter and the ground is frozen often, however we almost always head "up" the trail at a walk or trot.

He looks absolutely FANTASTIC and I am super-psyched. He body composition is just changing here and I am trying to figure out what to attribute it to??

Has this ever happened to anyone?
This same thing happened to me!
It happened this last fall when I moved my 25 year old Arabian mare (she's always looked ok, very mild arthritis in her hock/fetlock area, a pretty easy keeper, but her topline was always lacking something, yknow?) from her previous home of 2 years that had very small rolling hills (and small paddock things) but was mostly flat, to a VERY steep 3 acre pasture that she's all alone in. She likes to hang out on the opposite, higher, side of the pasture from her water and food so she's navigating the hills daily. And my goodness! The change was crazy. She's always had great QH-like butt muscles and she's always been just generally buff looking, but she went from looking like a under-muscled muscular QH-ish look, to a toned "dang! that's one good looking Quarter horse!" look, even though she has absolutely zero QH blood! Haha
She's always done better by herself or with one other herd mate because she's VERY non-dominant. At her previous home she was turned out with 5 other horses that were all 10-15 years younger than her so she got pushed around a lot.
Anyway, it's sure a great feeling to figure out what works best for our old friends!
---
Fabio - 13 year old Arabian/Lipizzan gelding

~
Rest peacefully, Lacey.

Me too. Mine went from a small paddock to a field on his own 24/7 with neighboring horses, he put on weight, when I thought he was a hard keeper and put on muscle too without me changing his exercise.
The most promient change I've seen in my horses was with my Ellie. I got her because she's got a bone cyst on her left front knee (see picture below). She was in a small pasture that was fairly hilly, and I suspect she had a hard time navigating those hills on this leg.
She had a pretty good limp when I got her, but after being turned out on 160 acres of flat land where she could use her leg more, she's gotten a LOT more mobile on it. If fact, the other day she was loping along and keeping up with everybody, which she never could do before!
It lifted my heart a lot to see her running like a "normal" horse again. :)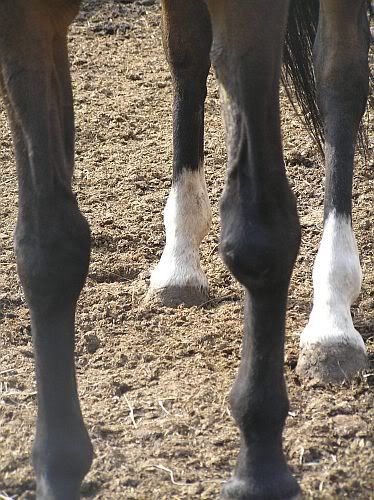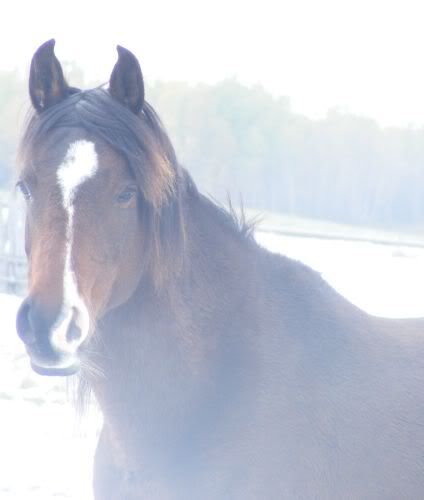 Our pasture slopes down to our pond (the previous owner dammed the really deep ravine that bisects the property) then up to the back fence. We only have 15 acres, but it's nearly 1/2 mile deep. The horses that are kept in the pasture generally stay in good muscle, even though the slopes are not particularly steep.

Seriously considering turning Dancer out of the lot she's in and out into the pasture. Will have to move Junior up into the pen, since he's not gelded yet (will be in February), but it will give Dancer more room to move around, and going up and down the slopes will help her out.
---
Plain Old Dee, horses Dancer and Rain
I believe in dragons, unicorns, good men and other mythical creatures!
Quote:
He looks absolutely FANTASTIC and I am super-psyched. He body composition is just changing here and I am trying to figure out what to attribute it to??

The overall environment. He's happy so he is eating better and moving more.