Is he too skinny?
---
I was just wondering if my boy is still too skinny? He's gained quite a bit of weight but just wondering if he needs to gain more, and if so how much?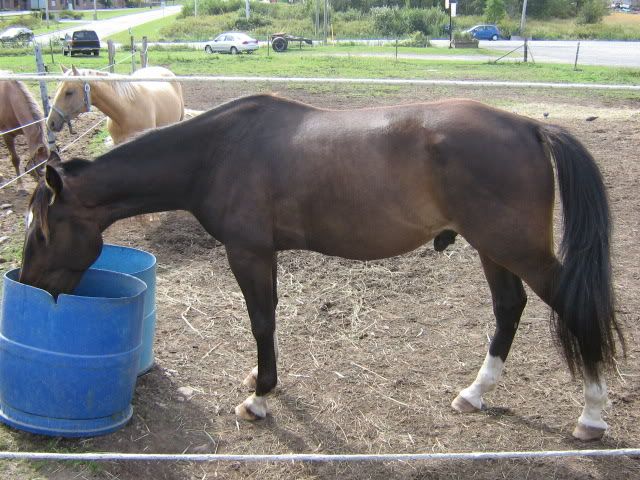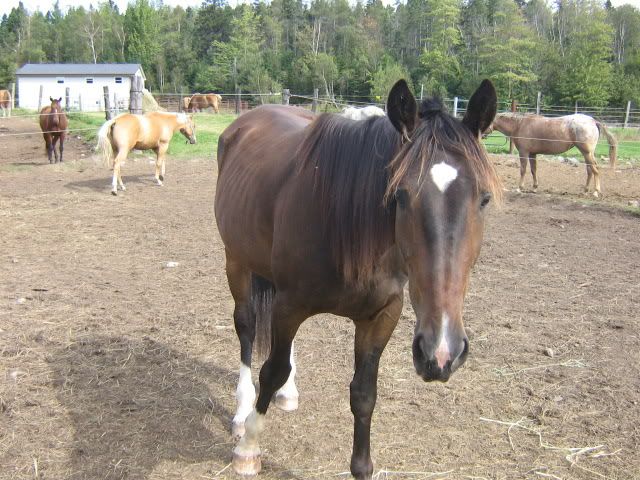 He could do with a touch more, but not too much. Just enough to cover his ribs a bit better, but bear in mind that the two shots where you can see his ribs, he is moving and that can cause them to pop out a little bit.

What he needs now is work to increase his top line, and shift the weight from fat around his lower body to muscle all over.
---
Mods, grant me the serenity to see the opinions I cannot change, courage to change the ones that should change, and the wisdom to spot the trolls.
Teen Forum Moderator
Join Date: Dec 2010
Location: South East Texas
Posts: 7,157
• Horses:
2
He's still too thin, yes. What feed do you have him on? I'm not completely sure how much he needs to gain, but I'd say another fifty, possibly a bit more- wouldn't hurt him a bit, especially as winter is approaching. Muscling him up might help his appearance a lot, also. He's got a very scrawny neck and super large head, throwing his porportions off. If you can get some muscle and fat on him, I think it would do him a world of good.
---
Everyone in your life is meant to
be in your journey, but not all of
them are meant to stay till the end.
I think he could use a little more weight, but I don't think he's too skinny. I think he'd look a lot better with a little more muscle, rather than just pure weight.
He's skinny... but he hasn't filled out all the way and doesn't have a ton of muscle. It's all about balance, but it's better to be a little cushiny than ribby in my opinion.
He doesn't look bad though.
he is still skinny yes needs more weight yes. tips- add some canola oil to his feed it rally helps. i have a 17 year old arab and he was SKINNY maybe through him an extra flake or 2 or try to get out to graze him often. maybe add a little more of the grain. double check with you vet before changing quantity of food. the oil though is not necessary for a vet but it never hurts to let him know what your doing. also flax seed. its conditions the mane, tail and coat and also strengthens the horses hooves. we give that to my OTTB. ask around for specific measurements and stuff. you can give the flax to the horse whole but they get more nutrients out of it if you grind them u in a blender or i use a magic bullet.
---
Hardest Thing About Riding Is the Ground!
Skinny?? I'd hate to see what you lot think is a fat horse!! I agree with Chiilaa & Supermane that he's a tad light, but not by much at all. He's looking pretty good & if he came to you poorly gothic, you've obviously done a great job by him. If he's been putting on weight consistently on whatever you're giving him, you certainly don't need to push more into him - might be nearly time to cut down, to maintain what he's got. Looking at it from a health perspective, not just aesthetics, 'cushiony' is certainly not preferrable to a tad light. Horses are not designed to be mud fat all year & this is what commonly causes IR.

He hasn't got much in the way of muscle tho. I think the angular looking croup/sacro area may make him appear thinner than he is, as his spine's sticking out, but I would get a good bodyworker to check him out, as this may be due to previous injury or such & he *can't* muscle up around that area. Is his conformation a bit 'camped out' or is that just the angle of that first pic?
Showing
Join Date: Jun 2011
Location: Cariboo, British Columbia
Posts: 11,952
• Horses:
3
I can see ribs & I don't like it. But I don't think he's too skinny, the flesh is hanging down from his back & hips. Just my opinion, but I would have a recommended horse chiropractor look at him, to me, looks like something is out of alignment.
as the others have said - its not skinny but it could do with a little more weight - But I wouldnt look and go OH mY GOD that horse needs pies...

perhaps a little more weight - I second adding oil to the fed - Love rice brna myself :)
He looks almost perfect weight. As others have said, time to start to level off the feed for a maintanence and do some work on topline. Great job GothicAngel.