Is he too thin?
---
My gelding is a TB cross...from what I have been told, he is aprox 75% TB & 25% Saddlebred. He is 16hh and 969#. (These measurements were taken today, so they match the photos below.) I think he is a little on the thin side. I have one person telling me that he is fine how he is...because he is a TB. I have another person telling me that he is completely malnourished and that I am not taking care of him.
He is in pasture with grass 24/7 (unless we have extreme weather). He always has access to hay, and is fed 1/2 scoop Purina Strategy once per day. (Starting this week I am feeding him 1/2 scoop twice per day with some beet pulp as well).
He is ridden 2-3 times per week. We trail ride and ride on the roads some. We WTC, but nothing extreme. He had good muscle when I was able to ride 6-7 days per week...I am just unable to do that now.
The vet is coming out next Monday, so I will get his opinion then...but I wondered what others opinions are. Sorry so long, and thanks in advance! I can also get better pictures tonight. These were taken with my cell phone this morning.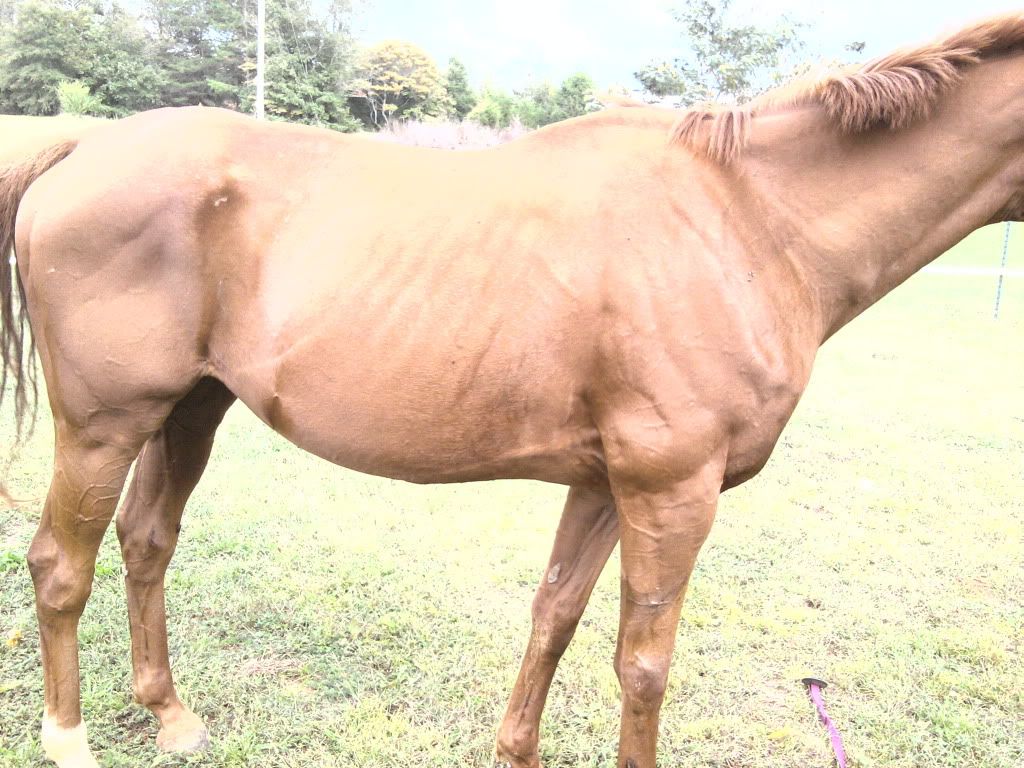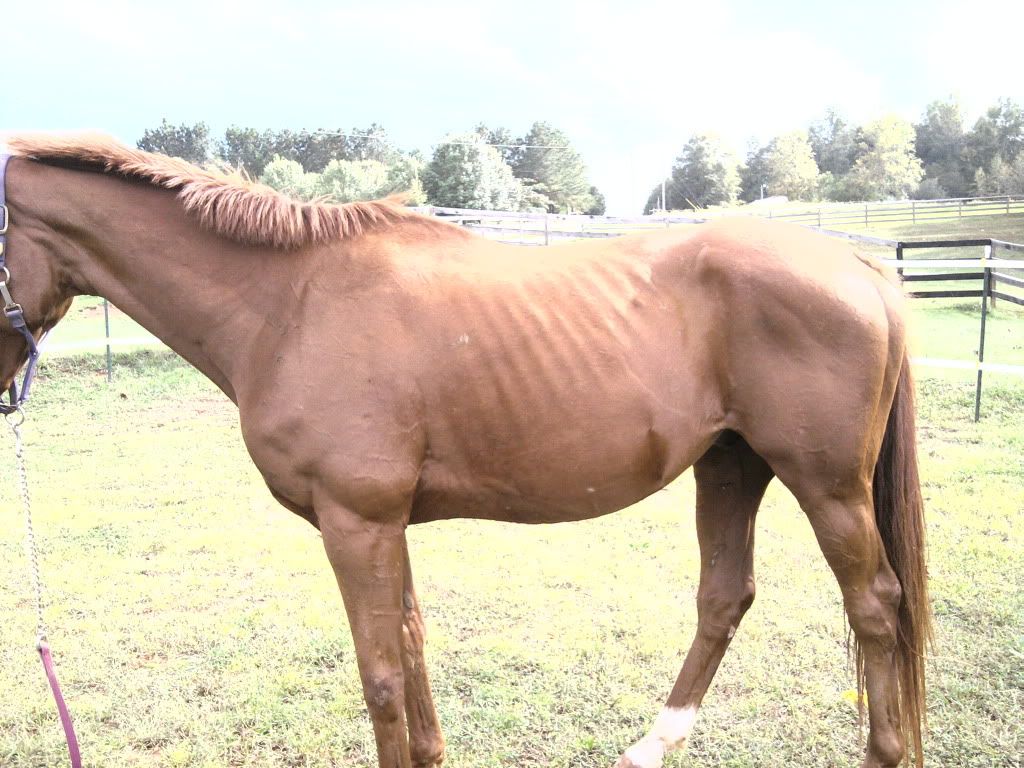 Yes he is to thin in my opinion. I am guessing from the pictures that he really dips between each rib as well? Do you have a picture of him from directly behind?
On the feed - you need to get a scale and measure it. That is going to be your best bet on making sure he gets the correct amounts of what he needs. Not all feeds weigh the same.
I don't think he looks malnourished by any means. However, he is on the ribby side, and needs to gain weight in that area. Other than that he looks pretty well muscled to me. Thoroughbreds can be hard keepers when on pasture 24/7. My TB gets 3 lbs of grain a day plus hay and whatever grass is left on the ground and his ribs are still slightly visible. It's a thoroughbred thing! I'm sure your vet will give you some good tips on keeping some weight on him, especially now that winter is coming. :)
It is not a "thoroughbred thing" for ribs to be showing!
For me he is to thin, not OMG to thin, but you certainly want those ribs a little more covered.
From that chart and the pics you posted I'm guessing that he is poor to moderate, ideally he should be moderate to good.
NdAppy - The pictures makes his ribs look worse than they are. I think it is the shadows from the sun. His ribs ARE visible...but not as severe as it looks in this photo. I will take pictures tonight in the barn, hopefully they will be better. I will also get some from behind.

Iquitos - I agree, he looks too ribby to me.
I have a Thoroughbred mix and when I first got him he had ribs showing kind of like in your picture. He is also a little above 16 hands and I was worried for a while that he wasn't going to put on weight, yes Thoroughbreds are tall and lean are generally not bulky horses but I don't think he should be that thin, but some horses just need time to fill in, I don't know how long you've had him or what his age is but I'm sure age can be playing a role as well
Yes, in thoroughbreds, it is characteristic for them to be hard to keep weight on the ribs and top line. Of course there is a point that can be exceeded, but my horse is at a healthy weight and his ribs can be seen very slightly...Do not mistake me for implying that seeing the ribs is a good thing, I'm merely saying that it is hard to keep weight on them in that area.
Sorry, but it is not characteristic for them to have ribs showing. If you are feeding the proper amounts that you horse needs there is no need for ribs to show. A hint of ribs is good. Full out seeing and being able to count all of them is not.

Race horses are a whole different ball game and are at the top of their fitness. Pastured and pleasure horses do not and should not be held to the fitness standard that fit and trim racers are. There is a difference better racing trim and ribs showing and pasture trim and ribs showing.
I think he looks thin. Not call animal control thin, not malnourished & you're abusing him thin, but definitely thin. You can see his ribs, and his neck looks thinner than I think it should look. You asked, I answered. ;)
Yes, TBs are harder to put & keep weight on, but I believe he needs more weight.
Before you start spending more money on feed, have you had his teeth checked and has he been dewormed? Could there be any other medical issues keeping the weight off? If those have all been explored, then move on to feed issues.
Definitely ask the vet what he thinks of his weight & body condition, and ask for his recommendations on upping his weight. Many people swear by BOSS (black oil sunflower seeds) as a weight enhancer. Soaked beet pulp is another good weight builder. Even plain old oil (vegetable, sunflower, etc.) poured over his feed can add calories. Of course, there are lots of commercial mixes & feeds that are good. Also, you didn't mention what kind of hay you're feeding. Perhaps adding alfalfa will give him the extra calories. Take a look at your pasture as well. Just because he has access to a pasture doesn't necessarily mean it's all nutritious, or the highest level of nutrition. You might need to offer hay even while he's on pasture.
Good luck. I hope you're able to find a solution for him!
Similar Threads
Thread
Thread Starter
Forum
Replies
Last Post
Becoming too thin?

Starlet

Horse Health

18

07-12-2010

08:28 PM

Are they too thin?

LoveStory10

Horse Health

22

04-14-2010

12:52 AM

Too Thin

HorseRider403

Horse Health

14

03-01-2010

06:52 PM

Really thin TB

MTcowgirl

Horse Health

65

12-02-2009

06:41 PM

Too thin?

Lori1983

Horse Health

29

03-11-2009

08:43 AM