Does she have any Impressive breeding in her? If you are unsure of her pedigree...Please test for HYPP. Something is not right for a horse to be that muscled (The shoulder muscle is more fit then my horses put together) and be so ribby. Its...Interesting to say the least.
Posted via Mobile Device
Heres some more photos. At this point I believe the sellers have been completely honest with me...although I had a lot of uncertainties and questions yesterday. So she probably is 7 and is up to date on her shots etc. I'll know for sure soon. =)
The woman did make a comment that the horse wouldn't have to worry about being the low-man here as my pony is so much smaller then her. I'm afraid when I spoke to the woman about the horse, all my questions were about personality and not condition. At this point, I'm guessing that if I'd asked about condition, I would have been told about the injuries and the skinniness before delivery. I did ask about her feet, and had been told she'd lost her back shoes, I was surprised to see they were still missing a couple of weeks later. I assumed if they were lost, it meant she was due for a trim and would receive it. I was also surprised to see the injuries on her...especially the back and foot and hear she'd been taken for a trail ride.
I'm definitely not accustomed to seeing a horses ribs also! Feeling them yes...but not seeing them. And this girls ribs show strongly.
Anyways, heres the shots showing her round rump and muscled thighs.
[IMG]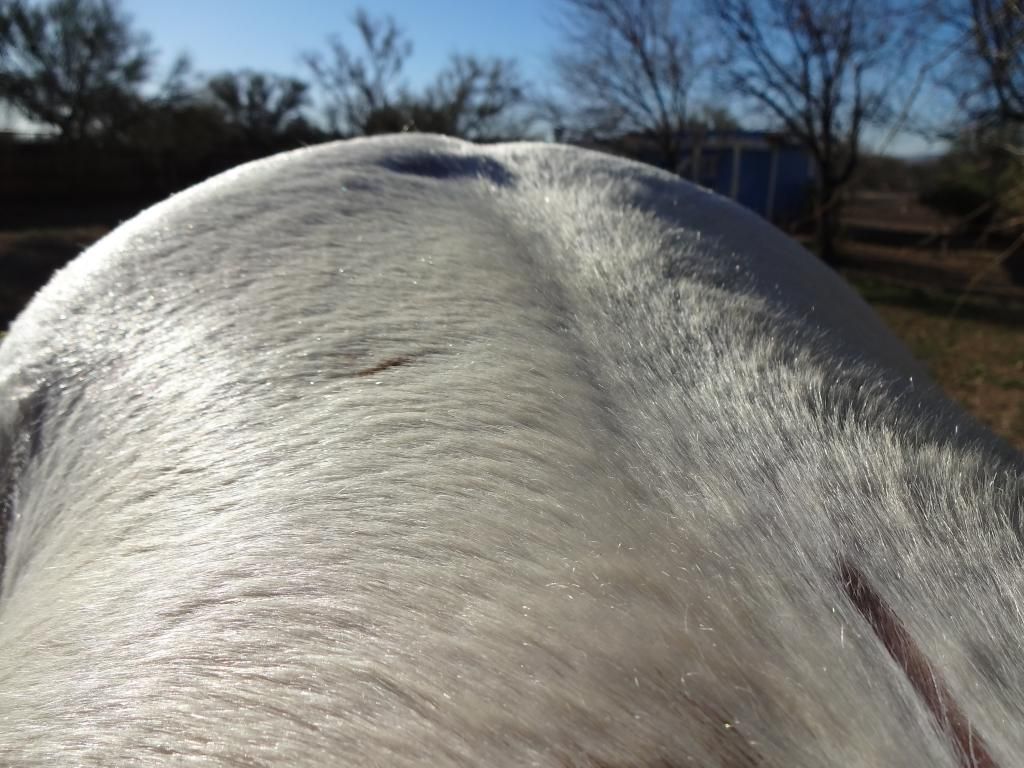 [/IMG]
Heres her withers...I can see and feel her vertebrae here but no where else along her spine. The entire ridge of her withers is sharply boney and I can count the vertebrae there with just my eyes. I've never felt a horses vertebrae anywhere.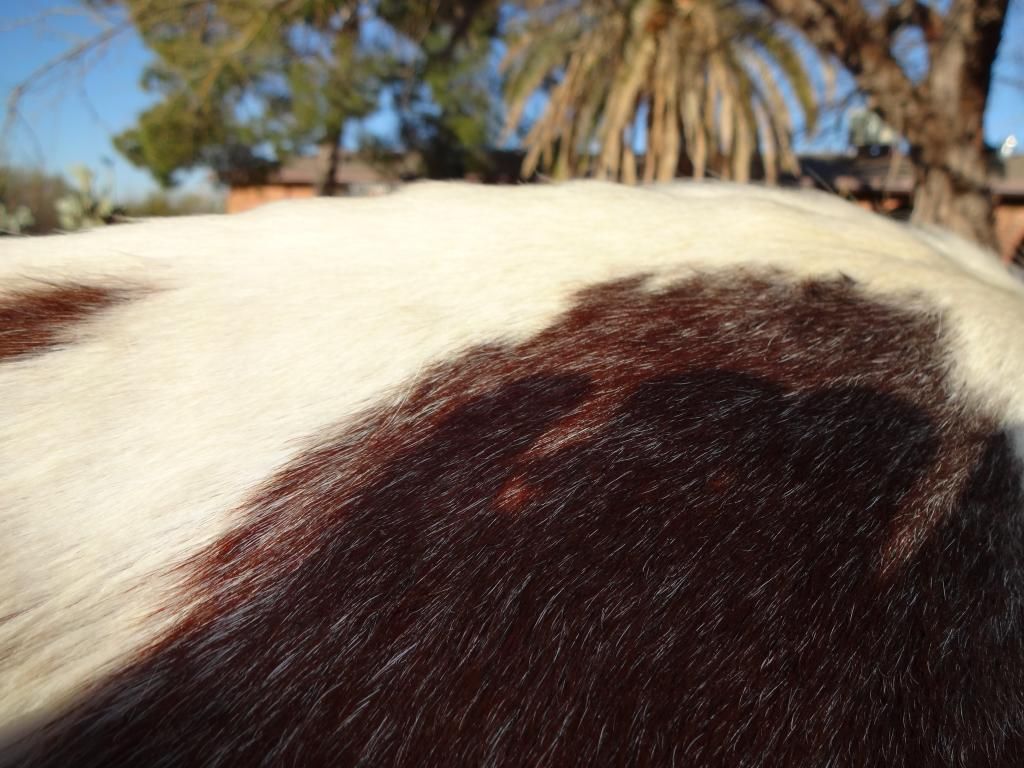 And heres her eye hollows. They look so deep in real life.
[IMG]
[/IMG]
I didn't take a full body shot since shes distinctively marked and I don't want to chance harming these people. I'd feel differently if it sounded like her condition was abuse or neglect. I know the horses of theirs I've seen before have all looked healthy. In the future I will find the time to meet the both the horse and the seller before I purchase so that I'm not thrown any surprises.
I think I would have bought this girl if I'd met her first though. I'll enjoy getting to know her as she (hopefully) fills out a little and grows more lively. If her personality stays the same, then I'm in love.
Really - without body shots its is hard to tell - but that one pic looks like the topline of a fat horse, so the fact there are ribs sticking out is baffling.

I see nothing strange about the eye hollows. I see deeper ones on my husband's 8 year old draft cross - and anyone who has seen him can vouch that he is needing a diet! And since we've had him since he was a baby we are quite sure on the age. They are very deep and distinct - some horses just have them that way and it has nothing to do with weight or age.

And I'm curious how distinctive this horse is compared to just about any other pinto that is pictured on this forum? Its just strange that you won't post a full body shot picture of your own horse - unless there is more to the story you are not telling?

The best way to tell fitness and weight level of a horse is not just visual but hands-on. It can be done with just pics if they are good ones showing everything - but not always as accurate especially when some areas do not agree with each other like this horse. It is **** near impossible to get a proper assessment of weight without at least a full body shot. Without one you are really limiting what people can tell you. A full body shot may help show clues of what is going on - Could the horse be IR, cushings, etc? Just can't tell at all by these pics alone.
---
All I pay my psychiatrist is cost of feed and hay, and he'll listen to me any day!


Is there a reason you won't show a full image of the horse taken from the side. Being distinctively marked won't make her known to us, or are you worried about the previous owner seeing your dismay? Personally, you have already opened that door. We need to see the big picture to give you any opinion.

Did you get any bill of sale indicating what you were expecting? Like, what age you were expecting or anything? If not, and she vets to be unsound or aged, you will have no legal recourse.
---
Last edited by Allison Finch; 03-15-2013 at

12:55 PM

.
That horse doesnt look like a skinny horse from what i can see. Being able to feel vertebae right behind the wither isnt un normal sure doesnt mean shes skinny. Seeing ribs isnt a huge deal either. I can see ribs on all my horses and they sure arent starving either. Better a bit thin then too fat. The hallow above her eyes alot of horses have that to some degree some more so then others.
I agree with others YOU bought the horse, the horse is YOURS. To give any further information or try to help you a full body shot or few would help. Like Allison said you already posted pictures, and this thread in general so posting a few more pictures won't hurt anything.

I also don't understand if this was a local horse ranch why you just didn't go see the horse?
---
"Every person you will meet will have at least one great quality. Duplicate it and leave the rest." --Clinton Anderson
Pictures are very limiting,like everyone else here to make a good assessment we need to see the whole horse!
I'm confused as to your reasoning behind not wanting to display that she is your horse now isn't she/ & you came here asking for opinions....
What I can see is yes this horse is definitely underweight those ribs should not be visible like that with that winter coat
. Yes she is a stocky muscled horse,but stocky muscled horses can still look underweight.Her scrapes & missing hair definitely can be from her being bullied by other horses.Sounds like the people didn't have her long & was put in with a herd so not surprising. Who knows how many homes she's seen
. I wouldn't read too much into the hollows over eyes stress,hydration etc can all effect how that appears.
Having the vet out to assess her age,check soundness & update her with worming & immunizations is a start
. I would also have her Hypp tested as was previously suggested.
I'm anxious to see the whole horse,the little bits I see she looks like she is going to nice mare
The ribs look underweight. "Corporal" (1982-2009, RIP) was always a hard keeper, but in his prime he was muscled up and looked hard as a rock, and you really couldn't see his ribs, very much like racehorses on campaign.
A dog should show his ribs, but a horse should have enough flesh to cover them.
My theory:
Horse was at ideal weight when it came to the former owner. The month she was with that lady, on the ranch, in a herd of strange horses, made her lose what little fat a horse in ideal condition has, due to the fights with the other horses, not eating enough, lots of running and probably lack of water, too. If she would have stayed there longer, she would have started losing muscle too, before she would have found her spot in the herd.

Get her wounds and feet taken care of and feed and water her. She'll be okay in no time.
Though shes now mine...the topic of whether she came to me underweight, sickly or unsound effects the sellers as well and I have no wish to harm their business if my worries are unfounded. I came in last night feeling worried and hoped to find quick opinions to tide me over until I can get facts.

I'm sure I'm not the only person from my area (horse happy people all around me) who reads these forums off and on. It would be wrong for me slander the sellers in any way unless I know if I have cause. I won't know this for sure until she sees the vet.

And to my way of thinking, all paint's have distinctive markings. I'm not worried about the sellers reading this, I'm worried about one of their clients reading it and thinking my worries and fears are fact. They're not, I have questions, worries and fears, but not facts. I and the seller can recognize the horse from this post, their clients won't but theres a chance they would recognize my little mare from a full picture. She was used as a lesson horse and trail horse by them, not to mention the ads for selling her. Theres little worry that their clients would recognize her from detail pictures.

I haven't been around horses much since I was a teenager (except for our pony) and thats about 30 years ago. The chance that my worries are groundless are strong.

At any rate, what I'm hearing mostly is that her condition might be just fine. I'll be patient now and wait for the farrier and vet to look her over. Thank you for sharing your thoughts, and I'll happily post her full picture later in a post thats only about me and her.