Just fine except for the need for a little extra TLC and feed. =)
Teen Forum Moderator
Join Date: Dec 2010
Location: South East Texas
Posts: 7,157
• Horses:
2
Make sure to ask your vet to take a blood panel, check her teeth to see if they need floated (and her approximate age), stool sample, and possibly check for ulcers (personally I'd wait and see if she improves just from more/better food and floating though, first) . She most likely just lost weight while being integrated into a new herd as others have stated, but any of those things could be causing problems with her weight too. Honestly, you probably should have had most of that done in a PPE before even purchasing her, but now you still have the chance to do it. Make sure that you obtain your new mare's coggins and other vaccination records from the old owner as well. Again, that should have already been done, but hopefully you can still do so. Wouldn't you hate to believe she's been vaccinated and had her coggins done, only to find out she hasn't and have her get sick? A blood panel will help you know if she's deficient in anything or has any infection/disease, etc, a stool sample will let you know if she's got worms and how to treat them (hopefully you havent put her with your pony yet?) and the floating is something she probably hasn't had done in a while and it will make everything better for her.

I'm sort of confused as to why, if the old owner only had her a month, they were already using her for a lot of trail rides and lessons. Especially if she was losing weight. I wouldn't ever use a new horse for lessons until I knew all of it's quirks and training, and I find it to be careless that they were using her for both lessons and trails, but not trying to prevent her from getting hurt too badly or getting thin, especially if they were trying to sell her. And why sell such a useful animal that is good on trails and on lessons, only a month after buying it?
---
Everyone in your life is meant to
be in your journey, but not all of
them are meant to stay till the end.
No way I can make heads or tails out of those photos. If you want folks on an internet site to give opinions based on a few photos, they have to be good photos. Sure, you dont' want to slander the former owner, but you won't get anything like an accurate answer with those photos, so you waste your time and ours.
Maybe it might be the angle, but her bicepts look unaturally large for a horse with that much rib.

I understand you don't want the facility you bought her from to obtain a bad name, but we can't give an accurate opinion with bits and pieces of body parts. Thats like posting a picture of your calf and asking if your abs are in shape.

If you don't state the facility's name, no one will know where she came from. Its a bit irritating that you're asking us for our opinions but giving us absolutely nothing to look at.
---
And those who were seen dancing were thought to be insane by those who could not hear the music
Thank you for the information Endiku. Thats very helpful.

I apologize about the pictures but even without them, many of you have shared lots of helpful thoughts. I appreciate that.
Tbh, without normal pictures hard to tell, however lots of muscle but visible withers and ribs makes me think of too much work, and slightly wrong - withers get covered in muscle when correct back work is introduced - back fills and more tissue goes around. ofc, if the horse has very prominent withers, you can only fill the sides - the topline wil ALWAYS, no matter how fat the horse, stay prominent.
Ribs - better visible than covered in layers of fat. her back looks good - even fat, as some have said, i think after wound treatment and balancing her diet after the vet has had full examination should bring her to what you want her to be - plus if the workload goes down the muscles will relax and the overall differences on the body wont be that visible - if her biceps and backside become smaller, her ribs fill in - more harmonic view :P

The hollows above the eyes, I always say they show how the horse feels - mainly I have seen it as I believe - happy horses dont have them too deep, sometimes barely visible, unhappy horses, depth varies.
I have seen the hollows deepen when horse gets ill, and come back out when he gets well again. - they have nothing to do with weight, some also say they show how much pain the horse is in... but all thats just talk.
Why can't you take photos of the entire horse? It is impossible to see if it is under weight from your photos.
You *could* send full body shots of the horse to interested parties through PM so they could do a better assessment without it being made public. Just a suggestion. I really is difficult to tell with the photos given.
Posted via Mobile Device
Well, my irish hubby thinks I'm being a goose about the pictures also. Maybe its my oriental upbringing (I'm from korea)...I don't know.
I think several of you gave me the information that I was looking for. How a muscled horse can have ribs showing and how much I need to worry about it. I think several of you who were kind enough to respond are probably right that she was low-man and losing weight as a result. I'd like to think that that is why they decided to sell her so soon after they got her...that they saw she was not thriving and felt selling her would be better...I don't know, but common sense tells me thats possible.
I'm still disturbed that she was taken for a a trail ride with a leg injury of any kind. I have yet to ride her because even though its not deep, it just feels wrong to me. Same with her back injury...its mostly healed, but it runs right where the saddle and rider would sit. I'm also unhappy that her leg injury was untreated. I had to spend an hour carefully soaking and peeling away the crusted stuff just so that I could really see the wound and treat it. Its not deep, but left untreated, her leg becomes a 24/7 meal for flies and who knows what else. That whole messy looking spot cleaned up to a raw open wound.
Yet my understanding is that these are good people that really care about horses. They also do rescue work. It doesn't make sense to me.
Her hooves needing trimmed actually makes sense to me when I think about it. I had asked about her feet and mentioned that I would like to pull her shoes and transition her to barefoot. So I'm guessing they left them untrimmed so that I could start that transitioning sooner if I'd like rather then waiting until her newly shod hooves grow back out enough to try her barefoot. And after watching her closely, I think her hooves are slightly longer on the inside on her back legs and the funny movement I think I see is from that. Hooves, horse behavior and training are the things I've worked hard to learn about. I don't trust my own judgement at this point because I've only worked with one small pony, but I think thats whats going on there...nothing that a good trim won't fix.
I made the decision to buy site unseen when I had to cancel my appointment to meet the horse because I know someone who bought from them. Their reference (and the healthy, well trained horse they bought) is why I decided to look at buying from this place to begin with. I could have bought a similar, unregistered horse from anywhere for 1/3rd to 1/2 the price I believe. But I wanted a well trained horse. And when I go over everything, I have to say they have been honest and worked to meet my needs. My concern was all about personality and training.
My youngest was born autistic and has outgrown our pony. Our pony has given so much to my little girl. Lessons on empathy, physical therapy and much much more. My daughters gone from high-functioning autism to a cute, slightly quirky sweetheart and horses played a part in this. Sign language, speech therapy, occupational therapy, etc did more...but pool therapy and horses are two non-traditional therapies that I could really see helping her. Shes been working with our pony since she was 4 years old.
Anyways, its been a very long day and I'm rambling.
Back to our horse Jasmine. Personality wise I think she is everything I was looking for. Training wise also probably. I haven't ridden her yet to fully see, but from running her through some light ground work, I'm pleased. She responded well and easy to everything I asked her. More importantly, shes willing to calmly figure out what I want of her. Shes fine being touched any where on her body and only looked to see what was going on when I made random loud noises near by. She let me take a crinkly noisey feed bag and rub it around on her and bunch it and crunch it and wiggle it over her. When asked to walk over it, she hesitated for a second and then stepped across. I can take a small lock of her mane and lead her around by it. I'll keep working with her to try to make sure I find anything that might cause a danger, but so far it looks like theres little I'll need to worry about. Shes also nickering greetings to us already and approaching us by her own choice just to say hi. Not for treats but just to get talked to and a little scratch along the cheek. My daughter randomly walked up to Jasmine today, gave her a hug and walked away. Jasmine followed after her for a little ways. I have the option to return her and purchase a different horse from them if I'm dissatisfied, but I think shes going to be all that I'd hoped for in a horse. For that I'm so very grateful.
Anyways, if anyones had the patience to read this far...I think several of the posts have already answered my questions about Jasmines condition. And my questions and upset about them taking her for a trail ride etc...I wish to let go and assume theres an understandable reason that I don't know.
So all that said, heres her pictures in case they really make a difference.
I took these from my back porch this morning with a telephoto lens while I drank my coffee, sorry if they're not the best quality. Photography is not something I do a lot of. Looking at the pictures, shes already filling out some. Her waist isn't so high and the belly line from her hind leg to her fore isn't so straight...it has a slight roundness to it now.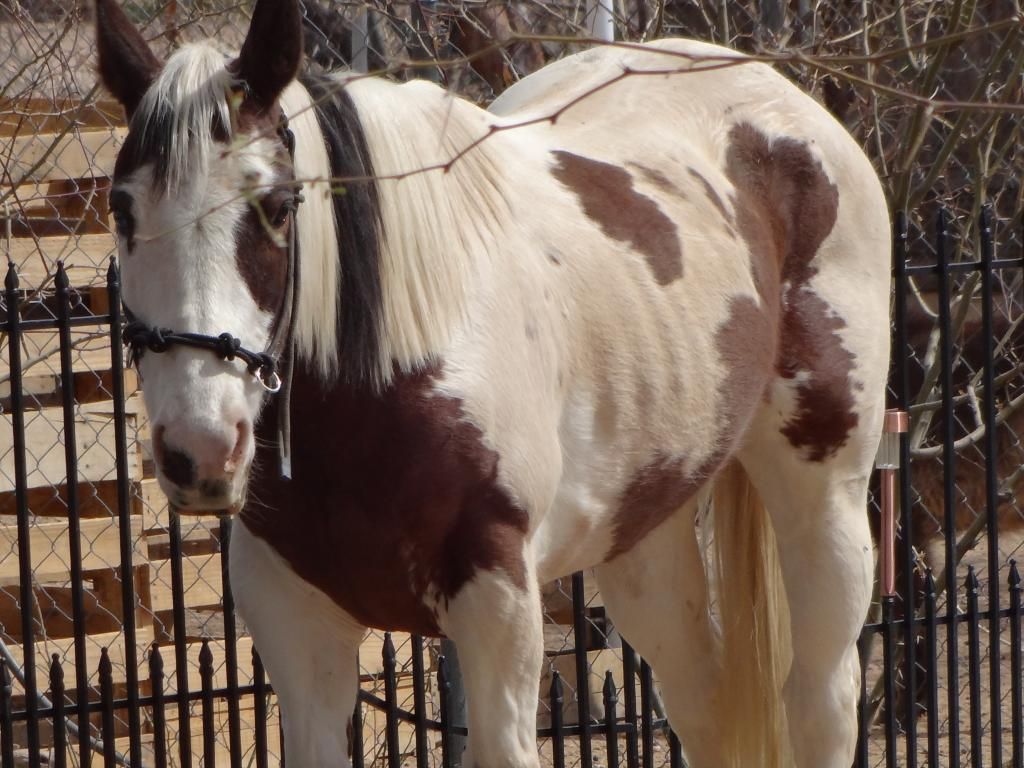 [IMG]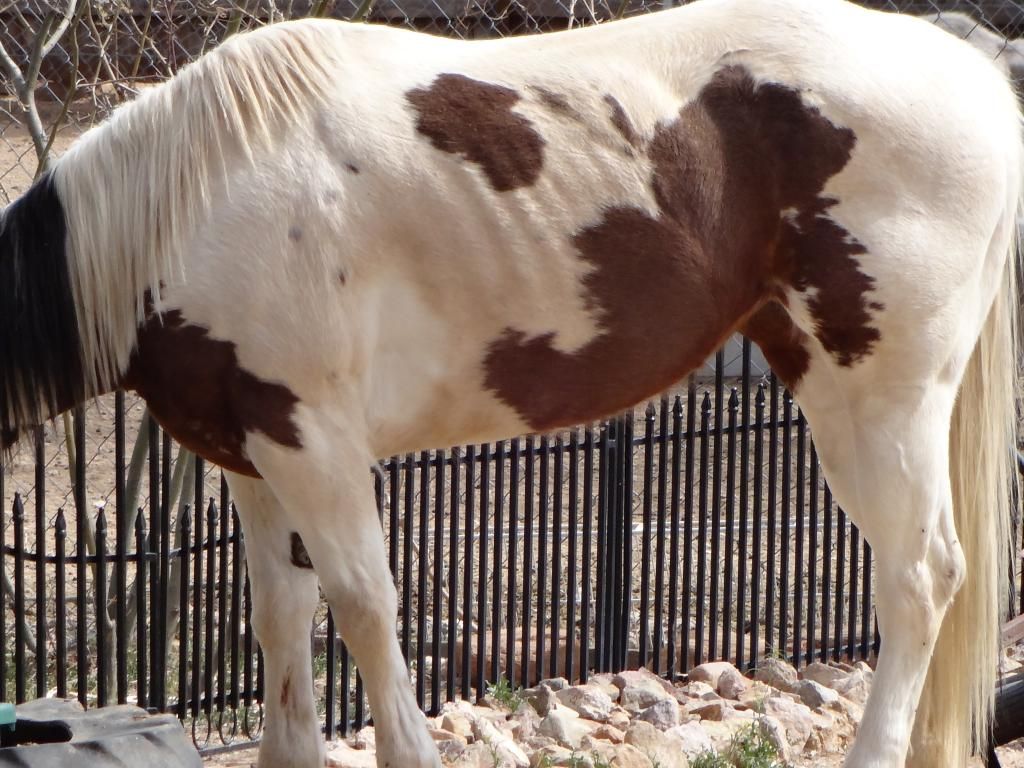 [/IMG]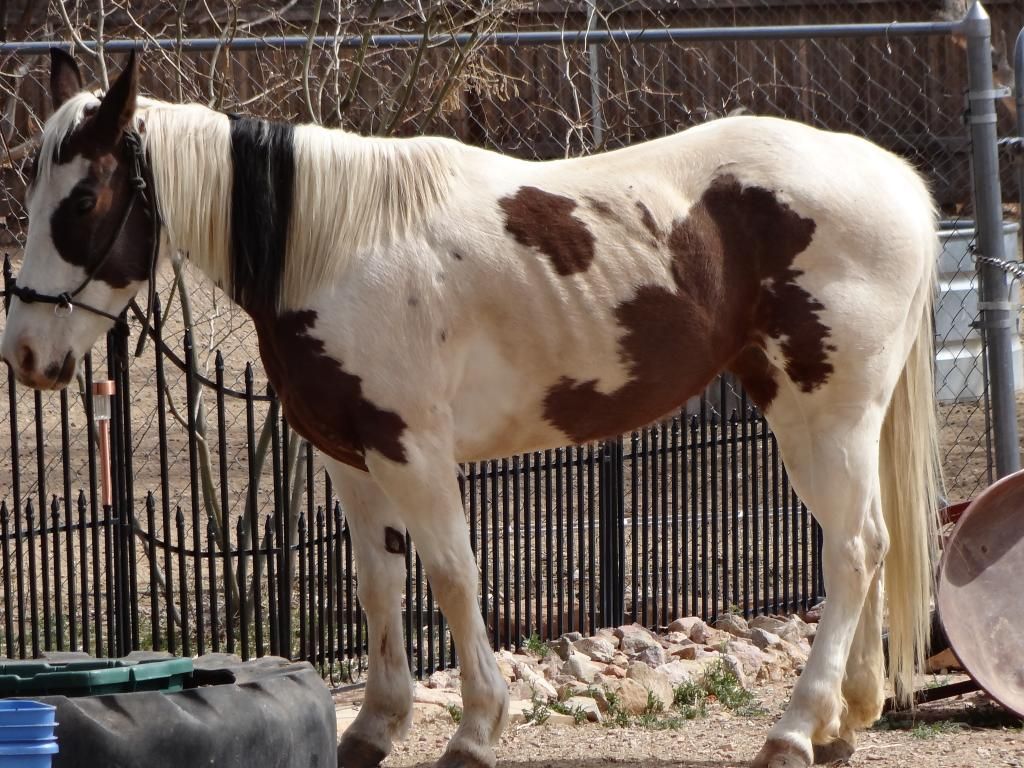 She is a lovely looking horse and does look like a horse that had been fit and filled out that recently lost weight. I would still get her teeth checked and worm her if you haven't already and then see where a good diet takes her.

Do you leave the rope halter on all the time? It can be dangerous - might want to look into a halter with a leather break-away strap if you want to leave a halter on while she is loose. Its quite a bit safer incase she gets hung up on something.
---
All I pay my psychiatrist is cost of feed and hay, and he'll listen to me any day!