Hock Injury ~ Overuse Of Bute & Possible Kidney Problems? **Graphic Photos**
---
I am posting on behalf of a gal in Illinois. The photos are over 10 days. The wound is doing great. Here's the issue: She's been keeping me updated on her horse, and told me her vet won't give her anymore bute. I asked how much she had been giving. It was 2 grams 2x a day. I advised her to stop the bute, and let her horse have some room to move about in a small pen to walk out some of the soreness. Sure enough, he was no longer holding up the leg, but was using it. He just needed to use it a little & doesn't even need pain relief.
Now here's the problem: She said he's not urinating as much as he should/was. I get the impression her vet is more of a livestock vet, and not specifically an equine vet. Of course I advised her to get a hold of her vet about this, and to research bute/renal failure.
I'm VERY conservative in the use of bute. I rarely use it, and when I do, it's 1/2 gram 2x a day. Is there an herb she should give, or is there any reversal if the horse has kidney damage from overusing bute? We've never dealt with any kidney problems like this.
I'll keep posting updates and try to get more information from her.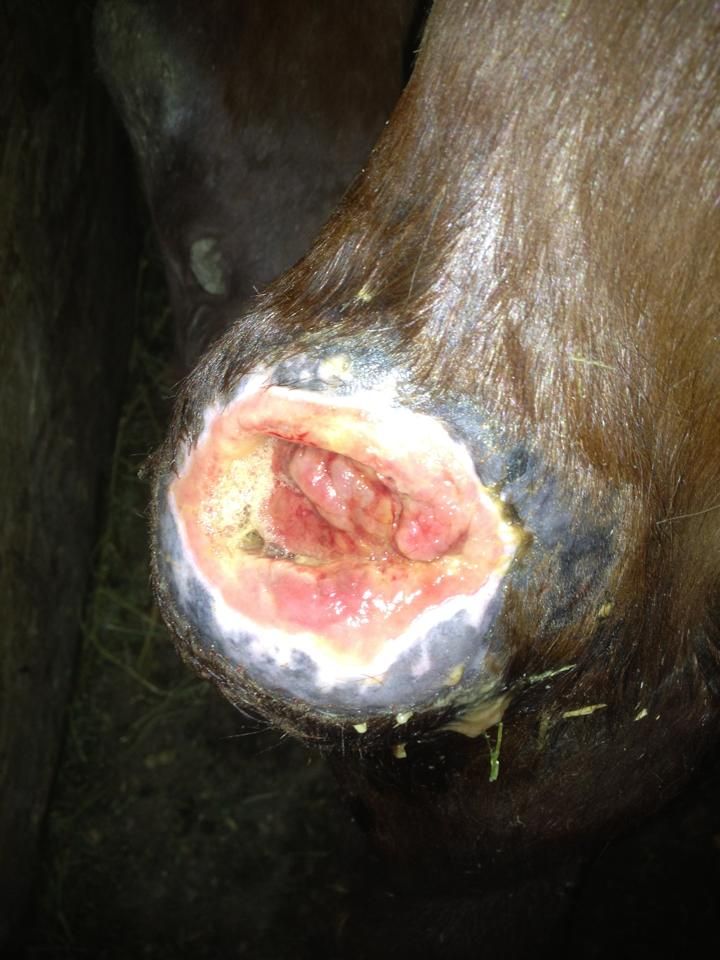 Yikes, ugly wound. He probably needed that much bute initially.

If kidney problems are a concern a simple blood test could rule that in or out.
is it possible he just needs a sheath cleaning?? some times when the are cooped up it happens. I think that is what happened to my gelding Doc.
---
Don't Flatter yourself Cowboy I was looking at your Horse

LORI

Wow that's a large amount of bute. Henny was on 1 gram a day, then 1 gram every other while he recovered over a span of about 2 months. Good thing he's now getting some exercise.

How does she know how much he is urinating? Is he drinking the same amount of water he was before injuring himself?
---
There on the tips of fair fresh flowers feedeth he; How joyous his neigh,
there in the midst of sacred pollen hidden, all hidden he; how joyous his neigh
Yes, I thought it was way too much. That was the amount prescribed. I could understand 2 grams a day for first few days. Unfortunately, he was on that dosage for 2-2 1/2 weeks. The wound was already 2 weeks old when she contacted me.

I will suggest the blood test, and sheath cleaning. Thanks for the ideas. If there is damage, hope it will reverse. Not sure if that's possible.
Walter was on 2 grams of bute for 3 days, then 1 gram for 2 days, and now he is off bute, and has an injury similar to this, below his hock that split the tendon.

4 grams a day seems like a LOT.
He may have needed the 2 grams twice a day initially, and depending on his size, is he a bigger horse? Nonetheless, it should have been only 2 maybe 3 days, then decrease the dose.
Bute toxicity, caused by prolonged or misuse, can be associated with dorsal colitis and oral ulcers.A little bit on that...
Michael Porter, Equine Veterinarian: Phenylbutazone Toxicity!!
Bute can be given at the dose of 2gms, twice a day for up to one week, any longer than that and you will definately be at risk for stomach ulcers. Usually kidney damage is from much longer term bute administration. THe best course of action is to run a blood chemistry on the horse to evaluate kidney function. He may be drinking less because of ulcers and not from actual kidney damage.
Green Broke
Join Date: Oct 2010
Location: Some times Llanelian - North wales, sometimes Hull in East Yorkshire (UK)
Posts: 3,679
• Horses:
5
That Level of Bute wouldnt concern me at all. Reeco was on 3g twice a day for a week and then 2g twice a day for several weeks after that. Apart from having to give him a supliment to prevent gastric ulcers there was no problem. (Reeco weighs 450kg).

I know people who have kept horses on bute for years!!! Long term use normaly denotes 6months + of treatments

Unless there is underying kidney disease then that level of bute shouldnt be a problem for the kidneys.
Get a blood test done however you will likey find that the horse isnt drinking as much as he used to due to being out and moving and therefor eating less hay and requiring less water. If less water goes in then less water will come out!!
---
RIDE your horse FORWARDS and keep him STRAIGHT


I agree with Faye. Rumor was on 2 grams 2xdaily for 10 days, then dropped down to 1 gram 2xdaily for a few weeks after that. Her urine output DID decrease because her drinking decreased. She was stuck in a stall for a week and didnt enjoy it. As soon as i was able to turn her out, her water intake increased again.

I know a how that was on bute for 2 years due to uvitis. He never had any problems regarding kidneys or ulcers.

Every horse is different though.

Is this horse stalled or allowed to be turned out at all?
Posted via Mobile Device