Holy downhill horse, Batman!
---
Ok, so she's only 2 (QH). How much leveling out do you think she will do? Is there an accurate prediction method for this age for what height she might end up?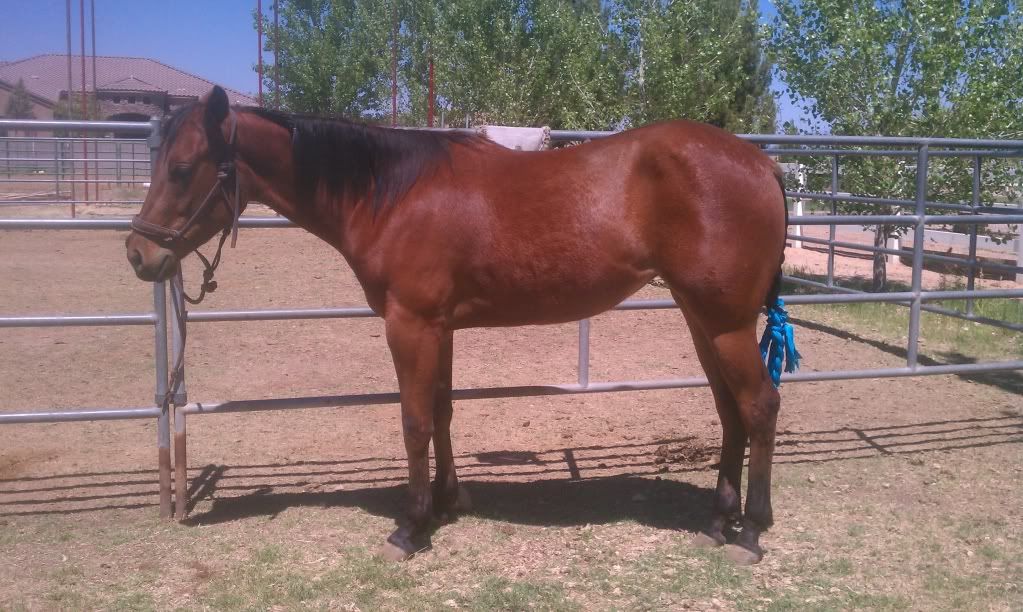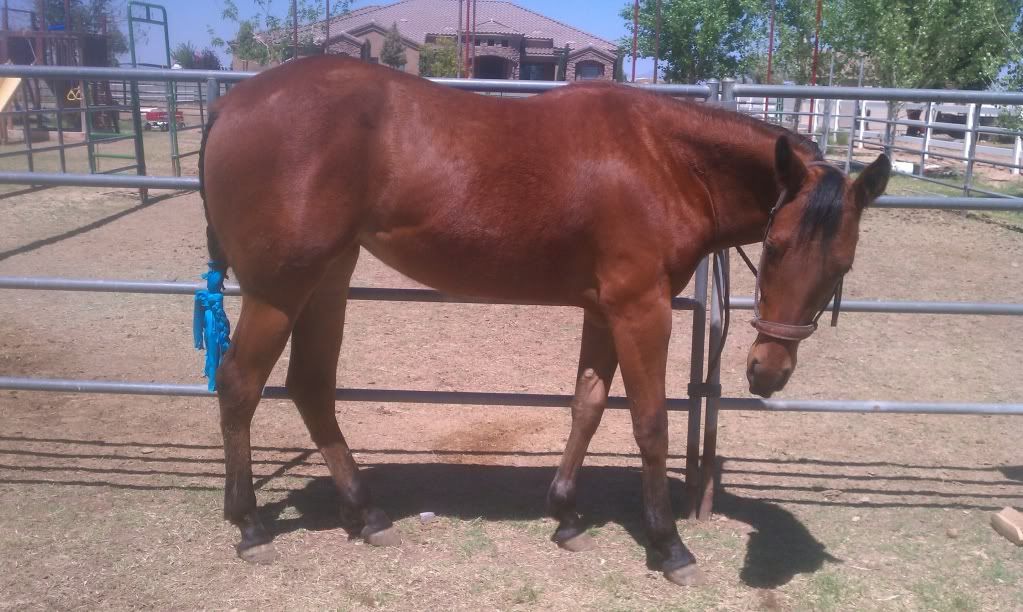 ---
If the world was truly a rational place, men would ride sidesaddle.
I'm not really sure, She looks okay in the first pic but the second! Wow! She is VERY cute tho!
---
Horses are scared of two things... Things that move and things that don't.
She will level out gradually over the summer they all do its the awkward age
---
To give a horse your heart guarantees a love that will last forever undamageable
She'll be VERY pretty when she is older. As mentioned, she looks pretty okay in the first picture where she's square but the second picture is wow lol. I've never seen that. But I'm sure it's just the baby stage. She's cute :)
She's very nice! How long have you had her? As far as predicting, yes there is an estimator scale. How many hands high is she now?
---
"If you talk to the animals they will talk with you and you will know each other. If you do not talk to them you will not know them and what you do not know, you will fear. What one fears, one destroys." - Chief Dan George
I think she isn't to bad considering her age. The angle of the second picture is really making her look more downhill then I think she is. I do think she will get close to level is not level out.
Thanks, all. I feel much better, lol. The second pic makes it look worse, I agree, but had to include it 'cuz it gave a good idea of what I see sometimes when I look at her. I didn't give her a proper introduction to the forum when I got her, but I'll put up some pics later. Briefly, I've had her for 3 weeks, she's AQHA registered with decent lines, but is the most over-all 'correct' horse I had found while shopping, with a darling personality and adorable face to boot. Her name is Chica. I will look forward to her leveling out; when I'm riding I feel like I'm literally sliding down her neck, lol. ;)
---
If the world was truly a rational place, men would ride sidesaddle.
Also forgot to add; she's 14.2 at the withers, 15.1 at the rump. :)
---
If the world was truly a rational place, men would ride sidesaddle.
Her front end looks very stable and uphill, leading me to think that it's just temporary. Usually they grow out of it in their late 2-yr old year.
Your girl and mine are about the same age and roughly the same height! I notice Sonata teeter totter with her butt growing heigh and then she looks fairly level so I figure the front will catch up with the back at some point ;)

Wouldn't worry to much. You can string test from the dimple in her knee to coronet band and inches = hands so 14.75 inches would be 14.3 hands and so forth ;) or from elbow to ergot and then bring the bottom of the string (at the ergot) straight up while holding the top of the string at the elbow still.

My girl string tested 15.1 or 15.2 but just crept over 14hh earlier this year so I am thinking she will be about 15hh unless she has an insane growth spurt.

You could look at the "tracking babies growth" threads for more info about measuring :) She's adorable! Good luck.
---
~Horses aren't a hobby, they are a lifestyle.
Website