hoof trimming help.
---
Hi guys! Hoping that some barefoot trimmers on here can help me out with this! I've been trimming for almost three years, started off with My App and old Newf pony, now my Jumper and a few other horses at my barn.

BUT I've never had to do corrective trimming and my Apps front right foot grows very straight on the inside, and his hoof looks like it turns in when looking at the bottom, but turns out when looking at it on the ground. I get a farrier to trim him every few months just to keep in check what I'm doing and he told me to rasp down the lateral (outside) aspect of the foot to correct it but it really hasn't been and I don't want to be too aggressive with it.

I will upload pictures later on to show.
Hi,

Yes, pics are necessary to give you any advice really. Check out link in my signature if you need tips on that. Pete Ramey's 'Under The Horse' DVD set is well worth it IMO too.
yup! pet Ramey, I have his book and its great. been using his techniqes for 11 years.
I've read his book as well! Hes a smart man
ok here they are! I have pictures of all 4 so anyone can critique me as well.
Front Right (problem hoof) also the inside of his foot above the hoof is raised from a cut he got last year, thats why it looks strange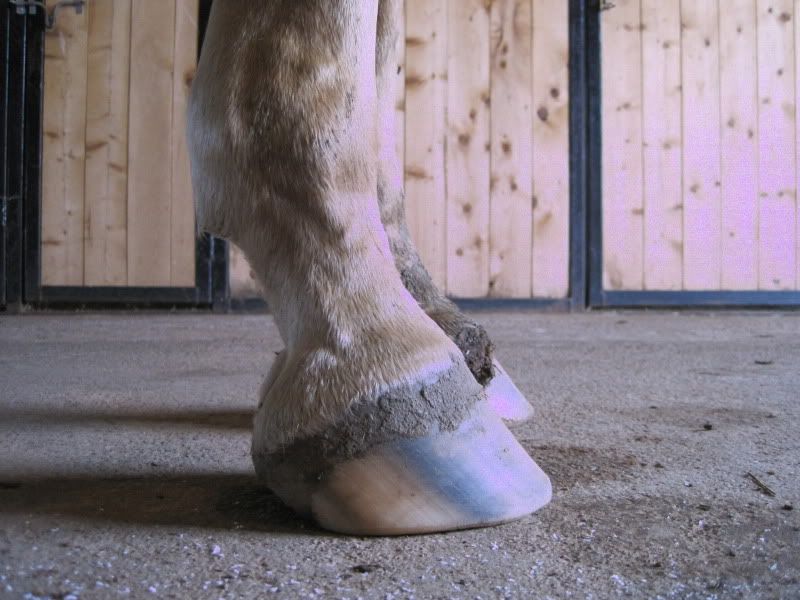 front left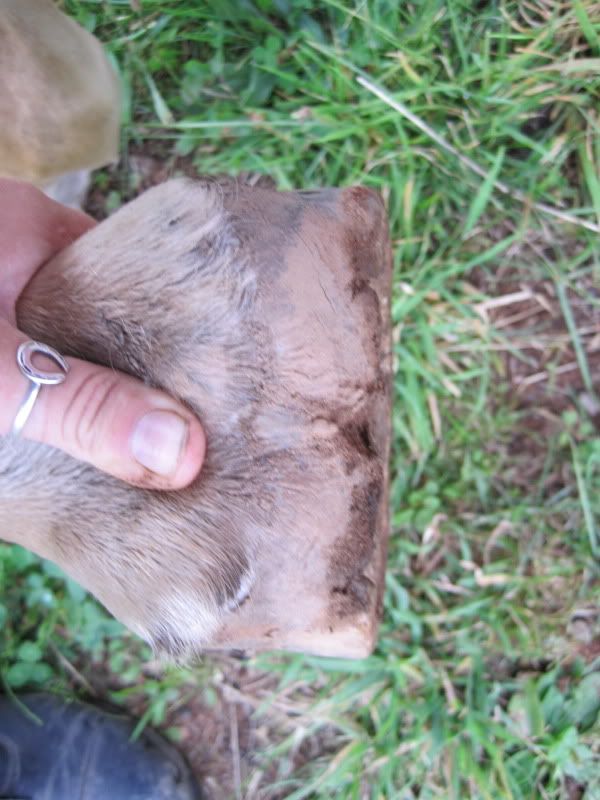 and just because hes darn cute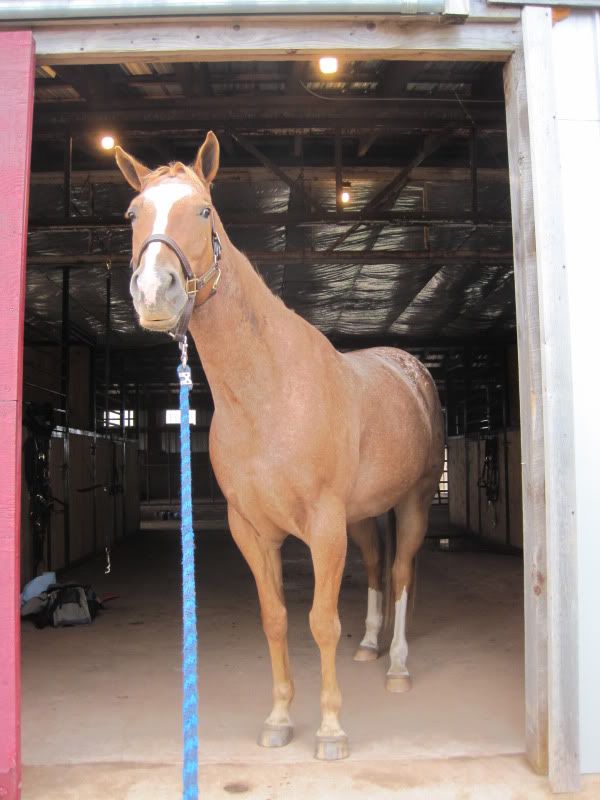 Hmm maybe right front inside beveled just a touch more. Also I like a bit of a dip on the undersides. like a mustangs foot. Not flat/level all the way around. ( take a little pressier off the sides.) However I think your doing a great job!

If you look at the cornary band you will see one side raised. that tells you that side needs to be shorter. That will take time.
Pete Rameys hoof rehab may have some pics to show you what I mean.
Nice feet!
Good luck!
Not too shoddy... pardon the pun!
Only looks like some minor tweaking, mainly what Spotted has said, re quarter 'scooping' & bevelling. It seems like you're using the sole plane as your basic guide for wall trimming - which I agree with - except at the quarters.
Looking at the pics, yes, appears he is a tad higher medially(inside) on that foot. I don't understand why your farrier would then advise you keep the lateral side shorter, but perhaps I misunderstood what you/he means by it.
Generally re imbalance of this sort, I'd basically trim to balance in relation to the (live)sole plane(seems you're doing) & let the foot do it's stuff, rather than trying to force any issues. This is because it may be a body issue, of which hoof balance is just a symptom, it may be due to injury or conformational deformation, it may have been a lifelong problem of a mature horse, so 'fixing' it may cause problems.... Confo shots & front-on of that leg, rads & knowing his age & use would give a better idea of whether it can/should be 'fixed' or left as is.
well that foot has been a problem since I've had him at the age of 2, and before that he hadn't been trimmed very often. Maybe twice a year?

Thats exactly what my farrier had told me, to rasp down the lateral part of the hoof, but I see how the coronary band is higher on the medial so common sense would be to rasp down the inside right?

Its weird to me that its not even the whole medial of the hoof thats straight but more so back by the heel, I mean all of his feet are slightly straighter on the medial than lateral because hes a bit pigeon toed anyway but that one is just weird. I would also like to add that it seems that his wall grows longer at the medial toe on the FR.
ooo I also just found pictures of his two fronts from when he was a 3 y/o, just for some comparison.
front right
front left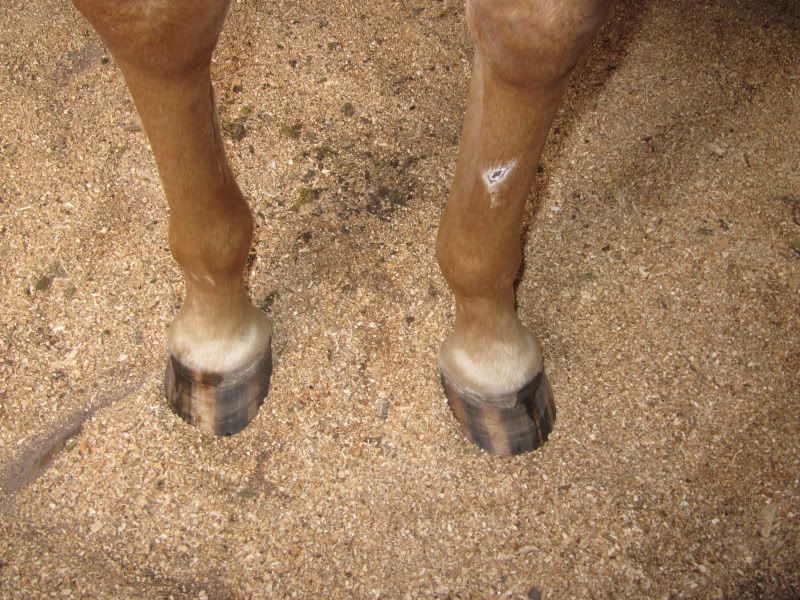 i look at these now and think to myself EEK. lol, they were much straighter all around, the hoof is much nicer and wider now for sure.
That's a very respectable trim. You're doing great. I'd kill for my horse's frogs to look like that!
---
You just have to see your distance...you don't have to like it.