Horse clipping front feet with back hooves
---
My horses back feet sometimes clip his front when he's moving. Is there some way to protect the front legs while I'm working him so he doesn't get banged up?
it seems his toes are to long....You could put bell boots on his front legs, I would have his feet trimmed to bring back his toes..
Talk to your farrier. Horses that "forge" can often be trimmed/shod to address this problem. Often, they will "dub" the toes on the rear hooves to allow them to break over differently.

Forging can injure the front feet and pull shoes constantly. In the mean time, bell boots will protect the feet.
Thanks for the advice. I will pick up some bell boots for him in the meantime.
Next time the farrier is out, I will discuss the issue with her. He does not have shoes on. His hooves were just trimmed last week, and are not too long- could it be a conformation fault on why he's doing this?
Could be an excessively short back, or could be that his hoof angles are not right.
Here's a conformation shot as well if that helps- it was taken a few weeks ago though, he's gained a bit of fat and muscle since then but its the most squared up one I have.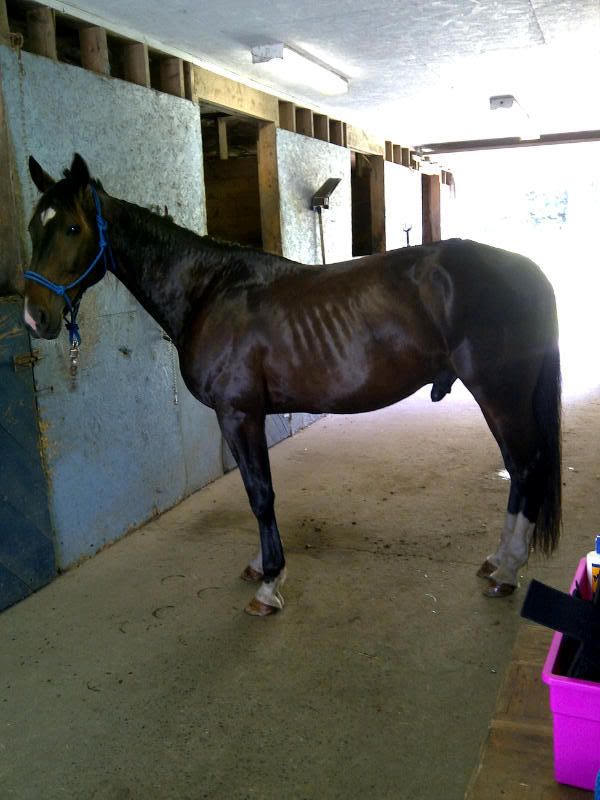 I just watched your videos, did you notice that almost every step at a walk he jams his hooves toe first in the sand....Is there any way you could slow down the trotting video?..Also, you mentioned he is newly trimed, can you post pictures of his bhooves, preferably him standing on pave or cement, side views and under the hoof...He is landing toe first alot...
In the picture you posted, he is standing over his front knees..I dont want to be critical,I just want to help.. He looks great in the videos, he is quite handsome.
---
Last edited by Bay Lee; 09-05-2011 at

03:27 PM

.
Im posting a picture of my boy from the side...His front legs are really straight.Mabye you could take another side shot of him if he gained some muscle and fat, you can really etll alot from a good side shots, and good hoof shots.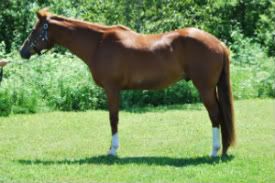 I have not noticed that, so thank you for pointing that out. What could cause this? He is not normally that over in the front, he was leaning towards something, then looked at me and I snapped the picture- hard to get a 3 yr old to stand still long enough to get a good shot
.
I will take some pictures of his hooves in a few hours and post them. He doesn't do it as bad right after he's trimed, but its still there.
Unfortunately, I don't know too much about computers, so have no idea how to slow the video down
.