Ok I've become a pretty big expert on barbed wire cuts now lol ;) as muss went through 3 electric fences, jumped a barbed wire and got caught in it after faceplanting.
Bute is your best friend. It'll keep them from being to sore and it really kept muss happy and calm. If hes in pain he may lose weight as my boy did, but you can always get that back. If theres an infection get a vet out asap! you dont want any infections getting worse, itll just make it longer to heal and can get worse quickly. Try clipping the area and washing it down with cold water twice a day, especially over the swelling parts and make it a light water running over, not a big rush of water if that makes sense. Keep him in a small paddock until it starts to get better so that he cant go too far. They dont look too bad heres a pic of muss's on the road to recovery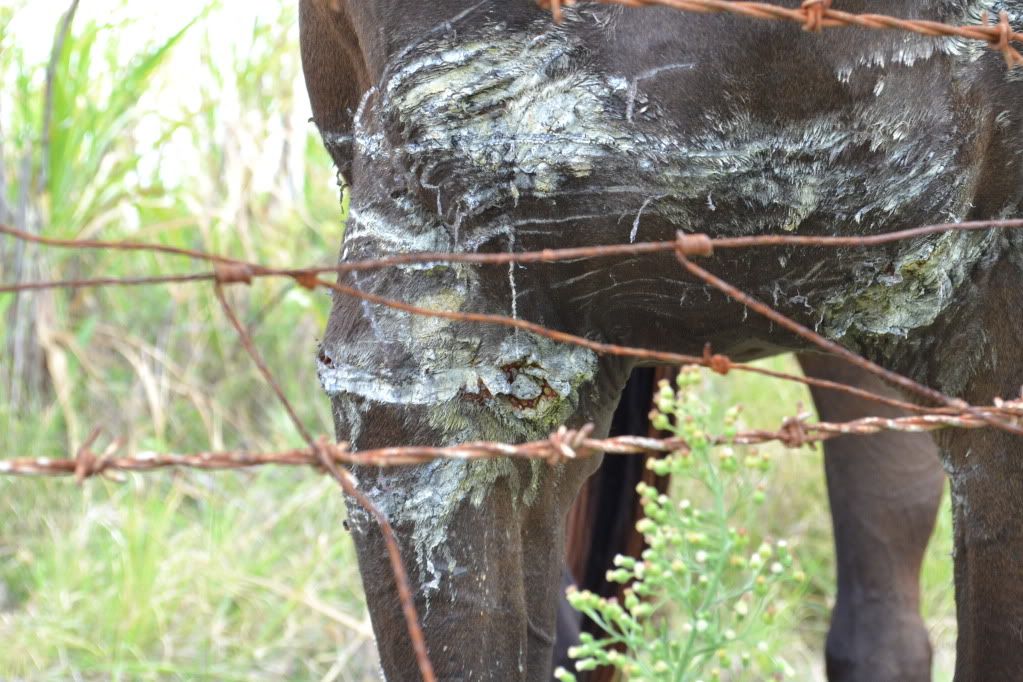 We used a yellow lotion spray on his cuts straight away which was really god and when they started to finally seal up we got a healing salve from Horseland tack shop that has worked wonders.
I hate barbed wire too but where i live if you find a place with wooden fences then its not an aggistment place lol
---
Horseriding- The art of keeping a horse between you and the ground.
Besides calling the vet, you should also look into getting a product such as vetericyn. I swear by that stuff. I've used it on deep wounds and scratches. It is awesome and heals them up very quickly. Plus it is in a spray and is safe for the horse. Quick, easy, and effective.
---
** Don't be the rider who gallops all night and never sees the horse that is beneath him **
My paint had a nasty trailer accident when I picked him up. His back leg slid under the trailer when loaded. Learned the lesson on shipping boots but he was a spur in the moment rescue.

I had my vet out and he said he just missed his lower tendon :s

I did this process for about 4 weeks he was stalled. Mind ya it took longer he was a real kicker no matter what we tried and would end up re opening it. Stitches where not option as every time he step he would rip the stitches. It really felt like a never ending battle.

1.Cold hose 15 mintues once a day.I also put anti bacterial soap in a squrt bottle and water to flush in. Than rinsed.
2.Flush wound with saline solution. Salt helps keep it dry and aids in healing.
3.Apply ointment (I forget name it was in white and yellow tube) onto square gauze pad.
4.Wrap with gauze wrap.
5.Wrap with vet wrap.
6.Wrap with pillow wrap.
7.Wrap with polo or standing bandage to reduce swelling.

Give bute

I walked him twice a day. My vet said start bandage changes every 3 days to not interfere with healing process too much. The wraps aided in swelling reduction and allowed the flesh to grow flat. Proud flesh appeared after a few weeks so I used dust it.

I would call your vet to take a look. There could be debris that rinsing with the hose did not get. My vet said be a slow and long healing process due to it being a lower leg wound.
Posted via Mobile Device
The Humane healing line of wound care products are far superior!!!!! They are the only products on the market that can actually speed up the wound recovery rate. Seriously, vetericyn doesn't hold a candle to this stuff, and they have a 100% money-back guarantee.
www.humanehealing.com
Thanks so much for the commenting! I'm glad to say that Maddie is on the road to recovery and doing great! I tried vetericyn, and within a few days her cut was scabbing over. She had formed a very nice scab over the top, and when I turned her out for the first time in a week, she tore the scab off acting like a goof. (running, bucking, etc.) Anyways, at least I know this stuff works. Thanks for all of the other suggestions, I may try those in the future also!