Horse Digestive System
---
I have to do a report on the digestive system of a horse. I have to draw out, color, label and tell what each organ/part does. If anyone knows of a good diagram or website that tells about this please let me know. Thanks!
I found this in one of my e-mails (the ones that make up that book I loaned you) hope it helps!
The Digestive System, Part 1
Horses are herbivores (which means they eat plants only). They are grazing animals with a digestive system made for constant eating of plant food. Your horse is a grass-eating machine! He has evolved over millions of years to survive on a diet of nothing but grass. Horses are adaptable and can eat grain and hay when we need them to, (for example horses being ridden hard need extra energy foods) his digestive system is designed as a grass processing system. (Think about it…..what if you were to eat some grass? Would your digestive system handle it efficiently?! Even your teeth couldn't do the job right.)
The horse is a prey animal (which means it is food for meat-eating animals). It has a unique digestive system that helped it survive by allowing the horse to stay on the move! This system allows a horse to eat continuous limited food as it grazes up to 20 hours a day while covering up to 30 miles a day. The horse is not slowed down by a large heavy stomach. A horse's digestive system allows it to get all the protein and energy it needs for growth and maintenance from forage (which means grasses and plants).
Very Important to know:
1. There are two halves to the digestive system of a horse. The first half is called the foregut (or upper gut). The back half is called the hindgut.
2. Enzymes are made in the foregut of the digestive system. The enzymes together with water the horse drinks, break down the food horses eat and change it into a substance the body can use.
3. Foods that can't be broken down by water and enzymes are moved into the hindgut. Here they are fermented (broken down) by bacteria and protozoa that live there. These tiny, tiny creatures chew away at the food, breaking it down into smaller bits so it too can be digested.
Parts of the horse digestive system are listed in the order that food moves through the horse.
The Foregut (also known as the upper gut)
1. Mouth… the food goes in!
2. Esophagus….found on the left side of the neck
3. Stomach.............
a. top half is called the squamous (non glandular)
b. bottom half is the gastric (where enzymes are made)
4. Small intestine… made up of three regions that aren't really distinct:
a. duodenum
b. jejunum
c. ileum
The Hindgut
Large Intestine …made up of the:
5. Cecum…..found in the right side of the horse
6. Large colon
7. Small colon
8. Rectum
9. Anus…… the food goes out!
Bonus information:
The horse's stomach is small. Food layers as it goes into the stomach. Once the stomach is about 75% full, food is pushed on into the small intestine. The upside of that is that the stomach is small, so the horse isn't weighted down by a large stomach. We are able to ride our horses within a couple of hours after they eat. (Remember! As a prey animal, they are designed to be able to keep moving.) The down side is that the food is pushed on into the small intestine whether it has been digested or not. This undigested food can cause illness. This is why it is so important to feed small amounts at a time. Horses don't have a sense of feeling full so they will eat to extremes. (Remember! Food is continuously pushed through the stomach.) It is especially important not to feed large amounts of grain because the horse's digestive system is built to handle grasses. It is not designed to efficiently break-down grains! Large amounts of undigested grains can really overload the back half of the horse's digestive system because it can't break the grains down fast enough. Food passes through the system not being able to be "fermented" the way it was intended and remains undigested. This undigested food may lead to situations such as colic, bloat and founder.
(I flipped the image but it takes photobucket a while to fix it)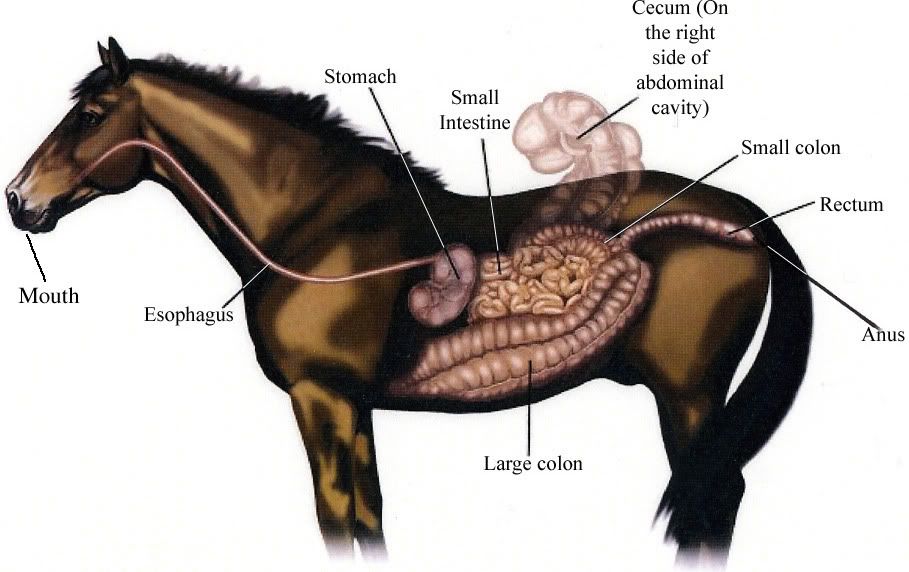 ---
Take a ride across the badlands
Feel that freedom on your face - Breathe in all that open space
You'll understand why God made -Those fly over states