Horse dribbling food...
---
Most people on here are familiar with my horse...check my "barn" if you don't. Well I've been somewhat worried about him lately because he's dribbling food. I've had the vet out twice to check his teeth...wet the food...changed feeding buckets...all the normal stuff. He still is dribbling though. He eats at ground level in one of those black rubbery buckets...Triple Crown Low Starch mixed with his supplements.

Anyway...I was wondering if anyone else just had mystery dribblers. I'm beginning to wonder if he is just dribbling out of laziness or lack of "competition." He is now living alone at our new house...when we boarded he was quite aggressive (kicking stall walls, pinning ears at other horses across the hall) with his food and never dropped a niblet.
I'm guessing its being very relaxed while eating, if you ruled out teeth. Though, it could be other factors too causing him any pain. Ulcers come to mind...
Is he just dropping it all over or slobbers too?
Some horses are messier eaters than others, but he's not old enough to be developing the old horse "spooge" that comes with loose lips, so at the risk of being re"dun"dant, might want a second vet take a peek in there.
Does he have large canines (behind the first set of teeth, in front of where the bit rests)? When the vet was out last week to do dental work, he filed down canines on one of my boys, and he's stopped dropping food since then, so I wonder if that could be it.
Not knocking your vet, but they are people, and I used to have a vet that was great at stitching wounds with comsetic brilliance, but I wouldn't let her touch my horses' teeth, but she was my go-to for other things. Perhaps you can find a second vet with a good rep for dental work? Some vets think you are supposed to file the teeth flat,but they need a bevel to grind properly, so your vet may have actually created a problem if he floated them wrong. Doesn't mean he's not a good vet,just that teeth aren't his strong point....
If your horse has always been messy, then that is possibly just his way,but I find unless there's something wrong or their old, they don't just drop food.
Yearling
Join Date: Jan 2008
Location: British Columbia, Canada
Posts: 1,284
• Horses:
4
I have a messy eater. Doesn't matter if his teeth have just been done or are needing to be done. Part of his problem is he's a nosie nellie, so as he's eating he's looking around and dropping food. Since they get regular dental care and he eventually cleans everything up I don't really think about it. He's 17 and I've had him for 10 years, been like this since day 1.
Does this look like a horse that's missing meals? LOL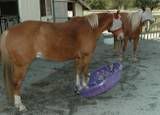 I don't think its an ulcer as he seems super relaxed in everyday life...coat and tail shiny.

Barefoot...I think that is my next step...a second opinion. I tried this new vet because he was accessible and you know as well as I do how convenient that is with a baby girl around the house. Looks like we will be making the drive to who I considered my "tooth guy" before we relocated.

Thanks for the input everybody!
My boy is a messy eater. He is 4 years old and just had his teeth floated. Still drops a lot - but he spends more time looking around at everything else going on than paying attention to his food.
---
All I pay my psychiatrist is cost of feed and hay, and he'll listen to me any day!


I had one until I called an Equine Dentist!! Vet had checked her teeth said they were fine, ED came and did them and no more dibbles ;)
---
I have been called the NSC Nazi more then once ... I hate traditional feed methods of loading our horses up on grains and junk food :)