Horse getting beat up in new field!!!
---
Ok so my 4 yr old was just moved to a new stable and had spent about 3 days in quarentine and then he was moved to the pasture with about 7 other geldings. He has been in the field 4 days and has about 15 bite marks on his hip, sides, shouldars, and several on him bum! He has three pretty big ones that im concerned about that i have taken pictures of below. I tried to wash them with some warm water but they were so sore he wouldnt even let me touch NEAR them and the last two were swollen ( cant tell in the pics tho). What can i do to keep these clean and keep them from turning into scars. I have bought him a sheet to keep the bite marks down a bit and he is being moved into a new field with one other horse for now. i dont know what else i can do
the barn owner tells me it will stop as he gets settled but my horse had ALWAYS been the bottom of the pack and has many past scars from being picked on. He has also started to become really jumpy when someone makes fast movements near him.
Found day 1 in his new field. This bite mark was bleeding and really raw and sore when i first discovered it (this pic was taken day 4) This is on his left side on the belly about 4 inches infront of the hip.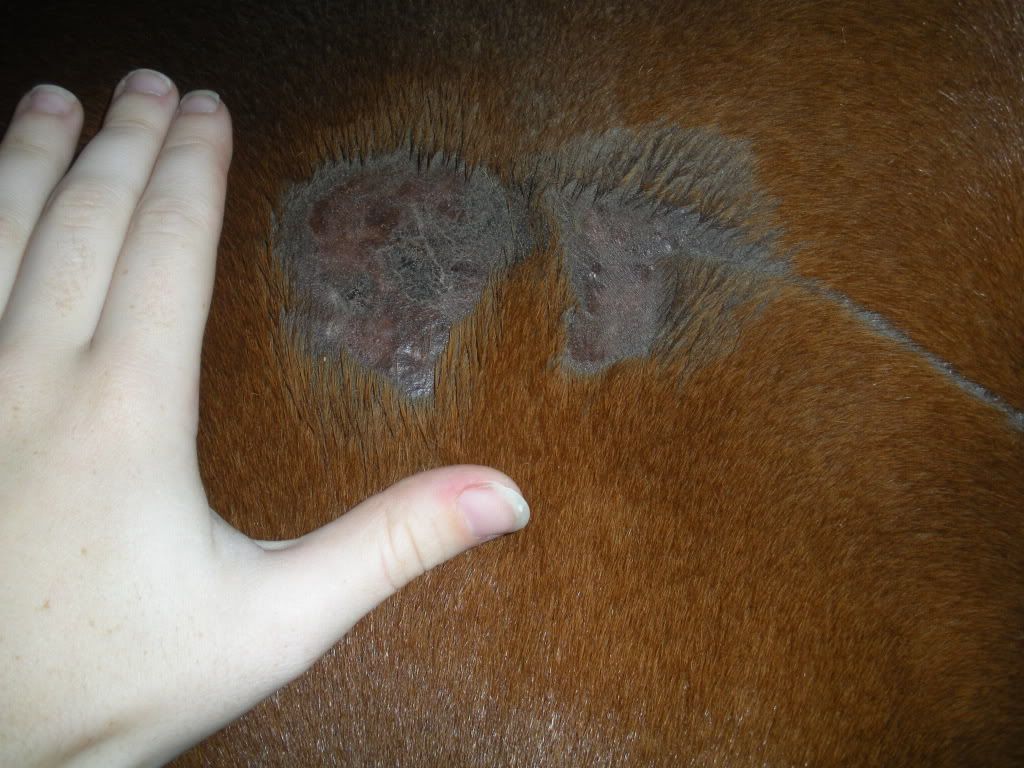 Found day 2. This bite was bleeding and sore when i first discovered it. Im not 100% sure who caused this as he had a previous bite on the hip that was almost healed. ( not sure if he was bit in the same spot a second time causing it to bleed)
Day 3 found this bite mark on his left side on the belly about 6 inches lower then day ones bite! This one was bleeding and hair was falling off of it when i brought him in. This picture was also taken on day 4. When i took this pic this was swollen and very sore!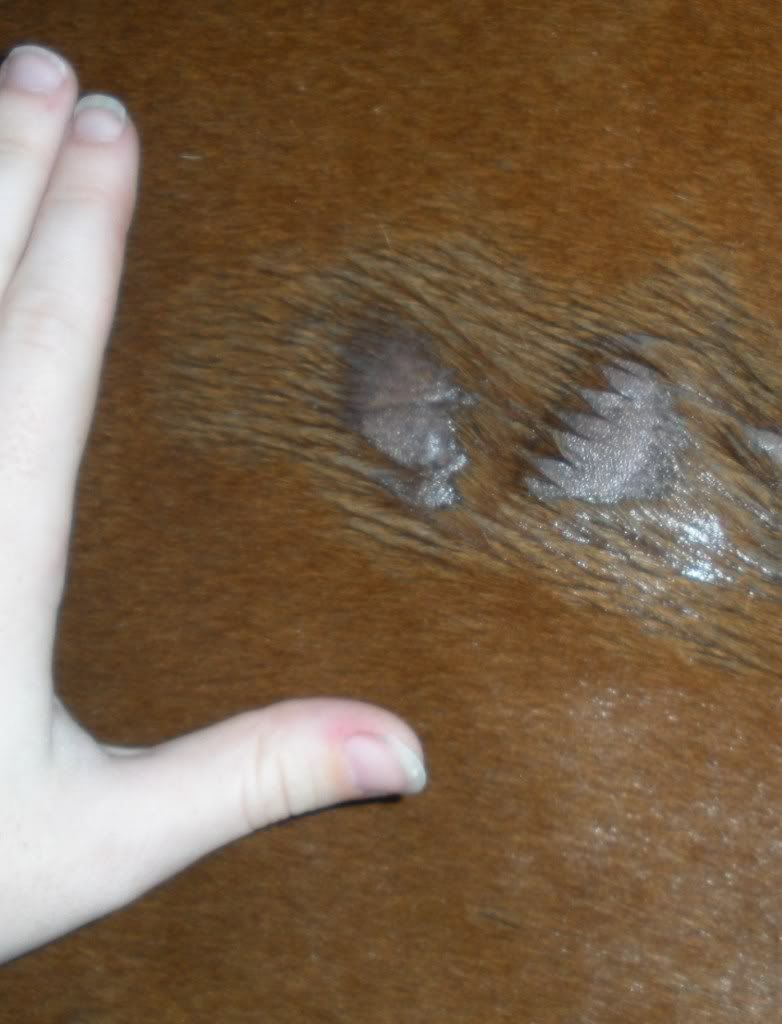 Found day 4. This cut is his worst one so far
! This is from today, i brought him in and discovered yet another new bite. This one has teeth marks in it
. the black looking stuff is blood that has become hard and in that you can see the teeth marks! This one was also swollen. It is right beside the days 3 bite if you couldnt tell
What do you think of this??? Is this normal??? or am i over reacting by moving him???
Personally i dont think im over reacting but im not sure if this is something serious or if this is just him getting settled into the herd????
I don't know how normal it is; our horses are used to new horses and go pretty easy on the newbies.

Wash the bites as gently as you can, get the pus and nasty out, then apply some sort of ointment. I've always had good luck with Corona. Put it on thick, and it'll keep the flies and the dirt out. I've also used a tea-tree ointment, but it tends to sting a little on application. It's particularly good on fungus and rubs, tho. : )
---
"Sit tall in the saddle, hold your head up high. Keep your eyes fixed where the trail meets the sky. And live like you ain't afraid to die...don't be scared, jut enjoy the ride." - Chris LeDoux
My boy gets TERRIBLY beat up in the pasture also. I moved him to another pasture and the same thing happened. I bought him a loose fitting fly sheet I liked to call "bully protection" and that worked for the most part. There were occasions where a bully would get a hold of it with some skin and it only worsened the bite. But I found it to be worth the purchase.

I agree with the Corona ointment. I just slather it all over the cuts and it does a good job of cleaning and protecting. You'll find that the hair doesn't take as long to grow back as you think. And eventually he'll earn his place or simply learn to stay away.

Good luck!
---
"There is something about the outside of a horse that is good for the inside of man." ~ Sir Winston Churchill
Weanling
Join Date: May 2009
Location: Charleston, South Carolina
Posts: 601
• Horses:
8
I'd be ticked off. You are paying good money to have your horse taken care of. The BO needs to insure that your horse is safe in the pasture.

When I boarded horses I always turned new horses out with the quiet crowd and then we gave them several days to see who worked out with who and pastured them together.

If I ever had horses biting, kicking, fighting that much, they were seperated.
Oh poor baby!! He's a pin cushion. It's such a hard middle ground to find. You don't want to deny your horse social interaction with other horses, but it sure is difficult to ride out the adjustment period. Maybe the BO could temporarily put him in an adjacent pasture with just one other horse so he can get to know the bullies over the fence before he has to be in with them.
Get your horse out of that pasture. You never know what could happen, especially if he is getting aggressively bitten on a regular basis. Don't listen to that barn manager, he/she is just lazy and doesn't want to deal with the problem. Is there a solitary pasture your horse could go in?
Thanks for the replies. I plan on moving him in with one other horse for now because he gets extremely lonely (and stressed) when he is all by himself. Eventually 2 others will be moved in with them... im hoping they are not bullys. I put a sheet on him today so hopefully that helps a bit. Its good to know im not over reacting to this :) Thanks again!