This horse needs bubble wrap *graphic pics*
---
I have already posted about Star and his inability to sweat. Well he now has an injury so he REALLY can go out and play.
about 2? weeks ago he cut his leg on something (lord knows WHAT he managed to hurt himself on), nothing big, just a tiny cut. This is where things get stupid. My bf's dad told my BO's hubby to wrap it AFTER my Bf said to leave it be (this is BO's horse). What happens when you wrap a small cut? The leg blows up like a balloon. So the vet came out to a horse who was hobbling on 3 legs. The leg was 3 times its normal size. She said to give him bute, antibiotics and to spray the cut with an antiseptic spray, and to keep warping it. Well here is what it looked like today...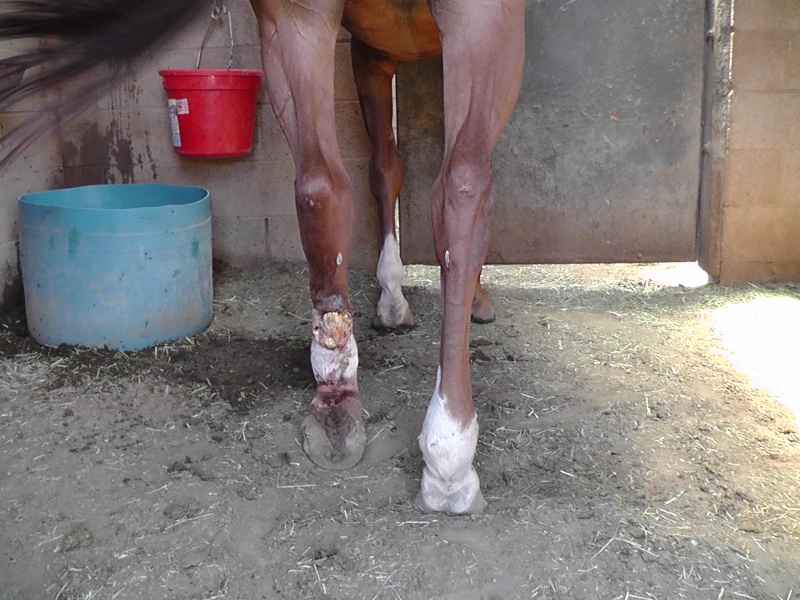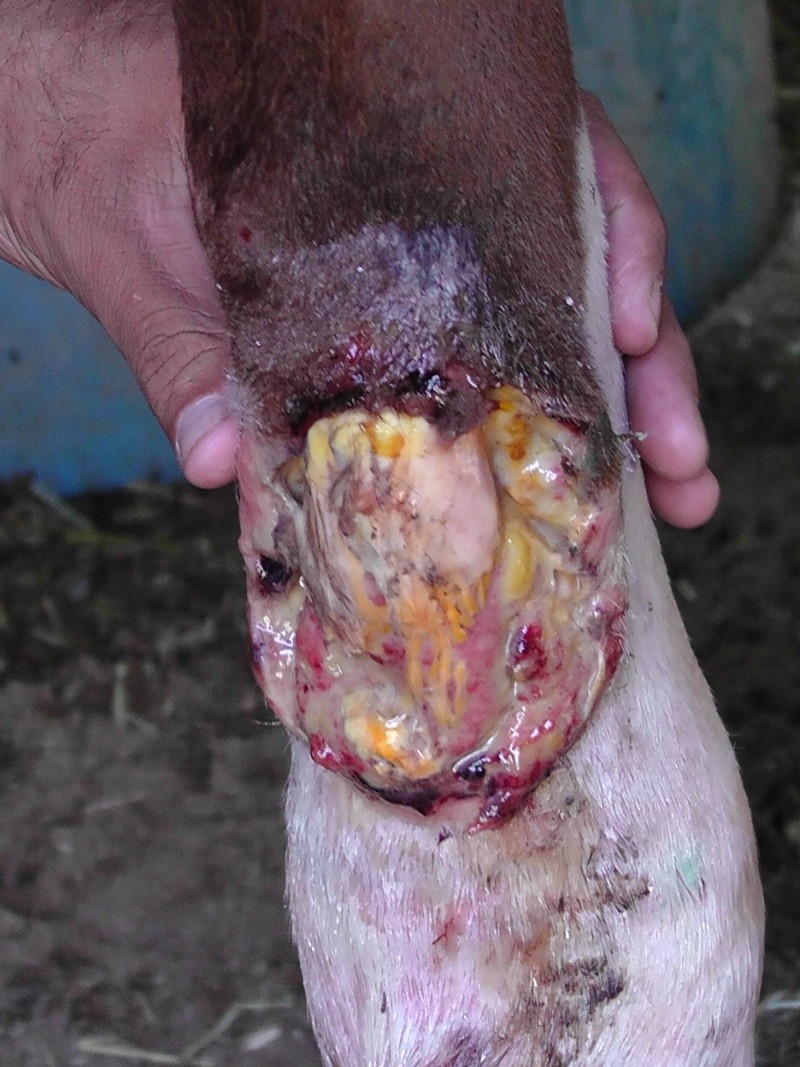 Because he is in pain he had decided food is no longer his favorite thing so he had dropped weight. And to top it all off poor guy Lost a front shoe. He tore the hoof up to much to get another shoe on (to where it wont just come right back off and do MORE damage) there and we cant pick the other one up long enough to take the other off -_-' here is vid of my Bf is his 'stylish' shorts rounding off the toe so he dose not do more damage to the hoof. (so you can see what the poor thing looks like now)
(he did not mean to drop the leg, the horse was leaning on him and his leg was digging into BFs)
Is that leg as bad as it looks?
(felt like sharing this as my family will not want to look at 'gross' pics XD)
Wow, poor guy. I sure hope there's no tendon involvement there or it could ruin his soundness forever.
Are you saying that started out as a tiny cut and turned into THAT?????

That looks horrible.
Wow, that's quite a wound.

I am not normally a "call the vet" type of person.....I usually treat minor injuries myself, but this is no longer a minor injury and is something a vet should probably take a look at. Because, like Smrobs said, if that is the tendon showing that could affect his soundness for the rest of his life.

Poor guy! I hope he heals up well!

If he needs protection for that front foot, you can always get something like an Easyboot. I use them all the time trail riding and they work pretty well if you get them on tight.

PS. I just re-read that you DID have the vet out......so disregard that whole vet thing. Did it look that bad when the vet saw him?
---
Last edited by trailhorserider; 08-03-2013 at

11:49 AM

.
Does he bare weight on the bad leg at all? I noticed his good leg is also stocking up. If he doesn't bare weight on it at all, that would kind of make me concerned for his good leg.
I'd definitely have a vet check that out. I can't imagine how a small cut could turn into that without there being deeper damage to begin with
I have a feeling something else is going on here.
Tiny cuts dont typically turn into this. I'm thinking puncture wound, and the infection is now deep in the leg.
dont slack on his antibiotics. Poor guy.
Posted via Mobile Device
Wow, I am so sorry. I hope he feels better soon!
Posted via Mobile Device
They have had the vet out 3 days ago. And he wont stand on it but he can hobble pretty fast when he wants to. BOhas decided that if he becomes unridable he will just be a pasture prince. I'd say get another vet out but chaparell wont even comeout and SEE the horse without 200 up front. Any their normal vet is on vacation.
The cut was a nastyone to begin with but nowheres near that bad or vet worthy when it first happened. And when the vet saw him his leg was 3x that size all the way up to the hock. I have easy boots I can loan to them. Idk why I did not think ofthat yesterday.
---
Last edited by KigerQueen; 08-03-2013 at

06:02 PM

.