the vet came out today. cleaned the the leg and re-warped it. She will come out to change the bandage again Thursday. The vet saw that they where too afraid to wrap it to tight. They where warping it so loose that it would fall half was down the leg. The poor guy still is on 3 legs and will only eat 1 scoop of pellets.
Vets been coming out every week and warping the leg. The owners and occasionally I, end up re-bandaging it because he some how makes it slip halfway down. There is now more blood and less yellow puss but the wound looks as if it has gotten longer. The good news is hes somewhat eating and he can walk on it. But the owners seem to think it wont get better but I'm trying to convince them not to put a horse down from a nasty looking injury, hes walking and eating and is not in as much pain as he was before.
That is not just one nasty looking injury it is one serious mess. The deep flexor tendon is exposed and I would hazard a very experienced guess that the little injury was a deeper puncture wound and infection set in.

He needs some serious antibiotics. Stalled for majority of the day with a deep bed to encourage him to lie down. Masses of hay and very little hard feed.
The wound needs to be flushed daily and wrapped with plenty of padding around it before the bandage is applied.. This should be firm but not tight and if applied correctly it will not slip.
He is on antibiotics mixed with bute (BO is not giving bute to him atm because hes not eating enough) every day. The only outside time he gets is supervised grazing (the more he moves on it the more he can stand on it. The more he stands still in the stall the more pus filled and swollen it gets). And the tendon is covered but the problem is that he is developing proud flash, but the vet wants to leave that alone until its healed more. Its still nasty but its a lot better. He still wont touch his hay half the time. He will after getting out and munching on the lawn but otherwise they are giving him Beat pulp and Alfalfa/Bermuda pellets turned into a mash 3 times a day. Here is a vid of him able to walk on the leg without grunting in pain.

Remember this horse was getting stuck in the corner of his stall a week before this vid (was unable to back up or turn without someone helping him). His leg was so bad he would put no weight on it at all and was obviously in pain.


(the vet wanted the Boots one like that because hes cutting up his legs in that area so no we are not having a sped moment XD)
I have a pic of him today. The vet will be coming out to remove proud flesh soon.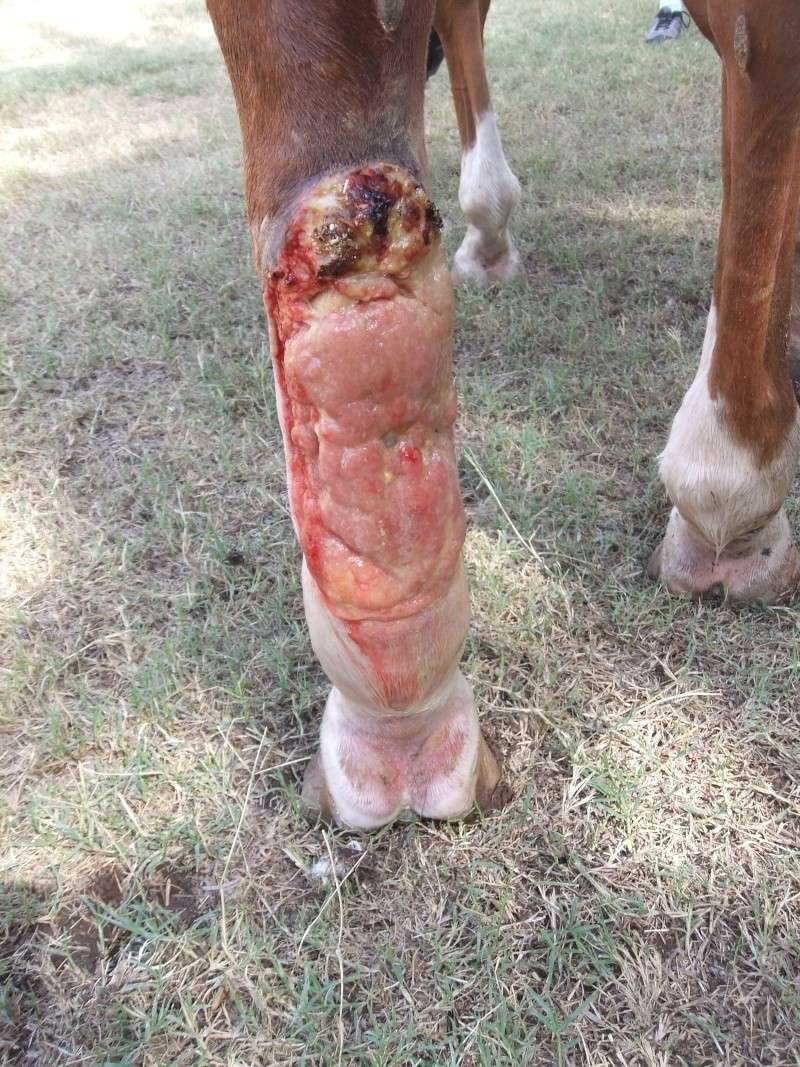 Oh, wow. That is AWFUL. Poor baby.
---
"...and may your life be filled with good horses." — Buck Brannaman
Oh my god. That is crazy.
Posted via Mobile Device
Good God! That's like 3 times the size it was
.
Poor guy. Reminds me of my tb. Got what the trainer said was a cut, and to clean it and put a wrap on it. Next day unwrapped it, was just wrapped with a standard pillow wrap, the leg was 3x the size it normally is. Found out she punctured it to the bone and it got really infected. Someone gave information about a place that specializes in horrific injuries, would be a great site to go to, but I can't remember the name. If anyone knows the site, please post it. Hopefully he heals up.
Yes but at lease he can walk, and his tendon is not showing 0.0! that horse is such a sweety, he gets to wonder in the back yard because that's the only grass he will eat now, but he always stays close to his owner (he only gets out as long as someone is watching him lol he might cut himself on the grass -_-') :). Hes such a love bug. And the vet is completely impressed that she has not had to restrain or sedate him the entire time working with him. How can BO stop the bandage from slipping? they have to re-bandage every day because it slides down to his hoof, and its not wrapped loose but they cant wrap it too tight ether.
---
Last edited by KigerQueen; 08-19-2013 at

10:26 AM

.