Step ahead farm is the place, google it, but you need to be okay with graphic photos.
I feel bad for him lol. He was raced at a 2 year old until he was 13, no issues besides not sweating. He goes into retirement as a pleasure horse and keeps hurting himself. (If anyone is interested his name is Wishinonastar). Ill defiantly look at the site! I hate seeing the bandage slipping so if I can stop that it will make us all feel better.
Pretty much only thing you can do to keep it up is tape it. I have a horse that kept getting hurt the first few months we had him. Mostly because our other horses were mean to him. They actually ran him through a fence! But It looks like you guys are keeping it pretty clean and that's the most important thing plus antibiotics. And you can never go wrong with hydro-therapy. Water does miracles. Use a water hose and just let it run over his leg for 10-20 minutes. He will feel better and it helps with swelling. We did this one to two times a day with my horse and it healed in no time. I really don't understand why your guys wound is getting bigger? Weird. I hope he pulls through it!
You cant turn a hose on without him walking in front of it lol. We found out the cause. Because he dose not sweat he is losing hair and is itchy. He was scratching his butt and kicked at a fly and managed to cut his leg. So they are getting meds to make him sweat again. I have been wrapping it with the cotton wrap and vet wrap (scene BO has a hard time bending over). The vet was out yesterday and removed a lot of proud flesh so Ill try to get pics of that. I have pics from a week ago though.
Here is a pic of the leg.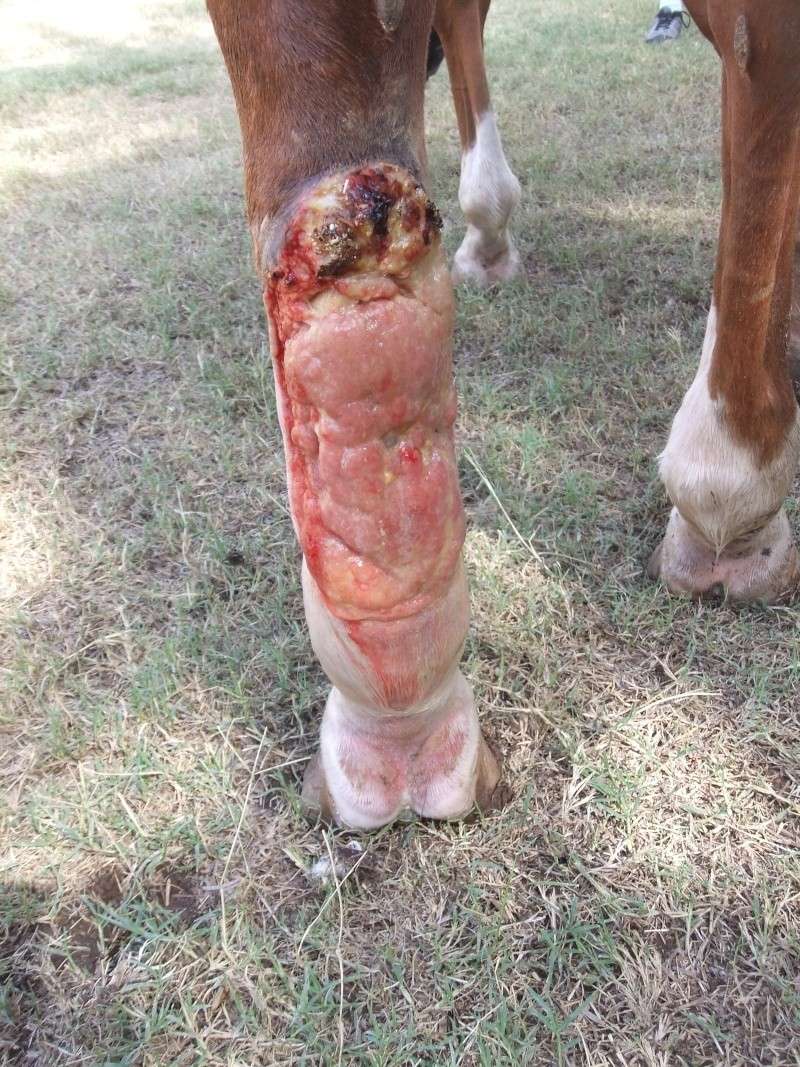 He is starting to gain weight again.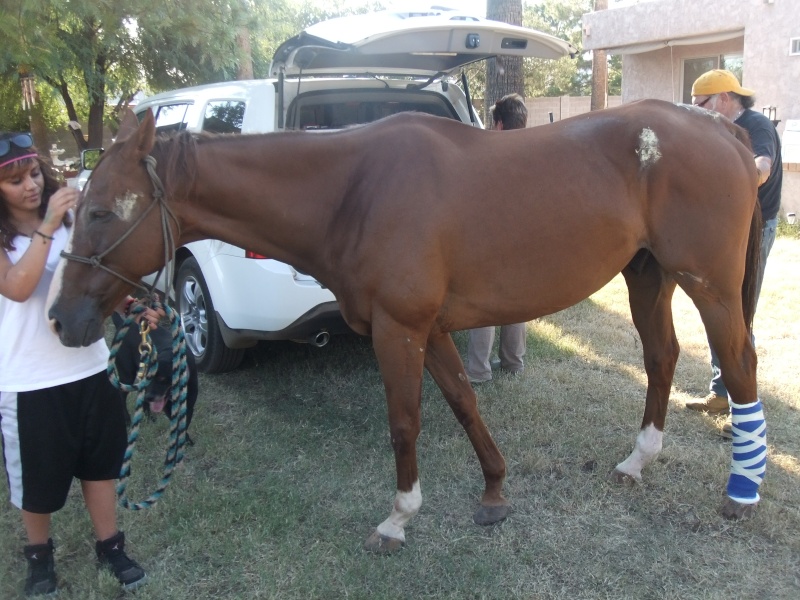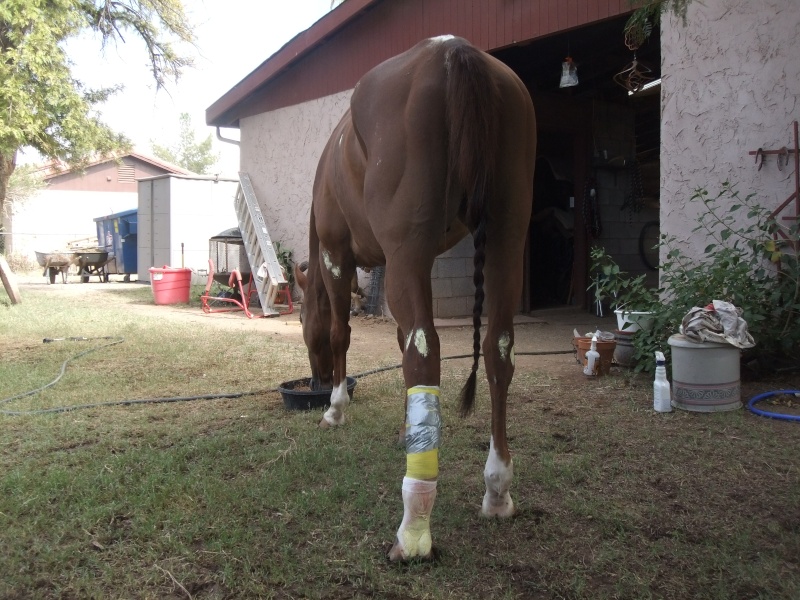 This is what he looked like before he cut his leg.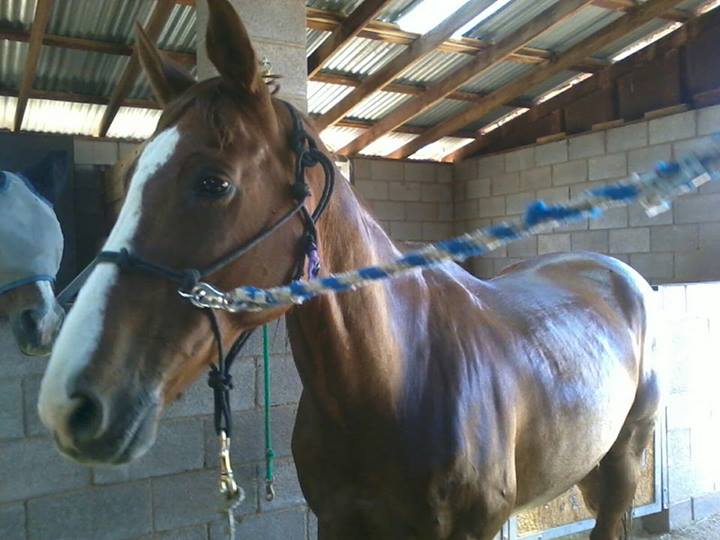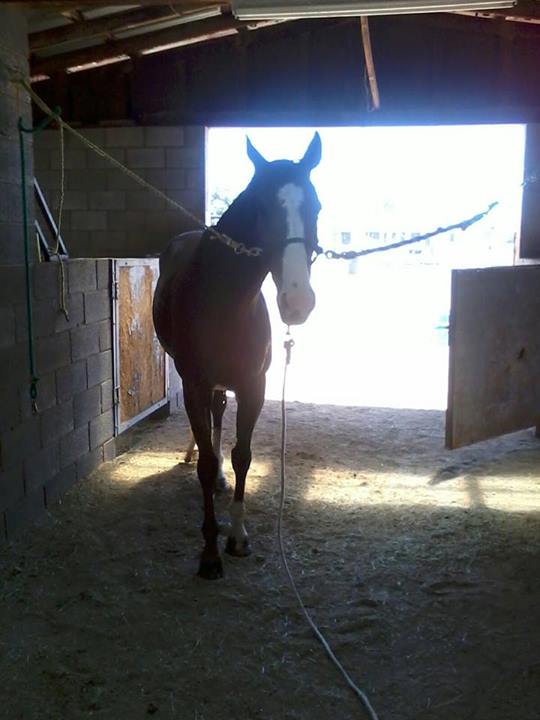 It looks like it is getting worse not better.
i would look up Doc Underwoods horse meds and get some Pronto google the name and you'll get buddys website . it is amazing stuff
---
Don't Flatter yourself Cowboy I was looking at your Horse

LORI

Quote:
Originally Posted by
Critter sitter
View Post
It looks like it is getting worse not better.
That's exactly what I was thinking
.
That definitely looks like it's getting worse. Poor guy. His leg looks awful
My BO had a horse with Flesh eating disease it started with a small cut and grew like this. Lord I hope that this is not the case here. Sky did not make it even with thousands in vet bills.
---
Don't Flatter yourself Cowboy I was looking at your Horse

LORI

There has got to be something seriously worse going on for the wound to have tripled in size like that.
I agree that I do not see any improvement. it DOES look worse. A lot worse.
Posted via Mobile Device