Oh my goodness I have never seen anything like that before in my life! Poor guy, it's def looking bad...I hope he gets better soon!
---
Do keep in mind that weight bearing does NOT necessarily mean improvement! He could have learned how to tolerate the pain, become numb to it, or infection could have killed off any pain receptors (The way a third degree burn does).

This looks so much worse than it was. Healing wounds don't triple in size.
That's what I was thinking. It's not normal for wounds to get bigger like that, unless there was some type of the trauma beneath the skin, the skin died and rotted away leaving this large wound.
Posted via Mobile Device
To keep a bandage from slipping you need to wrap all the way to the hoof.
The pic of the wrapping was not me. I wrap from hock to fetlock and up again. No slippage. the original wound exploded in proud flash from infection. The infection is gone but he is still on antibiotics. Dressing is changed daily and he is no longer in pain (and is eating again!). The first week if he walked you could hear the grunting from the house (and he went from a body scale of 5 to about 3-2 in a week). The proud flesh had been removed. I wont be able to acquire pics or vid until Friday :(. The vet is pleased with his recovery so far, we are just waiting for the wound to close.

also keep in mind that pic is over a week and a half old. The bandage had slipped causing it to scab and its yellow because of a salve the vet put on.
---
Last edited by KigerQueen; 08-27-2013 at

04:34 PM

.
Star is doing better. I think it would have been quicker but no one wants to listen to be and get the proud flesh begon. The vet just cut the extra flesh off every week (and taught a mutual friend to cut it too, which I don't like but w/e). I only have pics from october but ill get better ones tomorrow. He no longer gets his leg bandaged, its now coated in a thick layer of wonderdust to help dry it out.
From october.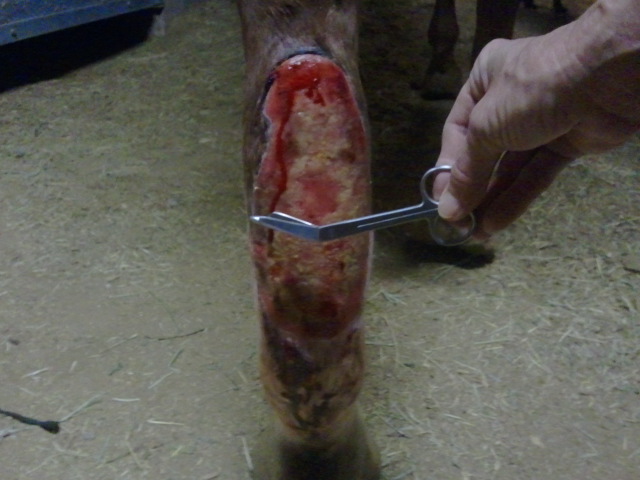 Is that how it looks now? Because it looks worse then it originally did...
Is there quality of life left in this horse? What is his prognosis? Is it worth it?
I'm not trying to be crude...but that has got to hurt. And it honestly doesn't look better.
Posted via Mobile Device
I'd stick with the WonderDust. Daily run a clean paper towel over the area & replace any WD that falls off. Don't pick at the hard crust. WD will help to remove the proud flesh. You needed the proud flesh to fill in the wound but now it needs to go back to skin level for the wound to heal.
I think this will heal.
Its about half the size now (BO is sending me pics today). The vet was cutting it weekly. He blew an abscess in about every foot (not the one with the injured leg) and now hes done with that. He is finally gaining weight but refuses to eat anything without alfalfa in it (serious hunger striking if he gets no alfalfa). Good thing he is not hot for an OTTB.
Ok here is a pic from today