Horse underweight, have tried everything, please help!
---
My 16 year old OTTB mare Brooklyn dropped weight suddenly in December 2010 (she has never had ANY problems keeping a healthy weight). Here is the timeline of events:
My vet diagnosed it as worms (specific to our area) infesting her intestinal wall (the one time we forget deworming, this happens!
). We made the following changes to her diet:
Grain
: 10lbs daily
Forage
: 24/7 on 50 acres of pasture and a hay bale whenever she wants it. She is on a regular deworming schedule created by our vet, specific to our area.
Results after a few months
: none. Still skinny!
Had blood tested by vet - nothing wrong except mineral and vitamin levels were low. He also said her immune system was low.
Changes to diet
: Platinum Performance Equine Wellness formula (1 scoop twice daily)
Results after 2 months
: Coat looks AMAZING! Eyes are bright, very alert, stools are solid, has an appetite, but no weight gain!
Vet came back, gave her steroids to help her gain weight (not sure the name, but damages ovaries for one cycle, has high levels of testosterone, made her act like a stallion!).
Changes
: increased grain to 12lbs daily, muscle building exercise 3x weekly (hill work, transitions, etc). I feel that I am a qualified rider to build muscle. For proof, see pics of my mare Venus.
Results after 8 weeks
: No weight gain, maybe some muscle. Very hard to tell with her condition.
I tried putting vegetable oil on her grain, but she absolutely refuses to eat it and vet doesn't really recommend it. I also dropped her grain down to 10lbs again because she wouldn't finish all of her grain when she was getting 12lbs. Now, she eats it all up!
My mom can't afford to keep paying all of those vet bills with no results, so I've decided to try it on my own. My next idea is to try Platinum Performance Equine Healthy Weight. Here's the link:
Equine Healthy Weight | PlatinumPerformance
Please help! I have no idea what to do. Here is a picture of her to prove how healthy and alert she is! Just took this photo YESTERDAY!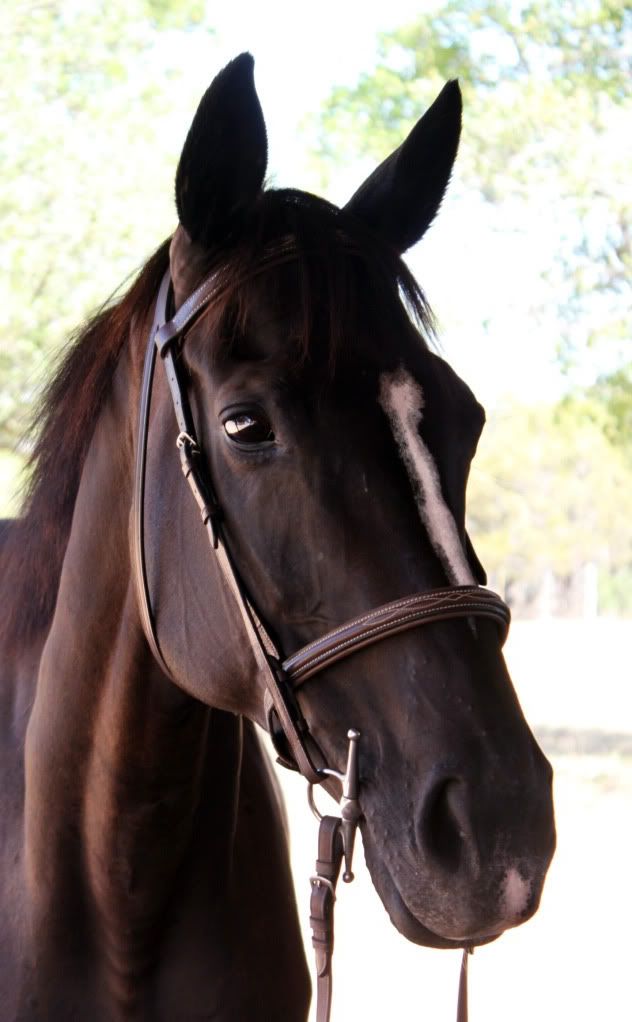 EDIT: Sorry about the pic, tried rotating it. The file size is HUGE b/c of my camera.
---
Job 39:19-24
Well, it sounds like you are doing everything correctly. Some horses are simply built lean and might always look that way. Sort of like a greyhound. Ever seen a fat one? Rarely. There are people who won't put on weight, no matter that they eat huge pizzas by themselves. It could be that your horse has a high metabolism and will always be lean.

I had a horse at my last clinic who was that way. He was quite healthy and very well kept. He worries that people will be judgmental when he starts showing this young horse.
I completely agree. We had a horse that used to be that way. It's just so strange that she is very healthy, in terms of weight, the whole 5 years we've had her and the next minute...she loses all of it! I don't know, it's all just very weird.

One of the reasons why I want to get her healthy looking again is that we need to sell her. I no longer ride her because of a mild injury she sustained which makes her unfit for jumping; and I'm also looking for a new horse. But I can't buy a new one until we sell her, Mother's orders! ;) It's really sad that we have to sell her, but I know that she could bring a lot of joy to another family! :)
---
Job 39:19-24
I just reread and see that she dropped the weight suddenly. Hmmm...Anything else change? Different pasture, different pasture buddies?
She looks like a typical TB to me---slight. Although I can't say for sure since I can't see her body.....

I honestly think you are feeding too much grain. What is the reccomended rate for his size/workload? If it is below 10lbs I would feed that, plus some alfalfa (I'm guessing the round bale is a grass hay) and a high fat supplement....cool calories 100 and ultimate finish 100 are a couple of options, or stabilized rice bran is also an option. Since this is also a recent development, I would consider Probios or some other digestive aid.

I have been battling my TB geldings low bodyweight for some time now.....finally figured out it was because he had almost no fat in his diet. So definitely evaluate what is in your gals feed.
Posted via Mobile Device
I love
hard keeper solution
, I have a 36 year old gelding and it works wonders for putting weight on him. Rice bran is also great, as well as alfalfa pellets.
what type of grain are you feeding? could ulcers be a possibility?
Are you sure you got rid of the worms? Encysted Strongyles (The ones that live inside the walls) generally require different strategies to get rid of than other worms. Here in Aus it's generally a five day double dose course of something, maybe Moxidectin?
Posted via Mobile Device
I'm having some success with Farnam Weight Builder. It's 20% protein and 40% fat. It is a powder, so it's a crap shoot if she'll like the taste, but it might work for you. I also have a TB. No matter how "fat" he gets, you can always see his ribs. It is what it is with TBs.
---
You just have to see your distance...you don't have to like it.
I didn't see you mention probiotics. Have you tried them?
They literally turned our OTTB with a high metabolism and who had been starved down to a body score of 2 into a fat pig.
OK, maybe he's NOT EXACTLY a fat pig, but he does have a crease starting down his back, and he is so plump that people think he's an appendix.
And as a sidenote: he gained all this weight while on dry lot and getting only 3 lbs of Strategy a day.