How do his hooves look now?
---
The farrier was out yesterday. You can read more about my issues here if you want
http://www.horseforum.com/horse-heal...sh-frog-89481/
but basically, our farrier was going 8 weeks between visits and I wanted to change that because they were getting way too long and we started to have thrush problems. Long story short, it doesn't pay for him to come out to us as he hardly makes any money with 2 horses. He lives well over an hour (well over 60 miles) away and it just isn't working for him. Totally understandable. He was going to refer us to another guy that is about 45 minutes away, but we have some interest in doing the hooves ourselves. He gave us a quick lesson and showed us/told us what we would need. This will work out better for us because not only will it save money, but we can keep better on top of them so they don't get the problems we've been having - hopefully.
He felt that with Scooters time left with us, it would be better not to put him through another trim. When we get everything to do them ourselves, we may try to give a go at Scooter just to take a little of the long stuff off to help keep him more comfortable.
Here are before and afters of Hunter. I want to know what you all think of how they look now to see if we should keep doing it as is, or change some things up.
Left Front
Before
After
Left Rear
Before
After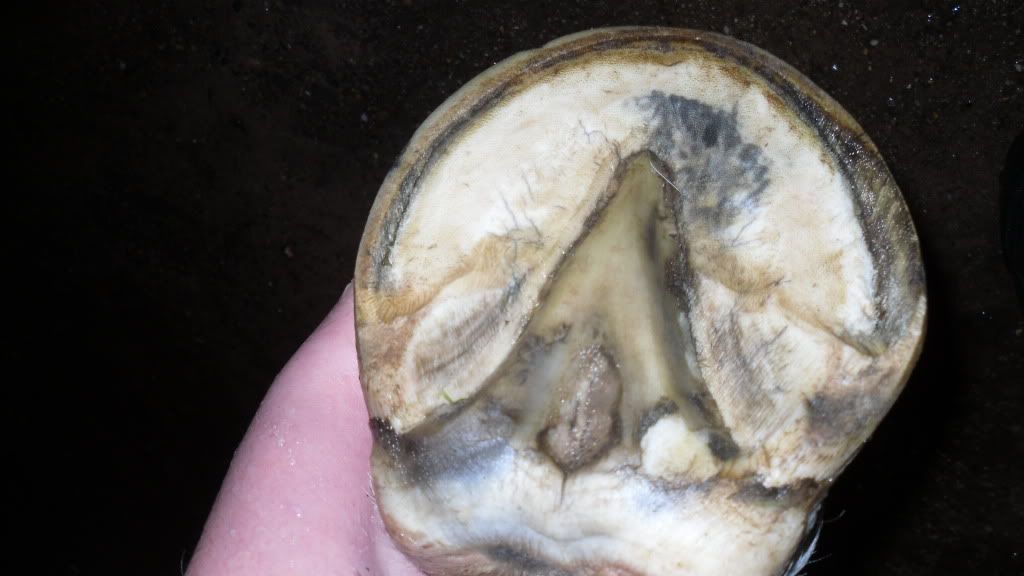 Right Front
Before
After
Right Rear
Before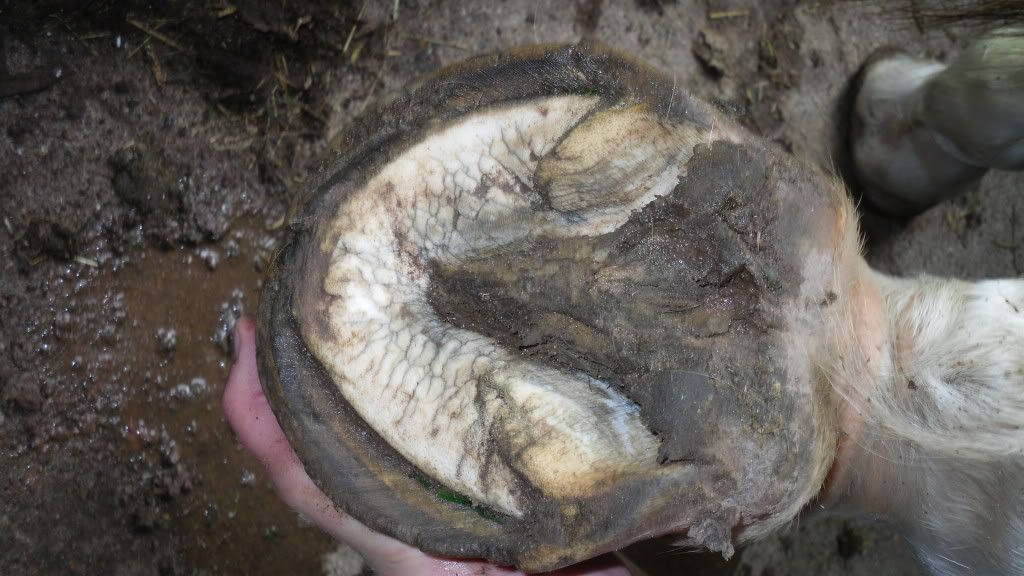 After
---
TM Tardy's Chick "Hunter" - 13 yo Paint
Remmy - 18 yo Morgan/QH cross
Gunner 3/31/11, Heidi 7/2009 Miniature Sicilian donkey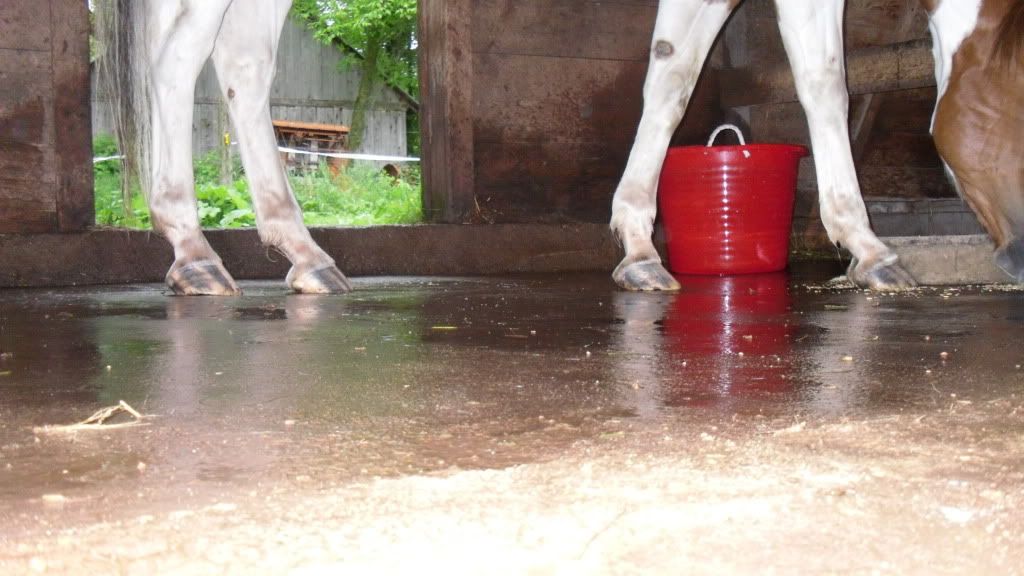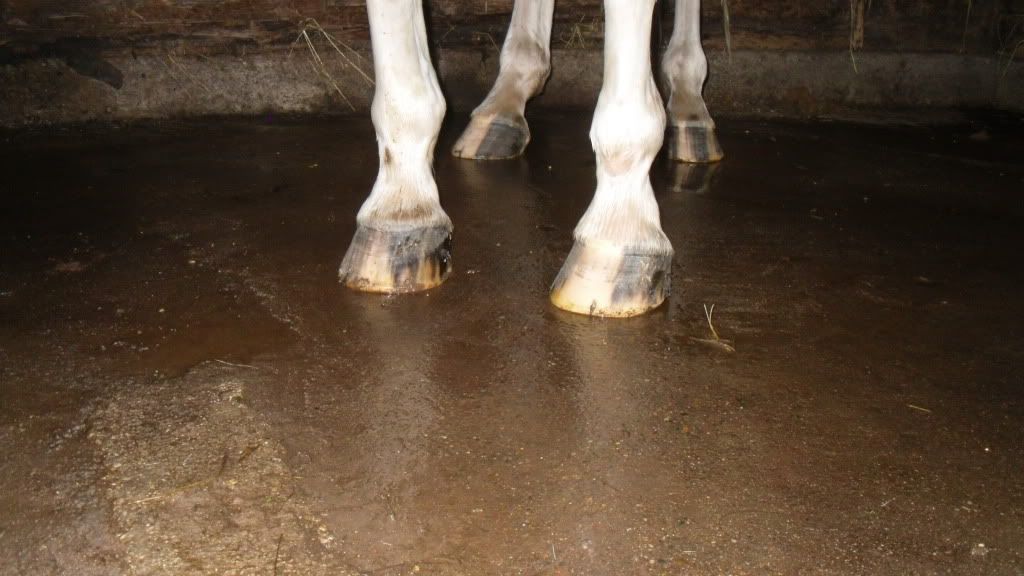 ---
TM Tardy's Chick "Hunter" - 13 yo Paint
Remmy - 18 yo Morgan/QH cross
Gunner 3/31/11, Heidi 7/2009 Miniature Sicilian donkey

It appears that you are taking too much sole off near the hoof wall(looks like you kind of dug it out) and made a rut and the hoof wall is too long
The farrier did them this time. We haven't done them at all ourselves yet. The walls look long to me too, but not all that long in "real life". However, the walls are separated somewhat from the sole making them look worse and also causing those grooves you see- I can only assume from being so long. I'm hoping by doing them ourselves this will grow out and we wont get back to that again. The pictures don't do a very good job of showing what they look like no matter how hard I tried or all of the angles I took. I'm going to try to rope someone into taking pictures while I hold the hoof to get yet another angle.
---
TM Tardy's Chick "Hunter" - 13 yo Paint
Remmy - 18 yo Morgan/QH cross
Gunner 3/31/11, Heidi 7/2009 Miniature Sicilian donkey

Overall, for someone just doing this the first time, I think you did a good job.

I would stay away from trimming the frog. That extra hanging stuff will fall off in its own time and trimming it up only serves being tidy.

Other than that, I would trim him again in 4 weeks, even if it is only rasp work.

Good job!
Sorry I was confusing in my first post. The farrier did them yesterday and from here on out we are going to try to do them ourselves. Hopefully all goes well with that. He agreed to coming back out to check up on our work if we feel it is necessary.

Thank you for your reply, though!
---
TM Tardy's Chick "Hunter" - 13 yo Paint
Remmy - 18 yo Morgan/QH cross
Gunner 3/31/11, Heidi 7/2009 Miniature Sicilian donkey

Hi, Just a quick reply, cos shouldn't even be here... too busy!

Good for you for being prepared to have a go! If you learn properly & are prepared to do it regularly, your horse will really benefit. I think learning the principles and factors of hoof function, health & trimming are very important though, and if possible I'd also advise you get at least a few lessons from a *good* trimmer too. hoofrehab.com, barehorsecare.com ironfreehoof.com & e-hoofcare.com are all great sources to start with, to learn what's what. Pete Ramey's DVD course is also excellent.

I've marked one of your pics, to hopefully better explain... With a hoof that's become overgrown & flared, I might be inclined to take the walls down to level with the sole plane, but it depends on a number of factors, so assuming I wouldn't go that far, the blue line is approx where I'd trim - the walls should not be more than 1/4" longer than the sole plane & should be uniform all round - so you can see the toe is a little long, but quarters way long. The green line shows where I'd take the toe back to, and roll it, probably regardless of what I'd do to the rest, on this foot at least, because of that crack. It seems that you may have pared a fair bit of the sole, which I generally wouldn't do, but especially in the area I've put a red line around - the toe callous. It's important not to pare/rasp or otherwise thin this area generally. I would probably not have been inclined to pare so much of the frog. It's not a good move to pare the frog *as a rule* either, but you do generally need to remove daggy, thrushy material, so that can be a balancing act. The heels also look like they could still be a bit high & forward, but impossible to say for sure with these angles.

Anyway, remember this is just my opinion too, based on a little info only. Do your research & make sure you understand the principles behind the trim & you should come to a good, informed decision of what's needed. Hope that helps.
I would be livid if I paid for that. I'm no expert, but the walls do look too long still. And see how his left rear is pointed out? Go to the hoof picture and the inside wall looks longer than the outside..from what I've picked up by creeping on farriers while they work and asking too many questions..his hoof is pointed out because it's unbalanced.
Pictures can be decieving but he appears to be standing under himself.
I dont know. There are better hoof people than me but his walls seem all kinds of wrong..
I would not use that farrier again. I thought you did it yourself and my expectations were lower. That man is in the wrong line of work. Sorry but it is a poor job
I think there was a little bit too much hoof wall left also. His feet were really long though so maybe that's why the farrier didn't take more off. I definitely think they are better than what they were.
I started trimming my own a little over 6 months now. Its hard work, but I think my horses are better for it.
There's tons of barefoot info out there, plus as already said you can have your trimmer check your work every now & then. Once you start doing it on a regularly you will start to notice the subtle changes in the foot from trim to trim.
---
So in lies the madness, the pursuit of the impossible in the face of the complete assurance that you will fail, and yet still you chase.