How does this foal look? Lots of pics!
---
I know this seems like this thread is posted in the wrong catagory but this foal was born with a problem and i would like to know if anyone can see it or anything else about this foal?
How does the foal look conformationally?
Let me know what you think of the foal?
3 weeks of age: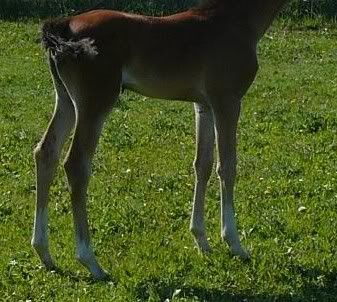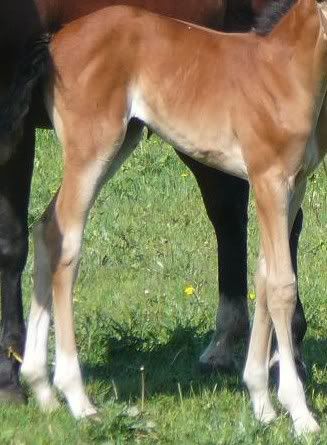 2 months of age: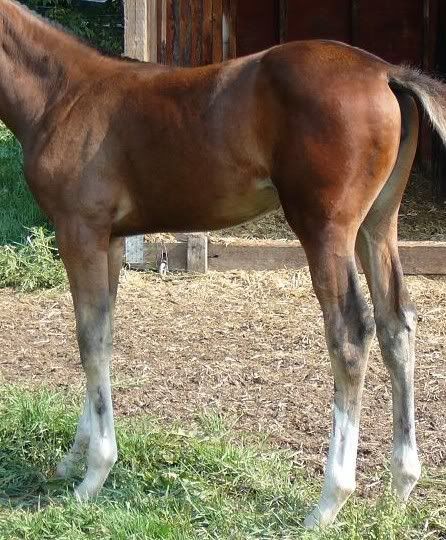 I don't know, is something wrong with his face? Because you didn't post any pictures of it, lol. Other than that, I have no idea how foals should look as they grow, nor how they shouldn't look. I would love to see a face though. =]
---
"Great spirits have always encountered violent opposition from mediocre minds."

no idea, something wrong with the back leg or bald legs, i really have no idea.
Is one of her hind legs shorter than the other ?
No he hind legs are the same length... shes in a really hilly bumpy pasture so she looks a little lop sided in some pics lol but her hinds are very much the same length :)
In the pix of when he is older, something about his front legs/hooves really bugs me. He looks back at the knee, his fetlocks look either swollen or slightly misshapen, and his pastern angles just look weird. Plus his front hooves look way too small for his body. That is all that kinda jumps out at me.
---
Always remember that feeling of looking at a big, open country over the ears of a good horse, seeing a new trail unwind ahead of you, and that ever-spectacular view from the top of the ridge!!! Follow my training blog:
http://robertsontraining.blogspot.com/
Is that a blemish on the left front cannon or just the coloration?
she was really put high! but in the 3 month pictures her back is REALLY flat ...
what was she born with?
---
:: Karley ::
Tucker WB/TB- 11 yr
Speedy QH/TB- 22 yr
The left front cannon mark is a marking/coloration. She has some very unique markings. :)
And yes she was very bum high... but has leveled out nicely :)
I will post what she was born with later on today :)