How are her hooves?
---
I am wondering if Lola's hooves are normal or not normal etc...Before I got her she had not had her feet done in ages! Her front feet were totally overgrown and out of shape. Her back feet were not as bad.
When she came to be I got her front feet shod but left the back ones totally alone..
This is what her hooves look like now..
Front feet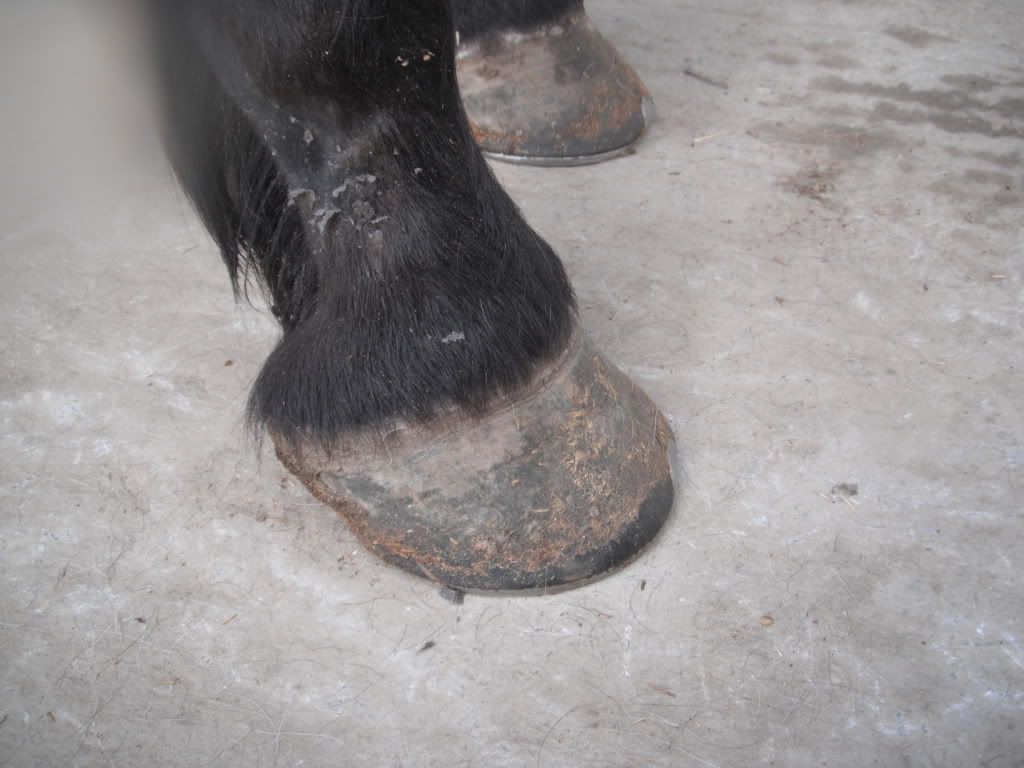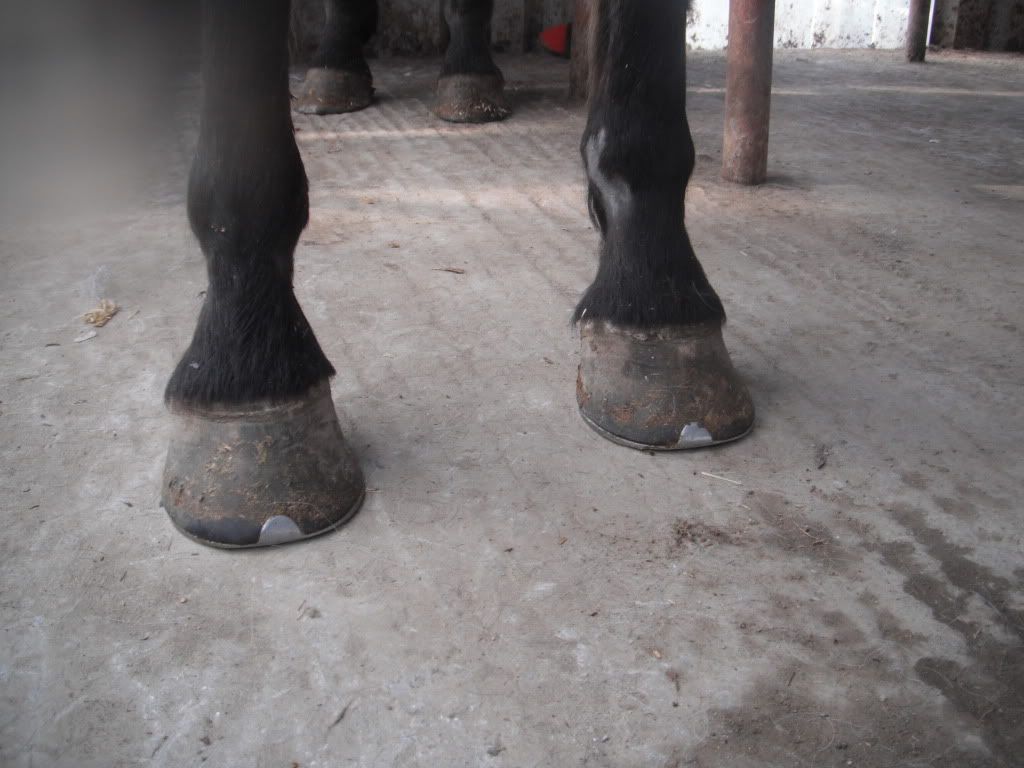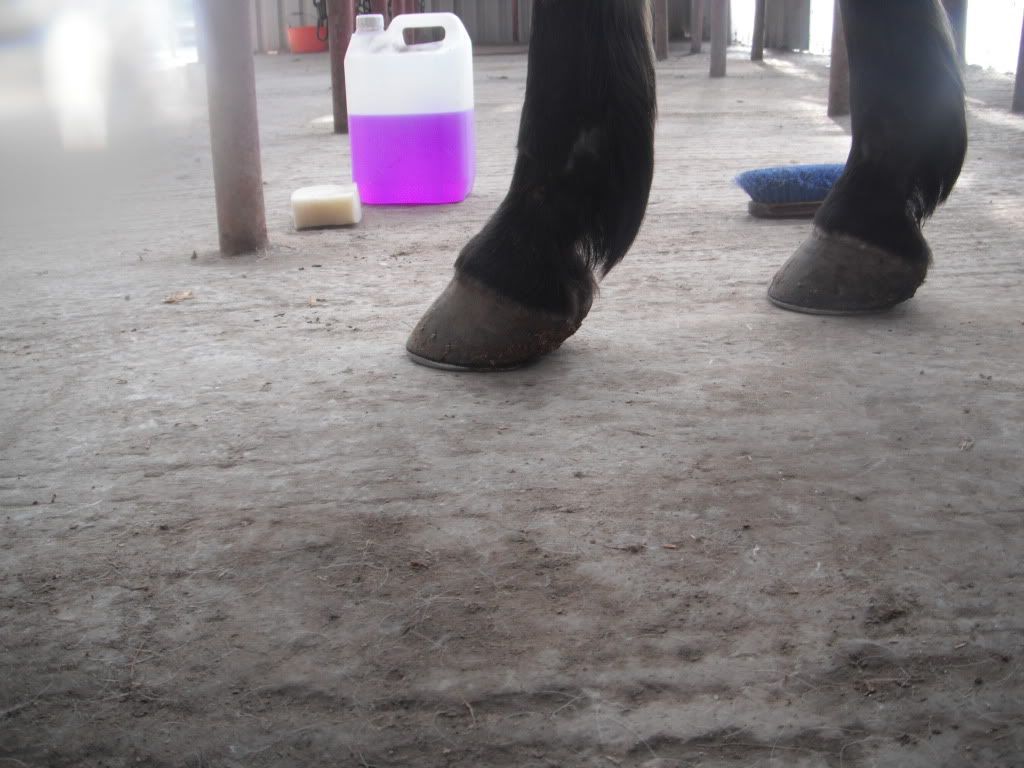 Back of front hoove
Back feet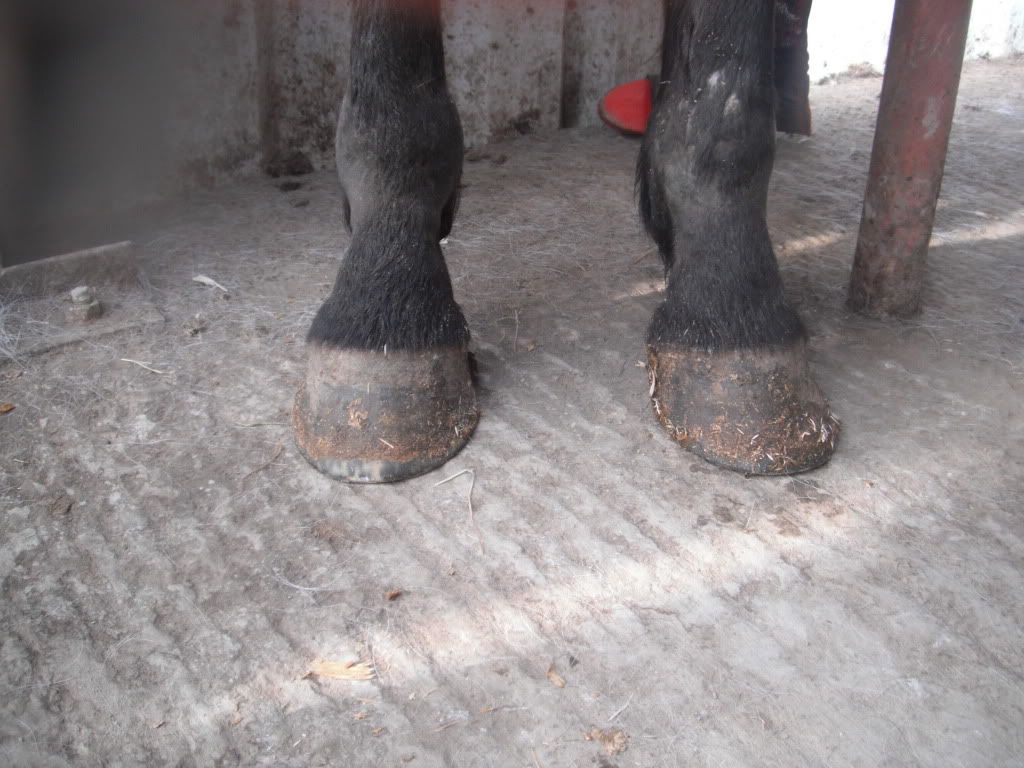 Front right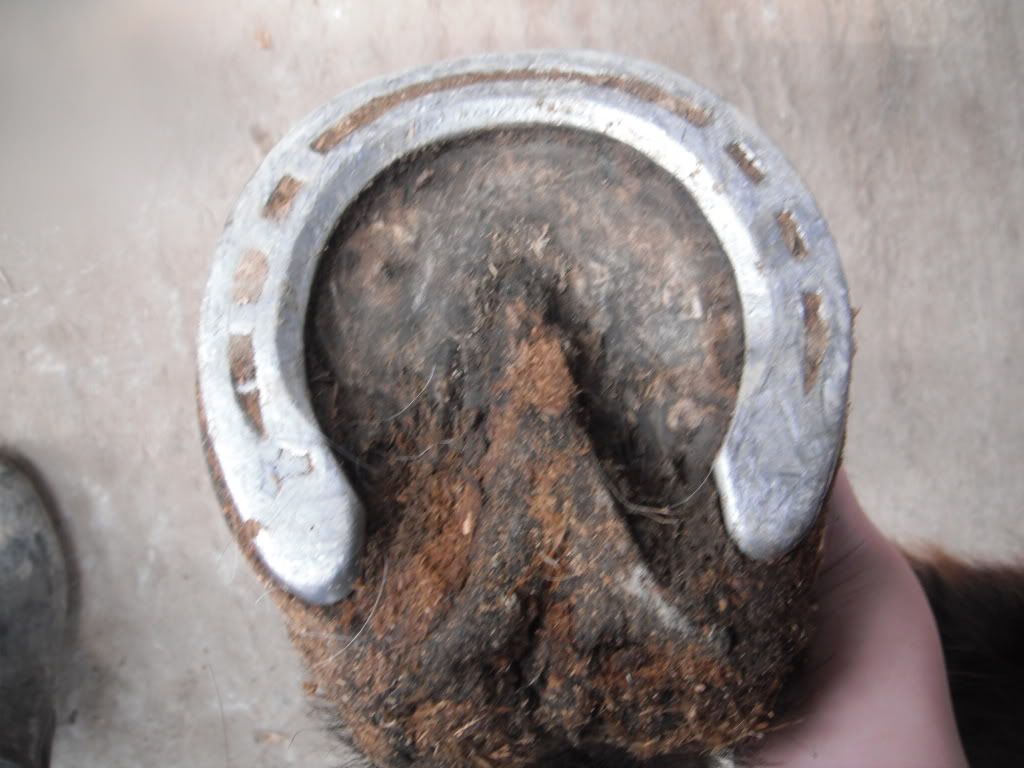 I know the pictures are not great..
I am gonna clean her hooves tomorrow and get better pictures.
So what do you people think of them? =)
To me they look sort of tender and stubby, which is a good reason to have shoes on her.
One thing that would help this tremendously is turpentine. I used to use it on my horse and his hooves got to be strong as ever.
I had the jar in a little crock pot in the tack room, so I would plug it in just before I got on him. Then after I rode, cooled him out, gave him a shower, etc. the turpentine would be pretty good and hot.
If you can feel the heat pretty strong from the jar by just picking it up, it's warm enough. Brush it on the underside of all four hooves every time after you go riding and after a while, her feet should get stronger each time.
Hope I helped!
---
He carried me away from all my fears, and his mane was there to wipe my tears. -RIP Vegas, my best friend.
Hi,
Not good I'm afraid. Her front hoof capsules are quite long & flared and very high heeled, also forward of where they should be(underslung heels, etc). It appears they may be higher medially(insides) too, but hard to tell from these angle pics. Her frogs look like they're striving for - but not achieving, with such high heels - good ground stimulation. Her back feet, from what can be told from those pics look pretty reasonable, although perhaps also a bit high in the heel & imbalanced.
Perhaps 888 thinks they look 'stubby' because of how upright they are, and also the solar pic shows they appear quite flat/dropped soles(so they can't just be trimmed back to 'normal' without internal changes). That may have been due to dietary probs in the past, but will be exacerbated by being shod/peripherally loaded. IME these are all good reasons NOT to shoe her. I would definitely get the shoes off, so you can have a good go at getting her feet healthy, at least, before considering shoes. Hoof boots are generally a great option for protecting feet when/where necessary.
I think it's SO important for owners to educate themselves on matters of health, such as principles & factors of hoof care, whether you want to take a more active role or only to give a more informed idea whether your 'experts' at hand are any good or not & what opinions are worth taking on. Also, for better critique, see
Good Hoof Photos - How to take Good Hoof Photos
---
Last edited by loosie; 03-16-2011 at

06:30 PM

.
I have to agree with loosie. The heels look really high and I can still see some flare on the sides. But, your question was, do they look normal. They look normal for a horse that has not had her feet done in a while and unfortunately, normal for farriers that still believe that the heel has to be high and horses need a boxy looking hoof. However, I am not farrier and I do not know what your farrier was trying to accomplish. Especially if the feet were in really bad shape. I will confess that I totally believe in barefoot. Is there a reason that you put shoes on? This website has some great information and pictures in the Photo Gallery, if you are interested.
Bare Foot Horse
It looks like they're trying to grow in good at the top. You can see the wall tighter, then it flares like a "skirt" about 1/4 to 1/3 the way down. I agree with loosie, heels high and not well balanced at all. You can see the imbalance at the hairline. Barring sidebone or other internal issues, the hairline should be even on either side (same hieght inside and outside when looking from the front) and should not be arched up on the sides (at least not much and with no quick changes).

With the back feet bare, that tells you that bare is the way to go. Her back feet look better than the fronts! Booting can be a pain on horses with flared feed, but it will help your horse's feet grow out better.
Agree with loosie and luvstoride.
So should I keep her barefoot? Will that affect her on the road? Because people around here will really judge me badly if I have her barefoot. Does she have to be barefoot forever or can I put shoes on her when her feet start looking better? And should I put her on a hoof supplement?
Cleaner, better pictures...
Front Right
Front left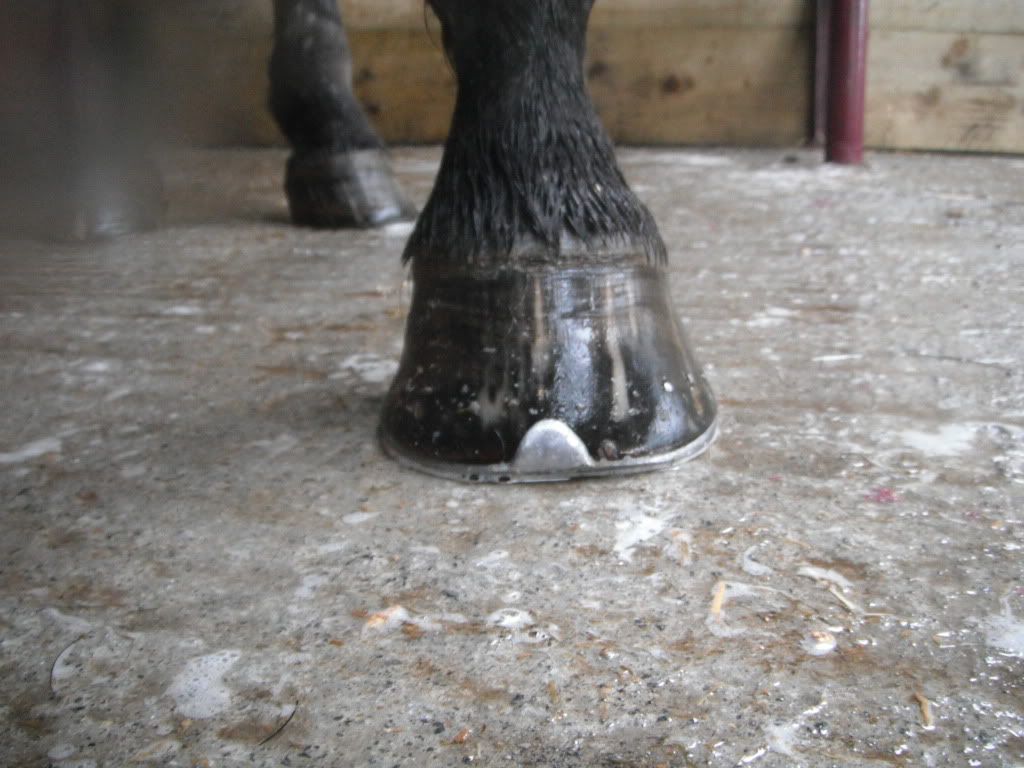 Side front right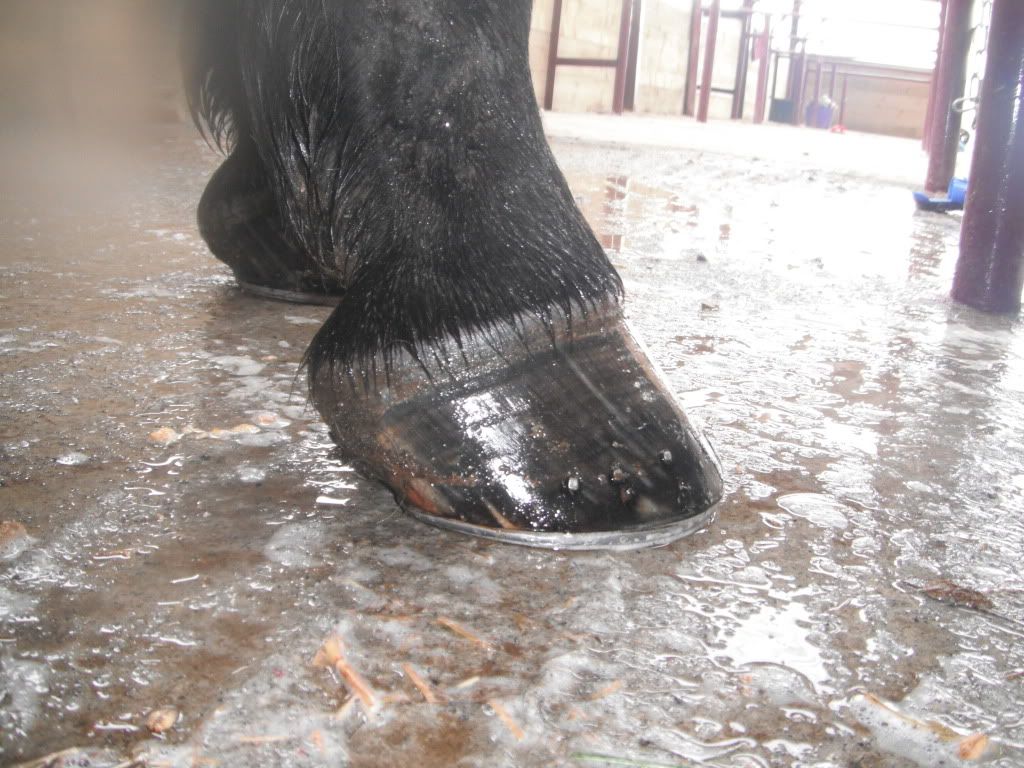 Side back right
Back of back feet
Side back left
Back left
Side front left
Back of front right
Front right
Front left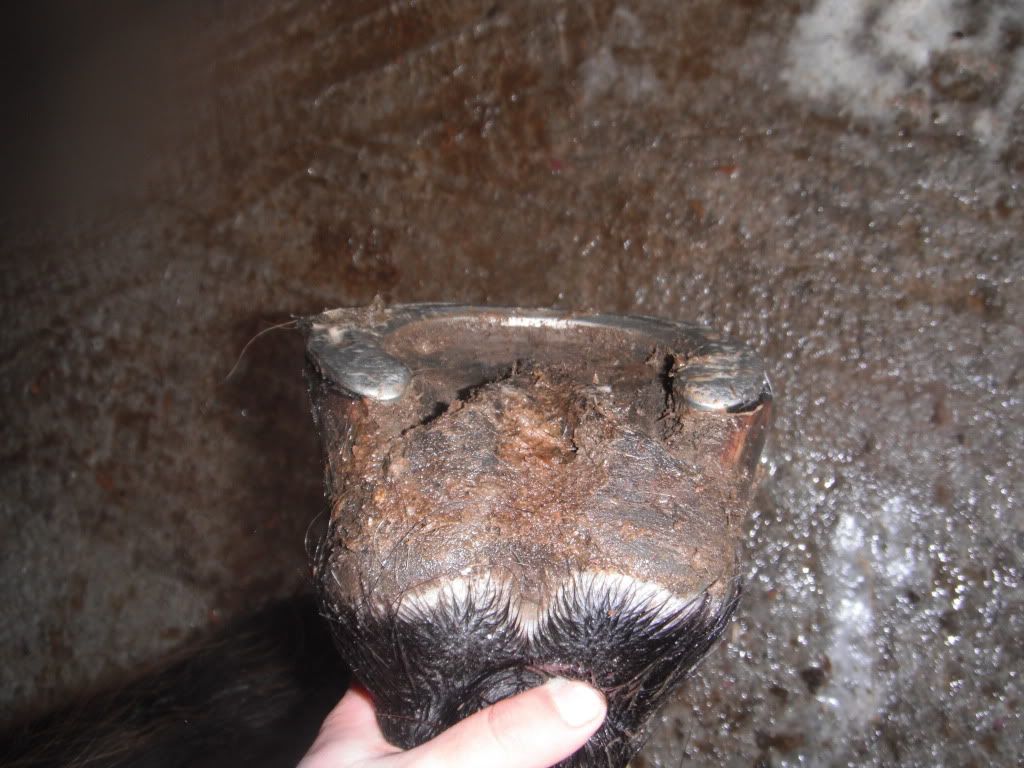 And both front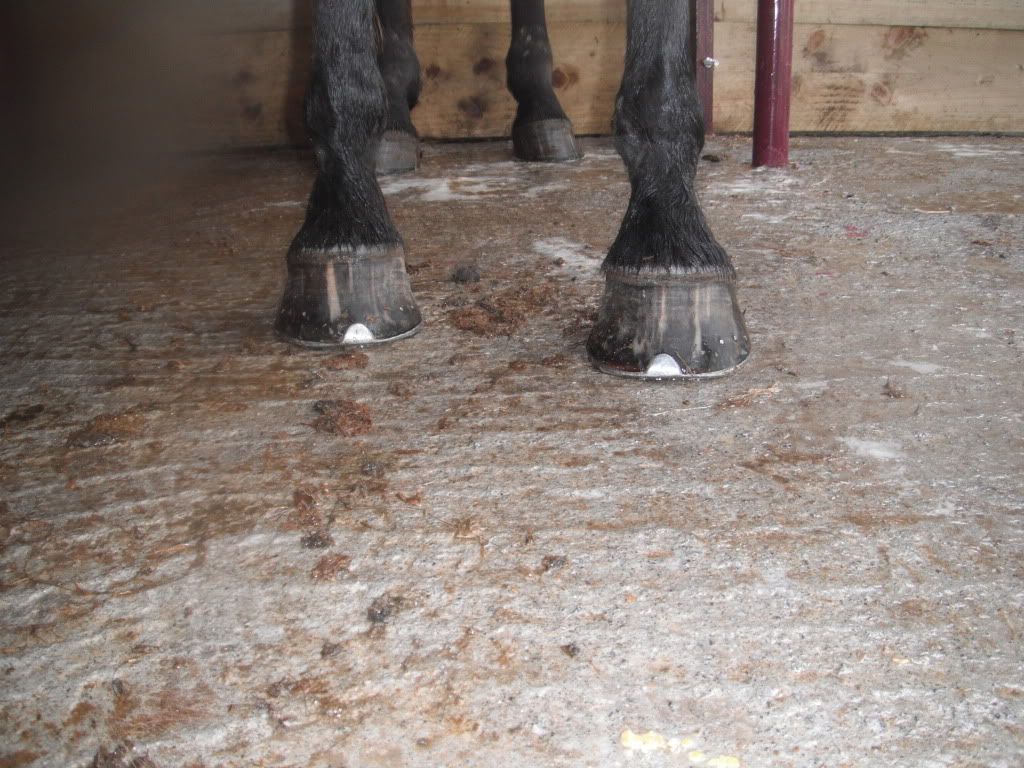 i'd really pull the shoes and get a farrier in that will work with your horses conformation/bone/hoof structure. she looks like her hooves are starting to grow in well (the top 1/4-1/3 of hoof) but then they flare out and her front heels especially are under run. i know others have made more specific comments to that effect and i agree with them - barefoot would do your mare good.

as far as on the road goes - that's going to be a personal choice on your part. can you get some boots for her to wear when you ride on the road so that she can stay barefoot otherwise? i've personally never had a horse that needed to be shod (even though my OTTB came to me with shoes he actually does better without them) so i can't really speak to that.

good luck! :)
I think you should. It will go better if you keep her with shoes, but it'll take more time. If you're worried what people will say buy her hoof boots. If she will be barefoot it will affect her when she'll be walking on hard surfaces, you can solve this problem with boots, or just wait that she adjusts to being without shoes.
---
It's RAINING!
I seen some posts in here about people worrying if their horse will go lame from taking their shoes off?

I am not too worried about it because she came to me barefoot and the last owner said he had never put shoes on her. But she was a trail horse so I don't know if she was telling the truth or not..Maybe he meant she had not had shoes since she was turned away..

So will there be a risk of her going lame or should she be ok?
Similar Threads
Thread
Thread Starter
Forum
Replies
Last Post
ice in hooves.

lilkitty90

Horse Riding

21

12-27-2010

06:25 PM

Odd Hooves

NordicJuniper

Horse Colors and Genetics

31

12-22-2010

01:06 AM

Bad hooves.....

cherriebark

Horse Health

14

03-04-2009

09:37 PM

How Do His Hooves Look?

Britt

Horse Health

15

03-01-2009

04:41 AM

hooves!!!

chasin the dream

Horse Training

12

06-26-2008

11:42 AM